The Student Government Association swore in their new president and vice president Tuesday night.
Teagan McNary and Josh Anderson were voted into office during the election that took place Feb. 28 and March 1. The pair won the race in a landslide, receiving 835 of 1,137 votes.
"It's definitely really exciting for it to be our administration and be sworn-in," Anderson said.
New senators were also sworn in Tuesday night.
The senate has seven open seats, which will be filled through the at-large process.
"Now we're looking to get a full senate and get our at-large process going," Anderson said.
The new senate then confirmed the president's nominees for their executive team.
"We looked for people that have experience on SGA," McNary said about her choices. "I think it's really important for people in those positions to understand the message that SGA is trying to portray."
Jordan Hanson is office manager, Tim Flynn is business manager and Madeline Moleseed is external communications manager.
Before the new president was sworn in, the senate voted whether to override former President Nathaniel Steinlicht's veto on the sanctuary campus resolution.
Senator John Slunecka cited an Argus Leader article saying the senate shouldn't jeopardize the university's funding, and the students as a whole, when USD currently has only three undocumented students.
"I don't want all the students to pay for any repercussions passing this resolution might have, when this would help only three students," Slunecka said.
Veto overrides need a 2/3 majority to pass, or 16 votes. The vote failed 8-16.
A senate bill that alters senatorial petition requirements passed 24-1.
The bill lowers the number of signatures students are required to receive in order to run for a seat on SGA's senate.
Students now only need 2.5 percent of the population of the school they want to represent to sign their petition.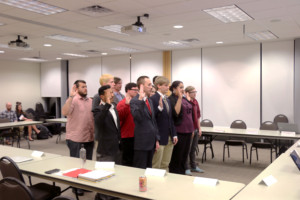 Newly elected SGA senators were also sworn into office on Tuesday night. Chance Mullinix / The Volante