This year's Dakotathon not only raised $145,422, surpassing its original goal of $115,000, but it also achieved something it does every year — it brought USD students together.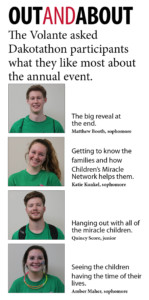 This semester, The Volante has received several letters to the editor that discuss the importance of bringing student groups together and bridging the "great divide" between students. Dakotathon is undoubtedly an event that accomplishes this.
Dakotathon brings students together from all over campus for a great cause. From Greek life to the residence hall association, many groups are represented at the event.
Not only does Dakotathon get great attendance from across campus, but students are together for a full 24 hours of dancing, having fun and supporting each other, miracle children and their families.
Dakotathon has been an important part of USD for years, and for good reason. 
Through raising money for the Children's Miracle Network Hospitals, specifically the Sanford Children's Hospital in Sioux Falls, students build lasting relationships and come together while making a difference.
For one entire day USD students, children and families join together for one cause. USD groups set aside their differences and stereotypes to join together to represent these families.
If USD students can come together to raise more than $145,000, why can't they come together at other times of the year to support one another?
USD students should remember the camaraderie they practice at Dakotathon all year long and use that energy to attend each other's events.
Why should USD students be so estranged from each other when, for four years, they share the same school and the same town?
People at Dakotathon aren't attending to see who's better — they're part of it because they want to help the kids and show that USD cares, that USD can set aside its differences and come together for a good cause.