USD officially welcomed the 18th men's basketball head coach Todd Lee in the Sanford Coyote Sports Center on Friday afternoon after announcing his hiring on Monday.
President James Abbott said there were many applicants for the job, but he's confident the university made the right choice.
"As it turned out, we were able to choose the person that not only everyone wanted as their first choice, but also somebody who is a graduate of USD," he said. "It's always great to come home."
David Herbster, USD's athletic director, said Lee fits the qualities the university looks for in a coach.
"(Lee is) an exceptional coach, person, leader, teacher," he said. "Those were really big key qualities that we were looking for."
Lee said he was honored to accepting a coaching position at his alma mater, and his goal is to win championships.
"This program has a long tradition of winning and that's going to continue. We're just going to take the next step," he said. "Every year, we're going to have a goal of winning the regular season championship, the tournament championship and we're going to have a goal of getting to the NCAA tournament and winning games in the NCAA tournament. I'm not going to shy away from that — that's going to be our goal."
Lee said this would be accomplished by hard work, preparation and teamwork. He also said it's important to focus on creating strong men within the program.
Considering junior Matt Mooney tweeted yesterday that he's been released from his contract with the university, Lee said he's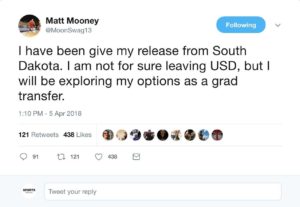 encouraging everyone to stay in the program, and the team will keep moving.
"I want everybody to stay. I don't want anybody to leave," he said. "If you decide you want to leave, good luck, I'll support you and we'll find somebody else and we're gonna win."
The coach also touched on getting more students at games and said he would do what he could to get more students invested in the program.
"Everybody watches college basketball and enjoys it when the students are going crazy. That's when they have the most fun. So whatever I can do to get our students out to the game," he said. "To have our team to connect to our student body, I think that would help. If we can get a student section who are passionate about it and they are coming to every game. The season ticket holders and the people that show up are going to have a lot more fun."
Lee said he's excited to get started with the team and figure out his players and his staff moving into the next year.