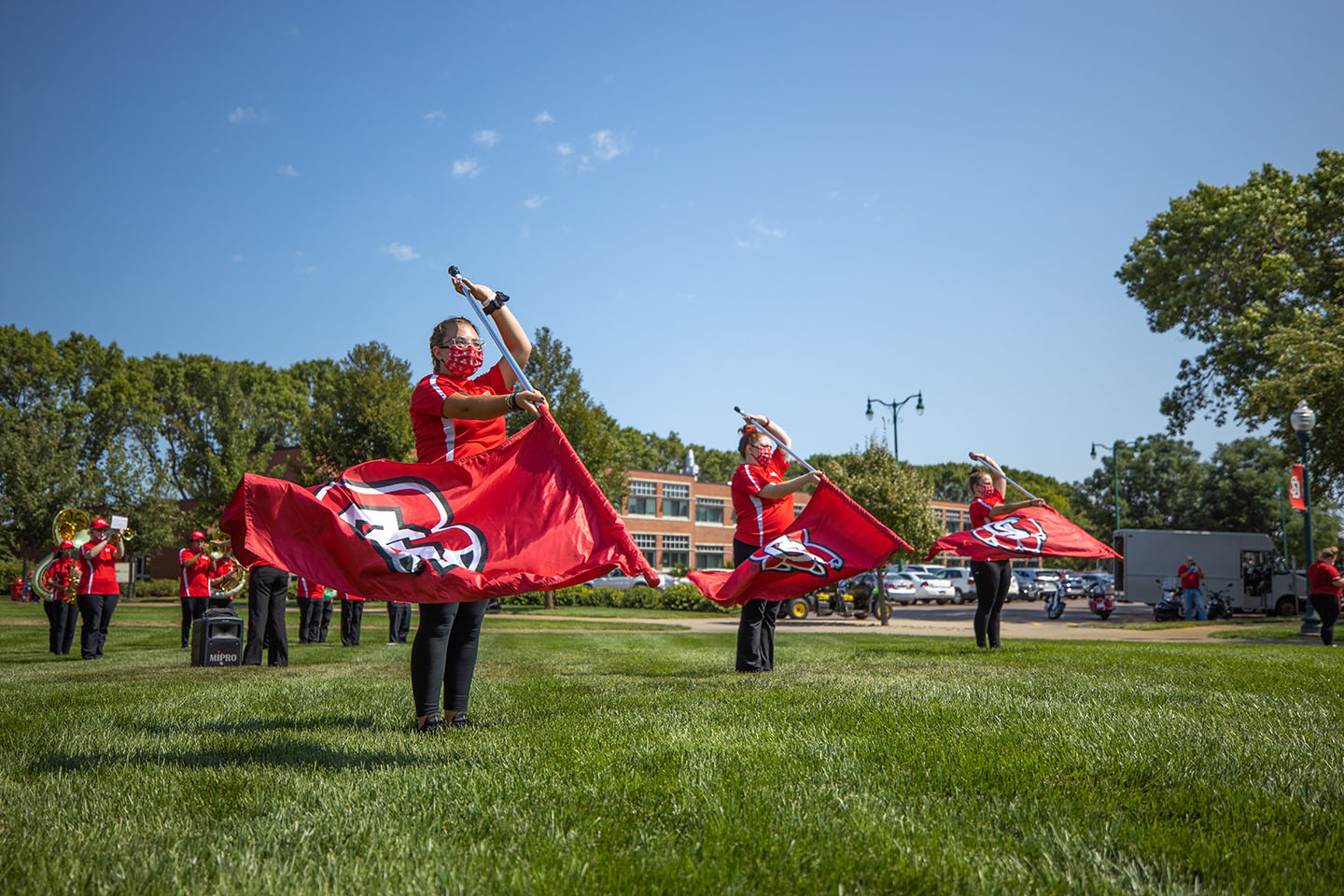 4 mins read
Color of USD brings fanfare​ without sporting events
The Color Guard interprets music by synchronized work of flags, rifles, the air blade and through dance. USD's Color Guard group — the Color of USD — accompanies the marching band at all sporting events during a normal school year.
This year, with the lack of sporting events, the group has still been active and performs roughly once a week. They have been performing on Thursdays on the Platz, which concluded in September, as well as at various on-campus events throughout the year.
Kacie Cox, a senior Music Education and Clarinet Performance major and member of the Color of USD, said despite the pandemic, not much has changed for the group.
All of the Color Guard equipment is large, she said, which already forced the group to stand six feet apart during performances.
"I think the biggest change we've had to make is not having get-togethers and 'family dinners,'" Cox said. "(But) we have at least one performance a week, sometimes more, even though there are no games."
As a music major, Cox said she always knew she wanted to be a part of the Color Guard, but didn't get started with the Color of USD until her junior year. While she may have gotten a late start, she said, she has been able to pick up on skills and routines quickly due to the support of her teammates.
"(When I first started) I didn't know even the simplest moves and tosses," Cox said. "But I always loved learning new tosses and the support the members of the guard had for me when I was learning (made it easier). Everyone is so supportive of each other and we are really just a big family."
Baylee Knippling, the instructor and choreographer for the Color of USD, graduated from USD in 2018. Knippling was involved in the color guard while she was in high school and said she knew she wanted to be involved in the band in some way during college.
When she came to USD she joined the marching band. Knippling said she has never regretted her decision to get involved with the band and the Color of USD.
"It has led me to where I am currently and the person I am today," Knippling said. "I know that I don't have to live with the 'what ifs.'"
The Color of USD practices Monday through Friday each week. This season is different than most, Knippling said, which has made her adapt how she teaches the choreography.
During a normal season, Knippling said, they would have heavy learning periods during the preseason but then they would only have to learn a new piece every two to three weeks. This year, because they are performing every week around the town, they are having to learn new material, around two to three new songs, a week.
"Having the season so compressed has been challenging because we're constantly learning new things and using them right away," Knippling said. "I'm proud of how far we have come, because we didn't know if we were going to have a season, so to be able to still perform and work together is a blessing."
The group also requires masks at all practices and performances, Knippling said, as extra precautions. Knippling said the entire band adheres to the mask requirement as they want to make sure they are doing everything they can to protect themselves and audience members from COVID-19.
Knippling said she is excited to start performing at football games again, as she is starting to understand the game through her time in the Color of USD. For Cox, however, this is her last year at USD so she said she is looking forward to finishing the fall semester and is excited to see what challenges and changes are made in the spring semester.
"We never know what's around the corner and that's what keeps it interesting," Cox said.
Video auditions for the Color of USD will take place in the spring, Knippling said. People of all experience levels, she said are encouraged to audition.