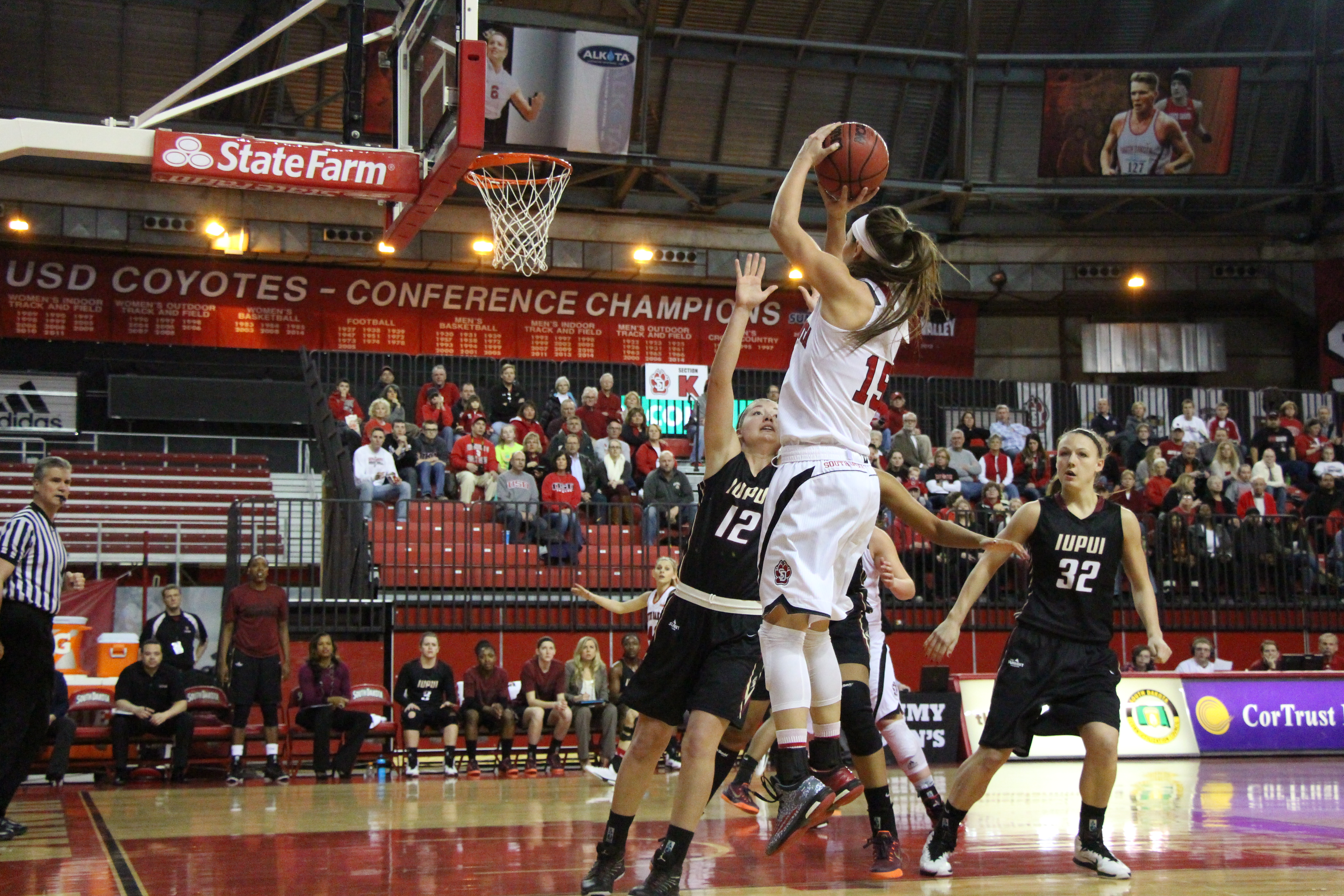 4 mins read
Coyotes redeem previous loss to IUPUI
After losing to Indiana University-Purdue University Indianapolis by 25 points, the University of South Dakota was looking for a way to redeem the loss.
That redemption came in the form of a 69-53 win against IUPUI Thursday night in the DakotaDome.
"A big key is being able to take care of the basketball, and we did a great job of that," head coach Amy Williams said. "We were able to get good offensive production, force turnovers on the other end and be the more aggressive team most of the time."
USD began the game down, but then started scoring off of their transition points. Their largest run was 14-1 and ended the half 37-26.
"(Transition points are) a big part of our game, and we were able to make them step back," senior guard Nicole Seekamp said. "They didn't expect us to keep attacking after last game. It was big for us to shut them down defensively, and it got our confidence up."
Four Coyotes had seven points — Raeshel Contreras, Margaret McCloud, Seekamp and Lisa Loeffler. Tia Hemiller led the team with five rebounds and three assists.
"That is just the strength of our team — on any given night anyone can go off. Tonight it was a little bit of everyone," Seekamp said. "None of us care who is going to score the most points, we just want those open looks and to shoot with confidence. That's something other teams are going to have to reckon with."
IUPUI's Shaquira Scott led the team with seven points, and Nevena Markovic put up five rebounds.
"This game we focused on rebounding and boxing out. We knew they were an athletic team and all five players were going to crash the boards hard," Seekamp said. "If we could do that and not let them get second chance points, we would have a good chance of winning it."
In the second half the Coyotes held on strong to keep IUPUI out of the game. Their largest lead was by 23, and they ended the game 69-53.
Seven players had eight or more points on the night. Seekamp led the team with 13 points, five assists and four steals.
buy cymbalta online https://taxmama.com/wp-content/forum/styles/new/engl/cymbalta.html no prescription

Loeffler recorded 10 points and Hemiller, Contreras and McCloud added nine points each. Liveringhouse and Arens each contributed eight points.
"All four of our post players brought something to the table in the post position," Williams said. "We talked about how IUPUI has been pounding the paint and getting a lot of points from their post play. We challenged our post kids, and they rose to the challenge."
With no time limit tonight, Hemiller contributed nine points and led the team with eight rebounds.
"I want to play every minute of the game. I love my team and I am so thankful to be back," Hemiller said.
IUPUI had two leading scorers: Scott with 11 and Jenna Gunn with 10. Even though the team was out-rebounded 41-35, they forced IUPUI to turn the ball over 17 times.
"I thought this was one of the best defensive performances of the year, and our team was very focused and locked in on our defensive game plan," Williams said. "I'm extremely proud of the way we carried it out and put together a pretty good defensive 40 minutes."
The Coyotes improve to 22-6 (12-3 Summit League) with the win over IUPUI, dropping them to 14-14 (9-6). USD hosts Western Illinois Saturday with tip off set for 1:30 p.m.
"We are ready for Saturday, and we know what it is going to take to win the game, so it will be a big game for us. We don't want to share (the Summit League Title)," Hemiller said.
(Junior guard Kelly Stewart goes up for a layup in Thursday's win against IUPUI in the DakotaDome. Austin Ashlock / The Volante)