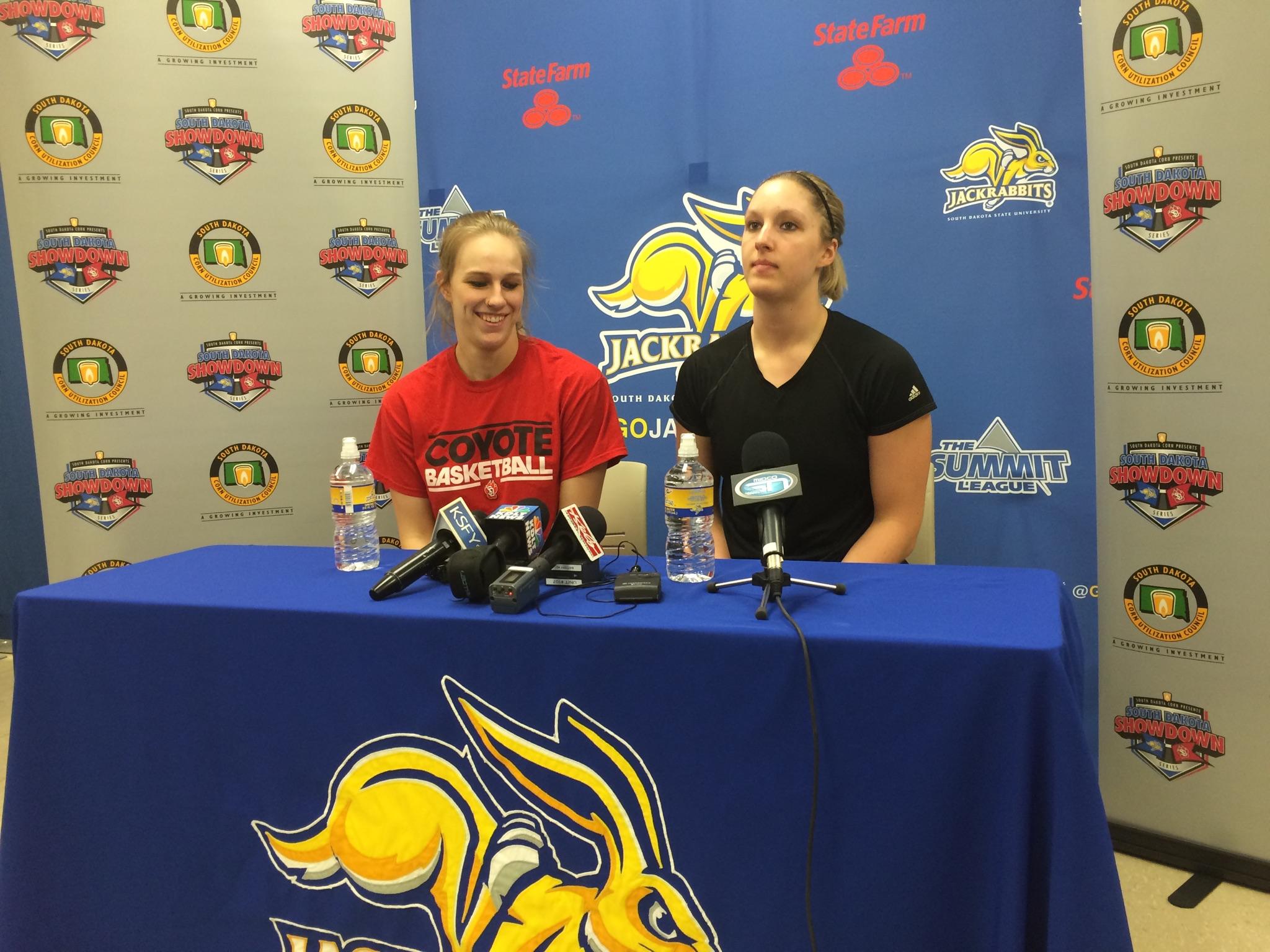 3 mins read
Even though University of South Dakota women's basketball had junior guard Tia Hemiller back to playing for 15 minutes, the Coyotes lost to South Dakota State University 77-67 in Frost Arena Feb. 22.
"The underlying message after the game was we gave up too many second chance opportunities, got out-rebounded and got outscored at the free throw line by 10," head coach Amy Williams said.
The Coyotes went back and forth in taking the lead until four minutes left in the first half. The Jacks then ran away with the advantage 34-26 when first-year guard Macy Miller pushed for a double-double in scoring and rebounds.
Miller led the team with 10 points, nine rebounds and two assists, followed by senior guard Megan Waytashek with eight points.
"They played really good pressure defense and pushed us out of spacing. We didn't catch the ball where we wanted to catch it tonight, and that made it hard for us to get into an offensive rhythm," senior center Margaret McCloud said.
Meanwhile for the Coyotes, sophomore forward Bridget Arens led the team with six points, followed by senior guard Raeshel Contreras with five points and four assists. McCloud contributed six rebounds.
"The positive is we got down in the first half, but we didn't give up and we came out and fought," Williams said. "We had a really nice stretch (in the second) to bring us back into the ballgame. But we couldn't capitalize on a few possessions to get over the hump."
The second half was still a back and forth game even though the end score didn't show it.
"In the second (half) we were more aggressive and we attacked more to bring that pressure," senior guard Nicole Seekamp said.
Seekamp led the Coyotes with 18 points, seven assists and six rebounds. Arens added 12 points and McCloud followed with 10 points and six rebounds.
SDSU's Waytashek scored 18 points, and Macy Miller recorded a double-double with 16 points and 10 rebounds.
"(Macy) handles herself with poise, and it is uncharacteristic of a freshman, but she is a tremendous player that we will deal with for the next three and a half years," Williams said.
The Coyotes fall to 21-6 (11-3 Summit League) with the loss against SDSU, while SDSU improves to 19-8 (10-4). USD hosts Indiana University-Purdue University Indianapolis Thursday, with tip off at 7 p.m.
"We have to use this game and learn from it — learn from the mistakes we made, push forward and worry about the next game," McCloud said. "We are excited for the tournament but we still have two games at home to finish."
(Senior guard Nicole Seekamp (left) and center Margaret McCloud (right) talk to the media following the USD-SDSU matchup Saturday in Brookings. Alanna Schmeichel / The Volante.)