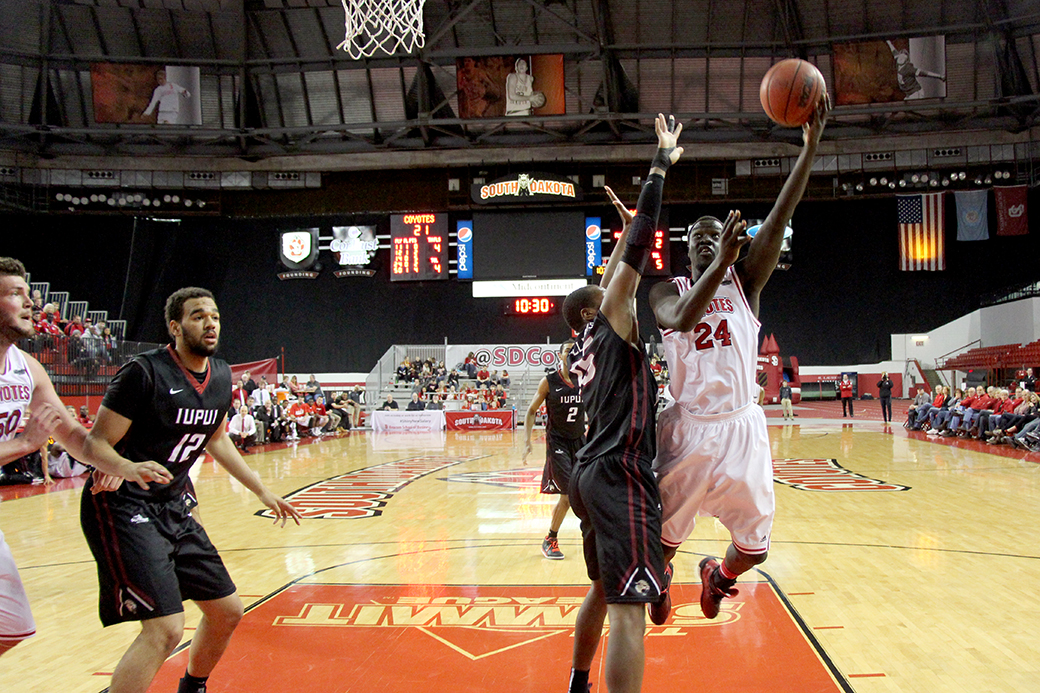 4 mins read
Men earn team win against IUPUI
Balanced scoring, along with a few turnovers and a number of rebounds led to the University of South Dakota's Saturday win in the DakotaDome.
The men's basketball team downed IUPUI 77-62, giving USD's head coach Craig Smith something to be pleased about.
"(This was a) great team win for our guys," Smith said. "I'm not sure there was one guy that had a poor game."
The Coyotes were led by senior guard Tyler Larson's double-double. The guard scored 21 points while grabbing 13 rebounds. Three other Coyotes scored double digits — junior guard Tre Burnette scored 12 points, while senior guard Brandon Bos and junior Trey Norris each made 11. Burnette added six steals to go with his 12 points.
Marcellus Barksdale led the Jaguars with 21 points and six rebounds. Archie Mason added 18 points for IUPUI.
USD raced out to a 7-0 lead in the first minute and a half, but IUPUI refused to go away early. The Coyote's biggest first-half lead was 15-6 after junior guard Casey Kasperbauer scored a three-pointer.
The Jaguars knotted the score up at 21 with an Archie Mason jumper. IUPUI used a 4-0 run right before halftime to cut USD's halftime lead to three points.
IUPUI shot 65.2 percent from the field in the first half, but still trailed by three.
Larson credited IUPUI for this stat.
"IUPUI made a lot of tough shots tonight, in the first half especially," Larson said.
Smith also was impressed with IUPUI's shooting performance on the afternoon, something they usually don't do well.
"They're not a great shooting team," Smith said. "They looked like BYU with Jimmer Fredette back in the day in the first half."
The teams traded baskets for the first 10 minutes of the second half before Norris led the Coyotes to a 56-53 score in their favor.
After his own missed jumper, Norris intercepted an IUPUI outlet pass and drove hard at the basket. Due to an intentional foul, Norris attempted two free throws before the Coyotes regained possession, making both.
Norris then finished the possession with a three-pointer, giving him the rare seven-point play.
Norris was coy about the plays.
"It was pretty cool though," Norris said.
Larson, however, recognized how special the play was.
"It was the most points I've ever seen by one person in a possession," Larson said.
Behind those seven points in 13 seconds, USD took a 63-53 lead. IUPUI never cut the lead under eight after that. USD controlled the remainder of the game, cruising to a 77-62 victory.
IUPUI shot 53.3 percent from the field on the game, compared to USD's 42.4 percent. Offensive rebounds and turnovers allowed the Coyotes to attempt 21 more shots than their opponent.
Norris said anticipation was huge in forcing those turnovers.
"I know I got a couple steals where I just read their eyes and knew exactly where they were going, and I just shot the passing lane," Norris said. "We had a chip on our shoulder. They bullied us at their house."
IUPUI had 17 turnovers on the afternoon compared to USD's seven.
"That was a huge difference," Smith said.
buy zithromax online https://pavg.net/wp-content/languages/new/where/zithromax.html no prescription

USD out-rebounded IUPUI 33-27, led by Larson's 13.
"The emphasis this week was eliminate losing. Like we always say, 'You can't turn it over' and we got to do a great job on the boards, and we out-rebounded them 33-27, but we had 17 offensive boards," Smith said.
The win gave USD its first record above .500 for the year, as they sit at 15-14. The win also boosts its Summit League record to 8-6 and moves the team one win closer to the coveted third place position.
The loss drops IUPUI to 9-19 on the year and 5-9 in the Summit League.
Next up for the USD men is a Wednesday home game against Denver before they end their regular season hosting in-state rivals South Dakota State Feb. 28.
Larson is keen to play his last two college regular season games at home before heading to Sioux Falls to compete in the Summit League Tournament.
"We've got three guaranteed games left," Larson said. "So we're just really excited that we get these last two at home and then take this momentum to the Summit League Tournament."
(Junior forward Duol Mayot goes up for a layup in Saturday's win against IUPUI in the DakotaDome. Cristina Drey / The Volante)