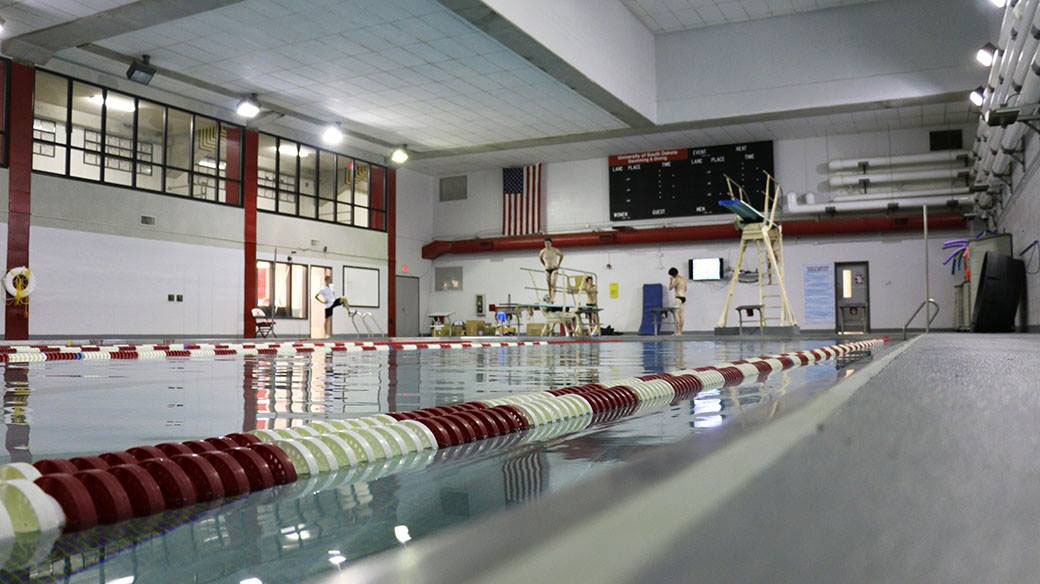 2 mins read
DakotaDome pool undergoes $75K renovation
The hopes of cooling off in the DakotaDome's pool during the hottest days of summer were drained this year.
The pool, undergoing renovations, was empty until last week. After dealing with leaky pipes and inadequate chemical levels, the University of South Dakota decided it was time for an upgrade.
The decision to make the estimated $75,000 in renovations comes after dealing with water level fluctuations and high chlorine levels, which sometimes left the Coyotes unable to practice.
"It's hard to miss even one practice, we can't go lift or go do stadium stairs. We have to be in the water to practice," said Kassidie Cornell, a sophomore swimmer.
Cornell said one male swimmer received an eye infection from the pool last season that forced him to miss a team trip to Puerto Rico. Since the infection, the swimmer is unable to wear his contacts and must now wear glasses.
"Most of the upgrades are behind the scenes," swim coach Jason Mahowald said.
Much of the work went toward fixing chemical levels and replacing leaky pipes that cost the university money. Bryan Boettcher, Sports Information director, said construction crews gutted the equipment room and replaced all the old equipment. These new repairs should ensure the pool is able to maintain more consistent chemical levels and be all-around more efficient.
The USD swimming and diving team, students, the local club swim team and the community will all have access to the pool area. The pool also schedules swim lessons for the area, a six lane lap swim, open swim, water aerobics, water safety instructor training and lifeguard certification and renewals throughout the year.
These renovations are a continuation of work being put into buildings and facilities across campus.
The pool will be ready just in time for the Coyote swim and dive teams, slated for a Sept. 26 home opener. Mahowald said visitors will also be impressed.
"They did a great job, it was high quality work, and I'm excited to get back in the pool and start training," he said.
First-year assistant diving coach Kris Jorgensen said the team is excited to begin the season.
"The pool looks great. We are all excited to start practice and have high expectations for the season. Facility management did a great job," he said.