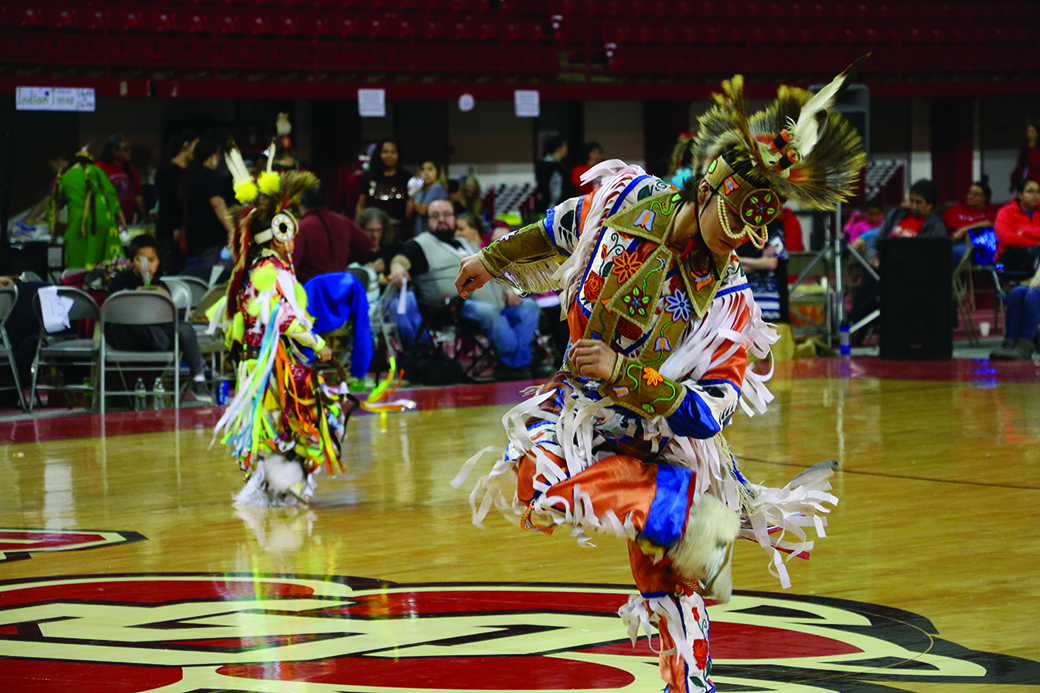 3 mins read
DakotaDome plays host to 44th Wacipi
USD's 44th Wacipi, a powwow featuring traditional Native American singing and dancing, took place this weekend in the DakotaDome.
The powwow was a display of brightly colored bead- and feather-work regalia, lively dance and traditional drum and song music routines performed by Native American groups and individuals from across the region.
There were also stands selling a variety of traditional-style goods, foods and trinkets, including beaded and leather items, woven blankets and serapes and fry bread.
This year's powwow carried the theme of "A Proud Past and a Promising Future," which was emblazoned on promotional T-shirts and other items.
The theme of this year's Wacipi was chosen to reflect "being proud of our Native culture," said Collette Bowman, president of the Native American student group Tiospaye.
The Wacipi was only one part of USD's Native American Visit Weekend, which also included a Native American Alumni Banquet Friday night. The banquet featured Joseph M. Marshall III, a renowned Brule Lakota author, as its keynote speaker.
Isaac Yellowbank, chair of the Wacipi event, called it an "inter-tribal powwow," and said the dances and music performed represent a variety of styles from various tribes.
Yellowbank said the Wacipi powwow is "pretty much just a celebration" of the changing of the seasons and "being in the moment," which aims to bring the people of the community together.
The powwow draws performers from far and wide to Vermillion – some coming from as far as Montana, North Dakota and Kansas.
"We have dancers come from all over," Yellowbank said, adding that the Wacipi is an early stop on the summer "Powwow Trail," in which dancers, singers and spectators travel from powwow to powwow.
The performances at the Wacipi were judged and the best of them won cash prizes.
"I think we have some really good dancers – when you're picking dancers, it's really hard to choose, especially during the Fancy Shawl (dance). That's the most competitive one. It's really fun," said Selena Olvera, a Wacipi attendee who judged some of the dances.
Preparing for the powwow is an all-year job, Yellowbank said. Tiospaye is already making plans for the powwow next year now that this year's is over.
Much of the year is spent fundraising for the event, which mostly consists of selling Indian Tacos throughout the year.
Wacipi also solicits donations from surrounding tribes, companies, casinos and organizations, including the Crazy Horse Memorial Foundation, the Yankton and Winnebago tribes, and CorTrust and First National Banks, Bowman said.
Yellowbank stressed that "everybody's invited" to the powwow and wished to dispel a misconception that the event is only for Native Americans. All community members were welcomed to attend the powwow, Yellowbank said.