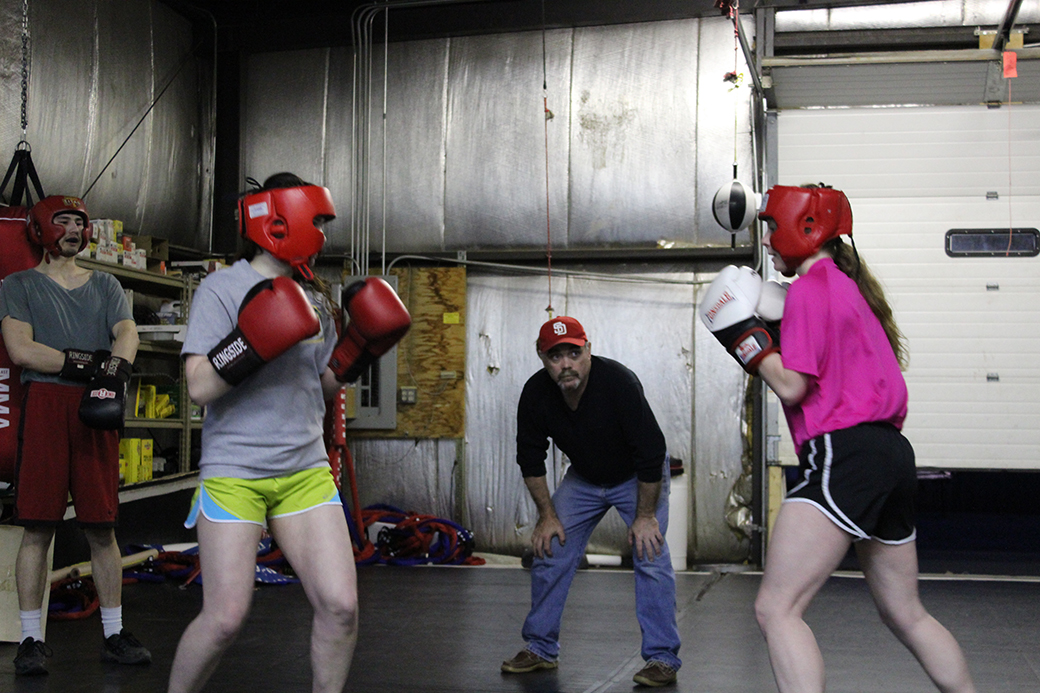 5 mins read
Record number of women to compete in TKE Fight Night
Thirty-two years ago, Jody Harnois, coach for USD's Boxing Club, thought up the concept of a charity fight night.
Today, he's training both men and women to fight in about 10 matches at TKE Fight Night.
"This is the most women I think that we've ever had," Harnois said. "In fact, there's nights when we've got more women in the gym than we got men."
He said four of the 10 matches are shaping up to be women's fights.
"These women look pretty darn good," he said. "In fact, the majority of the women that are going to be here are going to be receiving a very adamant suggestion that they become a part of the USD Boxing Club next year to where we start competing again."
First-year Brigitte Byrd found out about the opportunity through her friend and fellow fighter, first-year Maddy Thompson.
"My counselor told me about the boxing club, and then my friends told me, 'Oh, there's TKE Fight Night,' " Thompson said.
They've found the experience more intense than what they were used to, but both were involved in sports throughout high school, and so they said that's helped in the transition.
"The women that are coming in here that have varied backgrounds, from softball to volleyball to basketball – to come in with great athleticism, and you're going to see it here at fight night," Harnois said. "A lot of the same skills that you have in those sports – with balance, quickness, agility, confidence – will all carry through, and it applies very well in the sport of boxing."
The fighters have been practicing for weeks leading up to the event, which raises funds for St. Jude Children's Research Hospital.
Greg Huckabee, associate professor in the Beacom School of Business, is the faculty adviser for the fight night and has been involved with boxing in several ways for a number of years.
He said it provides an opportunity for students to grow up in a unique way.
"It's a great growth activity for gals as well as guys, makes 'em reach to try and be better physically," Huckabee said. "If I had my way, all students would be required – as they do at the military academies – to participate in some sport because they're healthier, they're more alert, they're great at time management."
Harnois said the majority of the people set to compete are fairly new and began practicing the second
semester. He said only a few of the thirty-some people who started training are left, as many found out the amount of work involved and quit.
Recruiting efforts on the part of Tau Kappa Epsilon to get more women involved in the event have paid off this year, TKE Philanthropy Chair Brady Daly said.
"Whenever we have a sorority fighter, we have a larger showing," Daly said.
Last year, about $2,500 was raised through the event. The goal for this year's TKE Fight Night, to be held April 7 at
7 p.m., is to raise as much money as possible for St. Jude, he said.
Daly is hoping the new venue – the Vermillion High School gymnasium – will draw a bigger crowd. The gym can seat more attendees and also has a new scoreboard and other technologies to add to the atmosphere.
The total number of fighters has yet to be determined, but Iowa State – a previous USD Boxing Club opponent – is being invited to bring novice fighters, along with other schools. Harnois hopes to find a fight for Joe Kemp, who's a more experienced boxer coach, to add some mix to the event.
"My dad threw me in the gym when I was six years old and I had my first fight when I was eight, and it just kind of went from there, and stuck with it, kept me out of trouble," Kemp said.
Harnois said having experienced fighters around has made a difference in training new fighters.
He said the fighters who participate end up having a memorable experience.
Ultimately, the one thing Harnois hopes they learn throughout it is something about themselves.
"We don't expect anybody to advance on to the pro level of boxing, but one of the first things you learn about boxing is how to overcome your own fears and it's really one of the first steps to success in life," he said. "Because unless you overcome that fear of failure, you're never going to be successful."