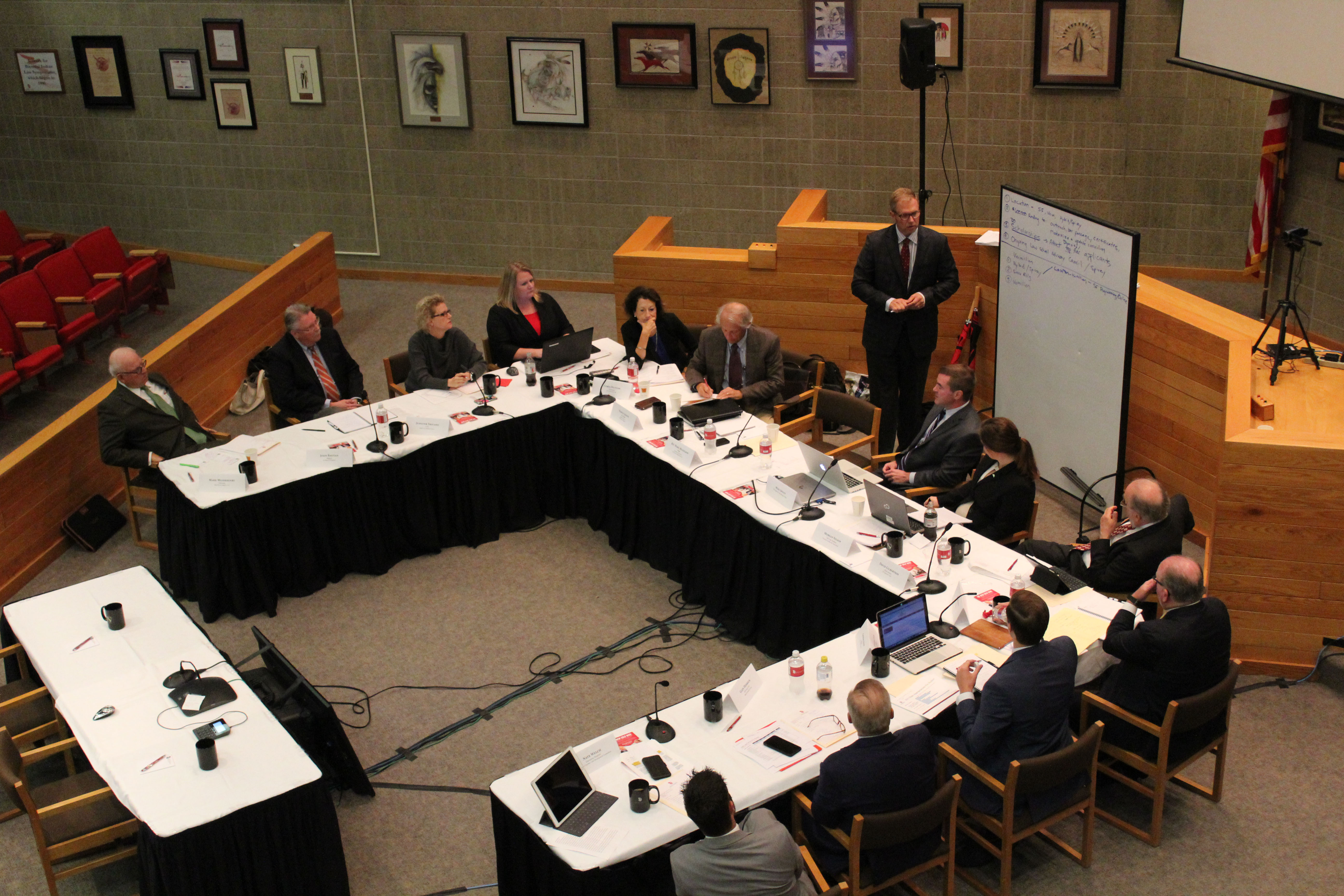 2 mins read
Law School Task Force comes to decision in final meeting
In the third and final meeting of the USD Law School Task Force, members came to a conclusion recommending the USD law school stay in Vermillion, but seek space to offer classes in Sioux Falls, too.
The university first created the task force in the spring to explore if moving the law school to Sioux Falls would boost its enrollment.
After holding two meetings in previous months, the 13-member task force will now take their recommendation to USD President James Abbott.
If Abbott decides to proceed with the recommendation, he will take it to the South Dakota Board of Regents. The BOR would make requests to the governor, who would include it in the budget proposal for the next legislative session.
Under the current recommendation, the law school will remain on the Vermillion campus and a space will be leased in Sioux Falls. Classes and programming will continue in Vermillion, with additional specialized classes and additional certificate programs in Sioux Falls.
According to the Argus Leader, law school dean Thomas Geu said he supports the task force recommendations for the future of the school, and sees it as a starting point to resolve issues facing the university.
"A recommendation like this is likely to make everybody mostly happy, but a little unhappy," he said.
However, before the meeting, the option to split the law school and make it dual-location was an unpopular idea to most students. Morgan Nelson, a third-year law student and president of the Student Bar Association, was a task force member and voted for the law school to be moved to Sioux Falls.
"When I was beginning to understand where we fit in the regulatory scheme, I started to see we had to do something," she said. "At that point, we have the chance to stay here and tread water and slowly sink, or we can make a calculated risk at at least getting more money, more teachers, et cetera."
Meanwhile, while some voted to support the move, some others pulled the opposite direction and spoke about keeping the law school in Vermillion.
Consultant Mike Spivey said during the meeting he didn't think constructing a new building would attract more students to the program.
"I see no evidence that building a shiny, sparkling palace in Sioux Falls will increase the applicant pool relative to the cost of the building," he said.
During the meeting, the task force also recommended requesting $600,000 in new state funding for the law school, as well as creating a plan to generate more scholarships for both South Dakota and out-of-state students.
The Volante will continue to report on this story in the coming weeks.