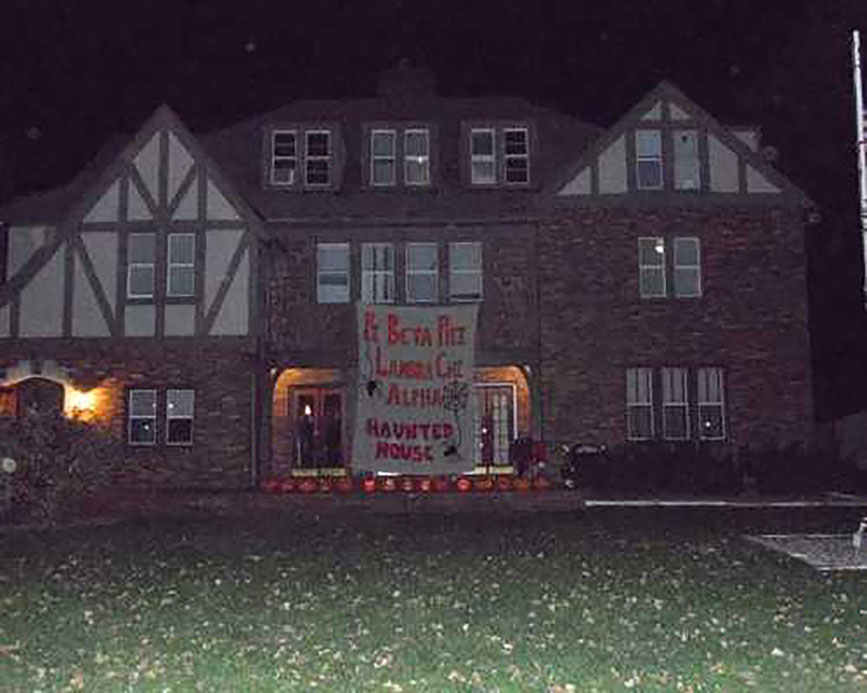 3 mins read
USD sorority and fraternity scaring for a good cause
Every Halloween, Pi Beta Phi and Lambda Chi Alpha organize a haunted house for USD students to get in the Halloween spirit.
In addition to kicking off Halloween festivities, the event is an annual fundraiser for Feeding America and Children's Literacy.
Lambda Chi Alpha and Pi Beta Phi have partnered for the event for the last 20 years.
"Lambda Chi Alpha has been doing the Haunted house event at USD for quite some time," said sophomore Ethan Walker, Lambda Chi Alpha philanthropist. "I am not entirely sure of the exact year it originated, but we know that it was some time before the Vietnam War. It is a really important tradition to us so we take it very seriously."
Preparation begins about a month before Halloween. While planning, both Lambda Chi Alpha and Pi Beta Phi members brainstorm a theme and determine logistics for promotion, set up and execution.
This year's theme is "American Horror Story," so each room of the haunted house will portray a different season of the television series. 
"The women of Pi Beta Phi actually chose this theme, and I think that it is a great idea to incorporate some element of pop culture into the haunted house," Walker said. "The preparation process is extremely fun. We delegate portions of our budget for decorations and costumes to ensure that the experience is not only worth the price but draws people back in coming years."
Walker said it's nice to have a variety of opinions when brainstorming ways to execute and promote the event.
"The entire Greek community is extremely good about supporting each other's events, so it is not out of the ordinary to see every chapter on campus active in each others philanthropy events," Walker said.
The haunted house has earned around $1,500 per year since Lambda Chi Alpha started organizing it.
Whitney Barnes, a senior and Pi Beta Phi chapter president, said this year the goal is to raise more than $2,000 for the philanthropic causes. 
"In the past, we had themes such as haunted fairytales and classic scary movies," Barnes said. "Each year we hold this event, it is extremely successful. Students from USD, families and the Vermillion community members attend this annually."
Laura Anderton, director of sorority and fraternity life, said the haunted house is a great event for students to support a good cause.
"From my personal experience of attending in previous years as a guest, it is a very fun event for the students, members and guests," Anderton said. 
Barnes said the haunted house wouldn't be possible without the teamwork of both Lambda Chi Alpha and Pi Beta Phi.
"It takes both of our organizations' members to pull off this event," Bares said. "We have groups table and sell tickets in the MUC for promotion, we have people set up the actual haunted house, and we have our members volunteer to be 'scarers' in the house."
Students and community members can purchase tickets for $5 in the Muenster University Center or at the door for $7 Oct. 25 and 26 from 7 p.m. to 9:30 p.m. Free will donations for both organizations will also be accepted.
Walker said he hopes students come out and support the cause.
"It is a great cause, Feeding South Dakota does remarkable work for impoverished counties in the state," Walker said. "It is also a great way to celebrate the season of Halloween."