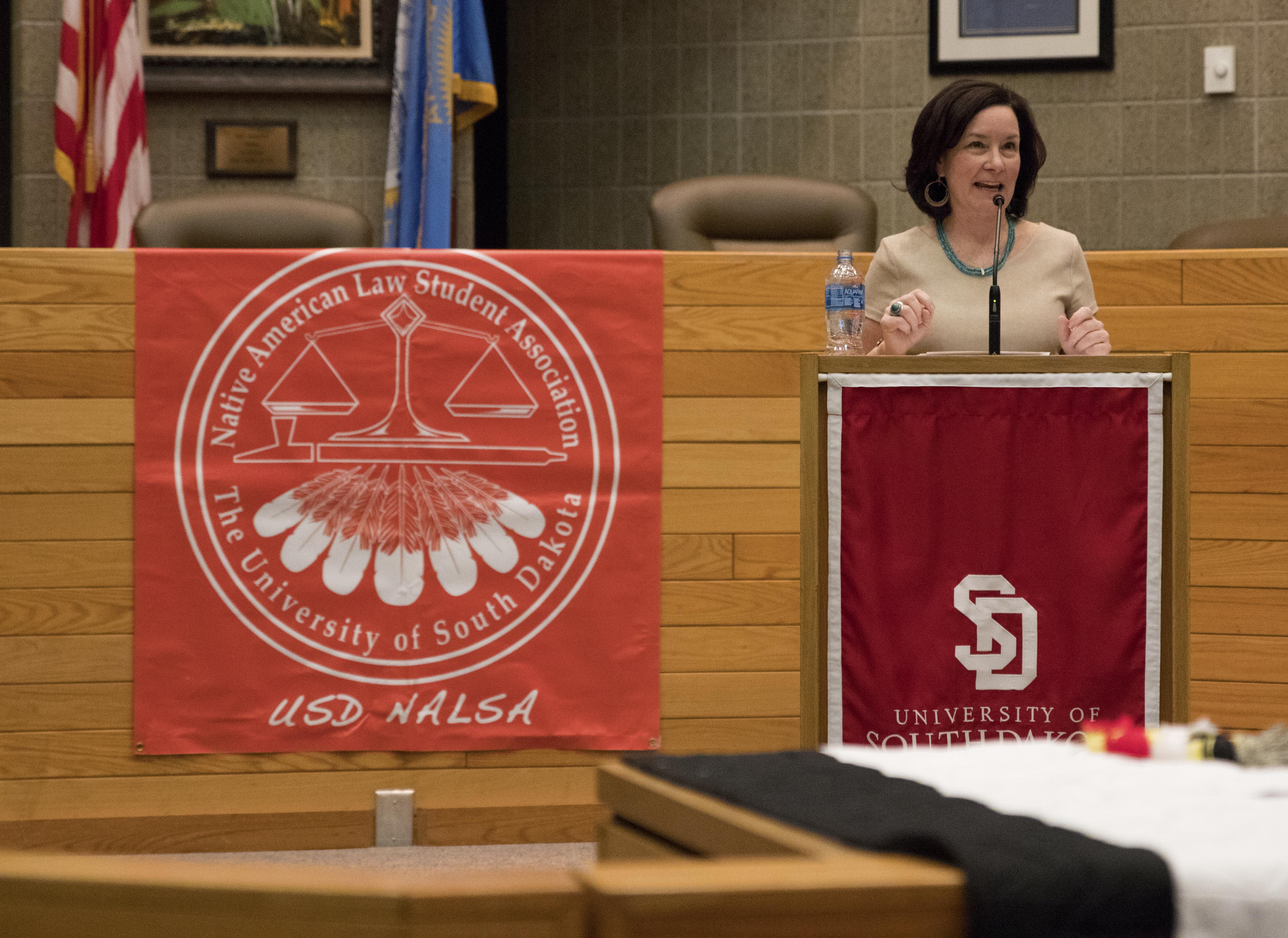 3 mins read
Indian Law Symposium presents topics of tribal activism, sovereignty
Tribal sovereignty, standing with Standing Rock and cultural challenges are all topics surrounding the 15th biennial Indian Law Symposium titled "The Challenges of Culture, Governance, and Respect in Indian Country."
The symposium, hosted by the Native American Law Student Association, began Wednesday night in the Law School courtroom with an opening prayer by Gene Thin Elk and an Honor Song by the Oyate Singers.
"Every two years I look forward to is when our students get to really see the interaction with indigenous perspectives, indigenous people and all the other, the federal, the state and being able to see that and learn about it and experience is just amazing," said Thin Elk, director of Native American Student Services.
Professor Frank Pommersheim gave opening comments before the keynote address delivered by Patrice Kunesh, assistant vice president and director of the Center for Indian Country Development. He said it was an honor to bring Kunesh back on campus.
"For me, it's just a wonderful opportunity to recognize and welcome back into this community a person who was on our faculty for a couple of years," Pommersheim said. "I know she's delighted to come back and I think her experiences both here and before here and her experiences since leaving the law school have helped her continue along on the road to develop additional insight she can share with us."
Kunesh said she was glad to be back in Vermillion for the symposium.
"I was part of these events when I was teaching at the law school," she said. "It's a very both emotional and a very important way to signify the work that we're doing here at the law school and how it radiates out."
Kunesh's keynote address, titled "Cultural Disruptors and Judicial Reckonings in Indian Country," brought up the topic of hashtag activism in the standing with Standing Rock movement which arose from the construction of the Dakota Access Pipeline.
"The protest lasted months and drew international attention to the people and the place at the heart of the cause," she said. "Hashtag activism was widely credited for creating a local grassroots movement to solve large-scale problems and it actually led to a temporary halt in the construction of the Dakota Access Pipeline. A lot happened there, far more than we can fathom and the experience changed everyone involved, some for the good, some for the not so good."
Kunesh also spoke about various cases affecting the Native and indigenous communities with the intersections of race and sovereignty.
"These cases… reveal the intense tension between two competing sets of rights: civil rights versus tribal rights. This is not a new conflict," she said. "While civil rights are understood to be largely about individual equality, tribal sovereignty concerns collective rights and political autonomy from the nation-states. American Indian tribes are nations, not minorities."
The symposium continued on Thursday with panels on tribal governance as well as tribal culture and activism.