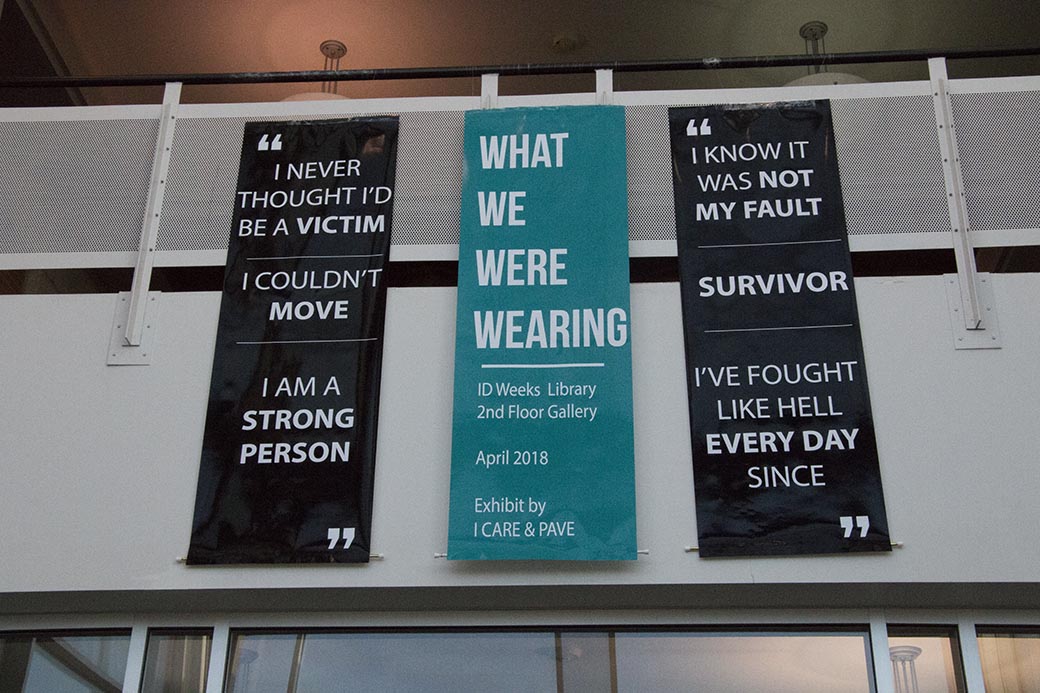 2 mins read
Clothing stolen from "What We Were Wearing" exhibit
A piece of clothing from the "What We Were Wearing" art exhibit hosted by PAVE and ICARE was recently stolen twice by an unknown thief.
In place of the stolen piece is now a sign that reads "the underwear illustrating this story has been stolen twice. Stealing objects from a sexual assault survivor art installation IS rape culture."
The first time the garment was stolen was the day after the exhibit's opening. Alyssa Fothergill, PAVE president, notified Sara Lampert, ICARE member, that the garment was missing from its display, and they decided to just buy another pair to replace it.
On Monday, PAVE and ICARE members noticed the underwear missing again, so they decided to put the sign in its place in order to send a message to the thief, and to other exhibit observers. Lampert said the theft was "deeply disrespectful."
"Stealing from an exhibit that is built around the experiences of survivors of sexual assault is a flagrant act of disrespect, and trivialization of a really important issue, but also of the voices and experiences captured in that exhibit," Lampert said.
Claire Litzen, PAVE awareness chair, said this theft is frustrating for the group, who worked on finding participants for the exhibit, and also frustrating for the survivor whose story is on display.
"We were really frustrated because people probably thought they were being funny, but we all kind of thought it was disrespectful towards the exhibit and specifically that survivor's story," Litzen said.
Litzen said whoever stole the garment doesn't understand rape culture or take it seriously.
"You probably didn't mean to hurt anyone's feelings and you thought that it was funny, but it's actually very disrespectful towards the exhibit and towards that survivor's story," she said. "They may not understand what rape culture is considered, and it's kind of mocking the exhibit in a way. That's why that sign is out there now. It just adds fuel to rape culture, and that's just not okay."