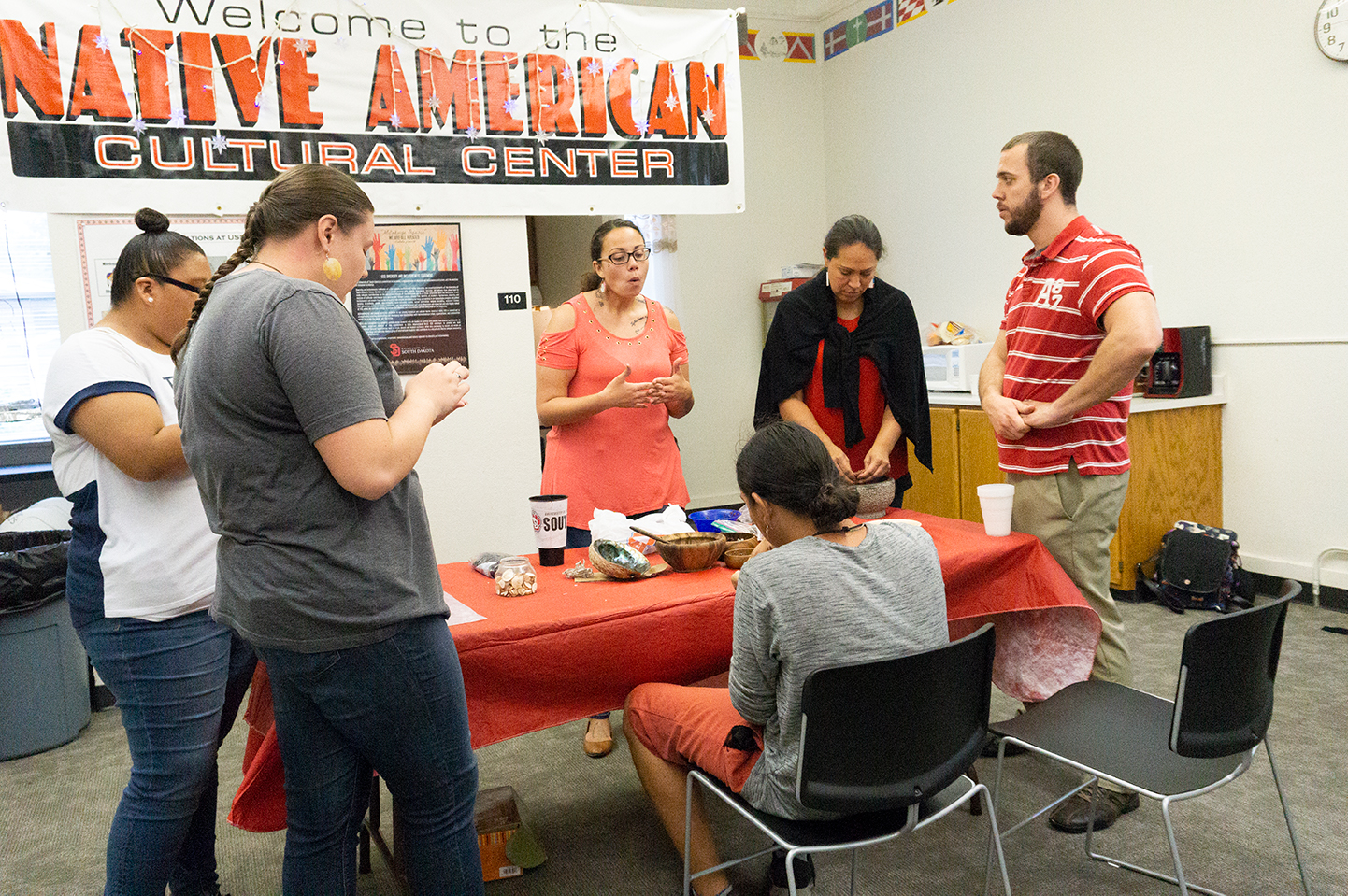 3 mins read
Cummings accepts Native American Student Services director position, ICARE program coordinator search begins
A search committee has formed to fill Marisa Cummings' former position of ICARE program coordinator.
Cummings accepted the position of director of Native American Student Services over the summer. The position was previously held by Gene Thin Elk.
The committee includes Alyssa Fothergill, Deborah Dodge, Bridget Diamond-Welch, Michele Turner and Kim Grieve. They posted an application for the position on July 31.
Kim Grieve, vice president of student services and dean of students, said in an email interview with The Volante that the committee is in the process of reviewing resumes for Cummings' replacement as the ICARE program coordinator position.
"Once we have narrowed the pool to the final candidates, we will invite the campus and Vermillion stakeholders to meet the finalist and provide feedback," Grieve said. "This position is very important to USD; therefore, we will continue to have a coordinator in this position to continue and build on the good work that has already been started."
Cummings said the programming calendar for ICARE is still laid out for this academic year, and whomever takes the new position can build upon that framework.
"It's not like the work stopped, it was already built," she said. "I'm just really excited for this new person to come on board and collaborate and we'll still collaborate."
A passion for students
Cummings said she has a passion for working with students which led her to this new position within the university. She still serves on the programming committee of ICARE.
"I loved my work with ICARE, but I didn't get to work with students as much as I do now," she said. "I really missed that student contact. I've seen students grow and navigate different opportunities, so I'm happy to reconnect with students on a deeper level."
Cummings previously served at the University of Iowa's Center for Diversity and Enrichment before moving to USD. She said moving to a position where she worked with Native students is a natural fit.
"I'm Omaha; I'm Native American," she said. "Working with Native students is really always just something you do as a Native person."
Her plans for the new position consist of building on what Thin Elk did in years past and getting student feedback. She hosted a "Surveys and Sweets" event during the first week of classes to get student perspective on what events they wanted to see within the Native American Cultural Center.
"Our programming is culturally-based, some of our programming is academic support, a lot of our programming is collaborative with other offices across campus to make sure that the students are served with a holistic approach," she said. "I'm always passionate about working with students and making sure they have the best experience while they're in school."
Alyssa Fothergill, junior general studies major and a member of the ICARE programming committee, said she's had a good impression of Cummings since she asked her to be the faculty advisor for PAVE (promoting awareness, victim empowerment).
"I love her ideas and her passion," Fothergill said. "I think she is going to have such a good fit in her new position, and her passion is going to carry into that."