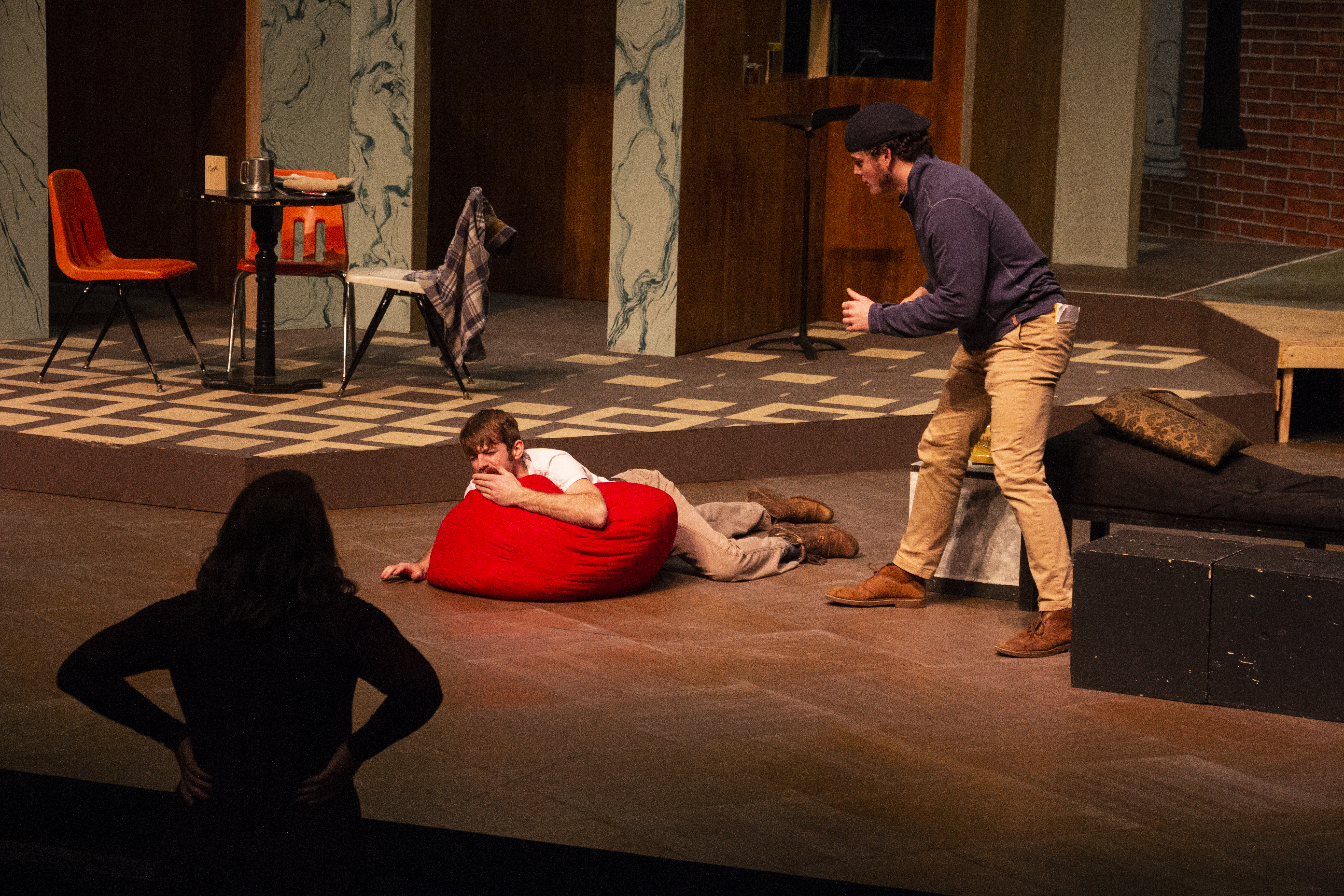 3 mins read
A look at USD Theater's newest play, "Boeing-Boeing"
For their first show of the spring semester, the USD Theater Department is putting on a comedic love story that is requiring the actors to work on new dialects.
Megan Weidner, the director of the play, said 'Boeing-Boeing' is unique compared to any other play the theater department has put on because it is a "straight farce comedy."
"It's really high energy," Weidner said. "There are seven doors, and there's a lot of running around. It's a comical chaos."
Weidner chose this play to direct as her thesis project for her master's degree in Fine Arts. She said she wanted a big comedy that could also be family-friendly.
"I would say that this ranks a little bit more on the PG-13 edge, but I really wanted to do something that was big and hilarious and required a lot of physicality and a lot of energy from the actors," Weidner said.
Weidner said the play is set in '60s Paris, and the main plot is centered around Bernard, an American living in Paris, who is engaged to three fiancés. His fiancés are all air stewardesses and the launch of the brand-new Boeing 747 airplane brings them all home at the same time.
Jackson Whitaker, one of the actors, plays Bernard's "naive" friend.
"His friend Robert comes to visit him in Paris and is thrown into this circle of lies where Bernard is trying to keep each of his fiancés away from each other so they don't know that they exist," Whitaker said.
When Whitaker was preparing for this role, Weidner said they talked about him drawing inspiration from Josh Gad's roles in Frozen and The Book of Mormon.
"We talked about him a lot because he has that same kind of bumbly character," Weidner said.
Weidner said there are a lot of accents in this play. Whitaker has to do a Wisconsin accent for his role, two of the actors playing the fiancés have to do an Italian and German accent and the actor playing Bernard's maid has to do a French accent.
"Getting into this character's dialect has been quite different from any character that I've done," Whitaker said.
Although the backdrops and sets were designed in the fall, Weidner said the cast and crew have spent the past five weeks rehearsing.
Boeing-Boeing premieres on Feb. 14 and runs through the 17th at the Wayne Knutson Theatre inside the Fine Arts building.
"It's a love story and it opens on Valentine's Day," Weidner said. "Perfect date night or friend date night or you know, family date night, grandparent date night. It's a really funny comedy that's going to keep you laughing the whole evening."