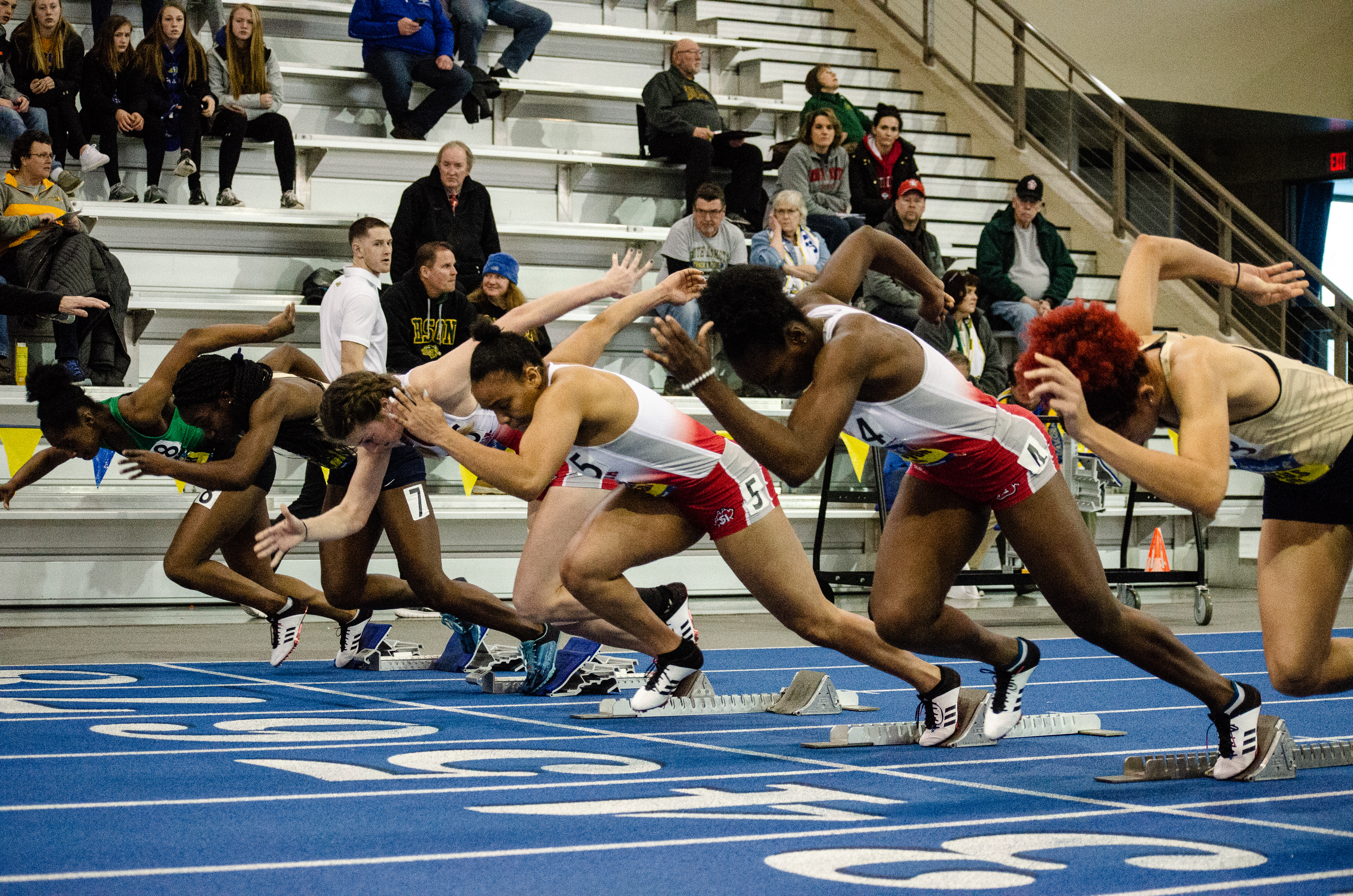 5 mins read
Three Coyotes set records at Summit League Championships
USD broke three meet records as both the men's and women's track teams placed top-three in the Summit League Championships inside the Sanford Jackrabbit Athletic Complex over the weekend.
USD's women's team finished second with a total of 146.5 team points as North Dakota State took first with 214 points. The men's team took third with 112 points, finishing behind South Dakota State and North Dakota State, who finished with 220 and 207 points, respectively.
The team still sees room for improvement heading into the outdoor season.
"I think there's a lot more potential there," senior thrower Lara Boman said. "I think as a whole, there's a lot more ground we can cover, but there were some great performances and signs of what's there that we have in the tank."
"We did well but I know everyone on the team including myself is capable of more," junior high jumper Zack Anderson said. "We're ready to put it all together and prove it for when May comes around."
The women's team was led by junior Samara Spencer, who took home Summit League Field Championship MVP honors for the second time.
"It means a lot," Spencer said. "You put in so much work and you just want to see the results and that's what I got."
Spencer totaled 20 points in field events and 28 overall for the weekend. Spencer became the first Coyote woman to finish first in the long jump, leaping 19-7 ½. She also added all-Summit finishes in the 60 meter, where she placed second in 7.56 seconds, and the triple jump, where she took third at 39-8 ¾.
Lara Boman broke a meet record en route to winning the weight throw. Boman edged out three other throwers who also broke the meet's record, marking at 72-6 ½, breaking her own personal best and school record by two feet.
"It was really exciting," Boman said. "It was really just a lot of fun to be there and do that and to be able to help out the team points-wise."
Sophomore Danielle Thompson placed second in the 400-meter with a personal-best 56.22. Her time ranks fifth in Coyote history.
Junior Helen Falda led a pole vault team that tallied 21.5 points, finishing second at 13-9. Sophomore Landon Kemp placed third at 13-3.
On the men's side, junior Chris Nilsen bested his own meet record in the pole vault, clearing 18-10 ¼. The height is Nilsen's best of the indoor season and ranks third best in the NCAA. Junior Nick Johnson also finished with all-Summit honors, as he vaulted 16-11 for third place.
Junior Zack Anderson broke a six-year-old Summit League Championships meet record in high jump with a leap of 7-2 ¼, nearly eclipsing 7-5.
"Leading up to it, the days before I always get nervous for conference, it's such a big meet," Anderson said. "I had nerves but those started to go away when we were warming up. As the meet got going we had to wait around a little bit and we kind of struggled with that. We've definitely had better days as a high jump squad, but it wasn't anything to put your head down about."
USD gained 23 total points in the event, with freshman Jack Durst earning all-Summit honors by placing third at 6-10 ¼ and senior Deshonn Brown taking fourth at 6-8 ¼.
Senior Ethan Fenchel threw a personal best 69-2 ½ in the weight throw, now ranking him 19th in the NCAA. Sophomore Matt Slagus also threw a personal best at 61-8 ½. Junior Kino Dunkley launched a personal-best in the shot put at 56-10.
Senior Eldon Warner finished second in the 3,000-meter in 8:20.45 and third in the mile at 4:11.61, both for all-Summit honors. Sophomore Aleksi Rosler clocked the second-fastest 400-meter time in USD history at 47.25. He finished third.
Senior Joe Reagan also earned honors in the long jump as he placed third with a leap of 24-1 ½.
Both men's and women's distance medley relays finished third, giving them both all-Summit honors. On the women's side, sophomore Morgan Lawler ran the 1,200-meter, sophomore Alli Wroblewski took the 400-meter leg, junior Ellie Wilson ran for 800 meters, and freshman Haley Arens anchored the race on the mile, as the team clocked 12:14.71. The men's team was made up of sophomore Cole Streich, junior Sal Fidone, sophomore Kallo Arno, and senior Jacob Simmons clocking 10:25.81.
USD will have three athletes representing them in Birmingham, Alabama for the NCAA Indoor Track and Field Championships, March 8-9. Boman (weight throw), Anderson (high jump) and Nilsen (pole vault) will be competing.  The outdoor season kicks off at the UC Irvine Spring Break Classic in Irvine, California, March 15-16.