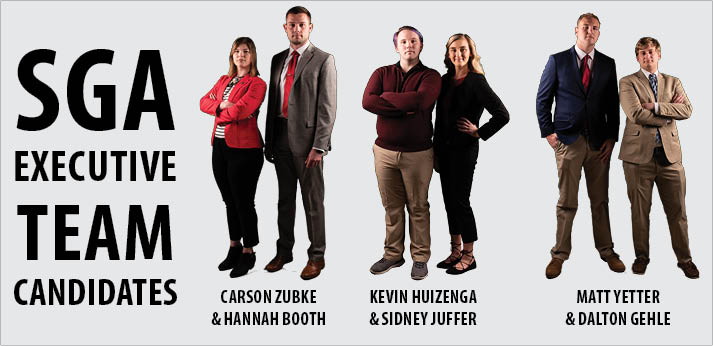 13 mins read
Three SGA candidate teams face off for executive office
by Cecilia Gillen, Kelli Susemihl and Lexi Kerzman
At the first Student Government Association (SGA) meeting of the semester, three pairs announced their plans to run for SGA executive office.
The three pairs running for SGA president and vice president are Kevin Huizenga and Sidney Juffer, Carson Zubke and Hannah Booth and Matthew Yetter and Dalton Gehle. All three teams have been developing their campaign platforms and gaining the student signatures required to appear on the ballot.
Huzienga and Juffer's platform is 'Acclimate, Involve and Develop' (A.I.D). Zubke and Booth's is 'Innovate, Cultivate, Empower' (I.C.E.). Yetter and Gehle are running on a 'ten-point promise.'
Huizenga and Juffer
Huizenga, a senior musical arts major, and Juffer, a sophomore accounting major, team's slogan is "A.I.D. for the University's Next Generation" with A.I.D. standing for 'acclimate, involve and develop.'
Huizenga said his first act of business would be approaching the "acclimate" section of their slogan.
"The first thing we would like to tackle would be creating a more thorough and integrated orientation for freshmen and incoming transfer students," he said. "Currently there is not a whole lot on the table for transfer students and… it's a very whirlwind week (for freshmen)… and I think it misses some key areas of this university."
These key areas include learning how to use apps and programs the university has available, such as University Involved or the new USD Safe app, Huizenga said.
"We have all of these amazing technologies and apps that can bring this university together and give students a very cohesive idea of what all is available on campus, but they just haven't been given the proper channels to learn how to use those," he said.
Huizenga has been on the SGA Senate for two years, and as a fine arts senator, said he feels like he has a unique perspective to bring as SGA president.
"I'm running because I really love this university, and I've always noticed that there's been some under-representation in programs that are not the big names of the school," Huizenga said.
He said he joined during the General Activity Fee (GAF) increase of 2017 and has been intrigued by Senate ever since.
"It was this big concept of 'we're paying more money and I didn't know, I had no idea that that was happening or why or how,'" Huizenga said. "So my goal then became 'I want to know what's happening on campus' and I found out that Senate was the best way I can do that."
During his time on Senate, Huizenga said, by serving on the GAF committee, he was able to help the dean create a GAF increase which allows students to attend theater events for free.
"I wanted to have more of a say in how the university spent my money," he said. "That was actually the goal I achieved this year."
Juffer has served on the SGA Senate for a year. She said Huizenga and her recognize similar problems around campus.
"When Kevin approached me, he talked about a lot of ideas that he wanted to change in the university… and a lot of the ideas he brought up, I honestly could see myself in," she said.
Juffer and Huizenga sit next to each other in the Senate, and Huizenga said this is how they became close.
"Additionally, we ended up on a lot of the same committees, so we got to run into each other quite a bit even though we are completely different in terms of who we represent on this university… I recognize that being from the smallest college can provide me with a limited scope as to my viewpoints on the university," Huizenga said. "So I found a person who had a very different experience…to run with me, to bounce ideas off of and to challenge each other."
Their closeness, but diversity in experiences, allow them to collaborate well, Huizenga said.
"I say, 'hey, I have this idea, no idea how to do it' and somehow some way, through her technological magic, has been making it all happen," he said.
Yetter and Gehle
Yetter, a junior political science, criminal justice and history triple major, said he chose Gehle, a sophomore history and English major, as his running mate because he brings a unique perspective. While Yetter has been serving as SGA's longest continually serving senator for four semesters, Gehle is not currently involved with SGA.
"One of the things that makes me unique is that I'm the only candidate who is not on SGA, and while there are certainly people who are in Greek life, a majority of us are affiliated, but I think the difference with me is that I'm very heavily involved in Greek life," Gehle said. "I think I have a lot of values that would concern and benefit members of sororities and fraternities a little bit more. In a sense, I'm speaking for them."
Yetter said Gehle is reflective of USD's student body.
"It's also reflective of the fact that a vast majority of the students here have no experience on SGA," he said.  "I think that maybe an executive team should be reflective of that, of the common population."
In addition to serving as an SGA senator, Yetter is also the executive director of the South Dakota Student Federation, where he said he is responsible for advocating for more than 35,000 public university students.
Yetter and Gehle are running on a 10-point plan, which can be accessed on their Facebook page.
"We're running on a ten-point promise. We don't think students need A.I.D. or I.C.E. (Huizenga and Zubke's platforms); we think students need results, and that's what we plan on delivering," Yetter said.
Gehle said a highlight of their platform will be bringing a 24-hour study area to campus. Yetter said this space could potentially be the I.D. Weeks library.
"As a member of the university libraries committee, I have had multiple conversations with Dean Daley, who is the dean of the library, and he is of the opinion that the library could provide the 24-hour service, but it's not currently equipped to do so," Yetter said. "We would like to see the university library have as a maintenance and repair request to retrofit the library in order to extend its operating hours."
Yetter said they would also like to respond to student complaints about campus parking, as well as parking in the Vermillion community. According to a survey measuring USD's student satisfaction, only 32 percent of students are satisfied with the current parking situation.
"Last April, I brought forward Senate Resolution 2, which asked the university parking committee to undertake a rigorous and holistic analysis of the parking scheme of USD in light of widespread student dissatisfaction," Yetter said. "The university parking committee failed to act on that resolution…I think that's a case of university administrators ignoring student concerns, which I think is iniquitous."
Their response to parking complaints would include working to end the odd-even parking system on city streets, redistributing B-pass spaces into additional A-pass spaces and creating a new economy parking pass for students living off campus.
Currently, the Yetter and Gehle team is working on speaking about their platform in classrooms and to a variety of student organizations.
Gehle said his biggest goal would be to connect the student body with SGA in order to solve problems.
"I think there's a dissonance between SGA and the student body, in the sense that I don't think we've elected people that essentially have been capable or have even attempted to reply to these concerns that are paramount to students," Gehle said. "To ameliorate that dissonance would kind of be my biggest goal."
Zubke and Booth
Zubke, a sophomore accounting major, and Booth, a sophomore political science and criminal justice major, said they decided to run for office as a way to help improve the USD community.
"We are just really passionate about the student body, and we have a lot of opportunities that USD has given us, and are so appreciative of those," Zubke said. "We want to make sure we can carry those on for students in the future."
The pair's campaign platform is 'Impact. Cultivate. Empower.' They said they hope to achieve this by being approachable and improving communication between organizations on campus.
"When I was talking to people about what they want from the university and how I can do something to make the university better, they were mentioning how the communication between smaller organizations on campus wasn't the best compared to larger organizations," Booth said.  "What we want to do is increase the love (bigger organizations get) on campus to other organizations that maybe aren't as big."
Zubke said the current budgeting process for organizations can be confusing. In hopes to clarify the process and qualifications organizations must obtain before they are approved for an SGA budget, Zubke and Booth are talking to all organizations during their campaign.
"There are a lot of questions that are sometimes unanswered, and it's hard for these organizations to receive funding. We want to find a way to go about getting these organizations funding," Zubke said. "Sometimes the smaller orgs are overlooked a bit. We just want to make sure we're getting rid of the economy between the two so everyone is getting everything they need to do their job."
Zubke and Booth are taking a 'listening tour' during their campaign and said this helps build a personal connection to each organization.
"We are going to every organization and talking directly to them and asking them how we can help them and what they want from us. I think that is important to go along with that process too," Booth said. "We want to enhance the communication between all the organizations on campus just so they feel as important as larger organizations."
Zubke said by going on the listening tour, they will be able to learn what issues each group is facing individually, which he said is important to the success of their campaign.
"Every organization is going to have different needs, so we can't really have a one size fits all solution. I think the listening tour will be really good for that because we are going around and talking to a lot of small orgs in addition to the big orgs," Zubke said. "We want to see where they're all sitting at. We really want to have that personal connection with everybody and that's why we're going around to all those different organizations."
Besides communication, the team is also hoping to make post-graduation transcripts free to all students. Currently, after graduation, a USD student has to pay $9 for each copy of their transcript they request.
"If you're applying for graduate school, or four or five even, that adds up. We want to make at least a certain part of those transcripts will be free upon graduation just to lower the financial burden," Zubke said. "There are also some other universities that have already done this, so we want to look into how they've done that and how we can compare that to how we can do it here."
Zubke and Booth said they hope students will choose an SGA president and vice president that they think will positively impact the university the most.
"I think all three teams bring a very different perspective to the race and all have different things they can offer to the university. At the end of the day, I think students should vote for whoever they think will be best for the future," Zubke said.  
The SGA presidential debate, hosted by the Political Science League and the Cross Media Council, will take place on Feb. 21. Students can vote for one of the three teams via their myUSD portal on Feb. 26 and 27.