The last time the USD women's cross country team wasn't wearing the Summit League crown, Kianna Stewart was a sophomore in high school in Red Wing, Minnesota. It was 2013.
Stewart, now a senior (in college), is one of seven standout returners spearheading the Coyotes on their search for their sixth consecutive conference title. The group has washed its competitors in the first two meets of the season, beating runners-up North Dakota State in the Bison Open and Nebraska at the Augustana Twilight by a combined 48 points.
The graduation of last year's top two runners — Megan Billington and Madeline Huglen — hasn't deterred the strength of the pack, Stewart said. It's only opened the field.
"This year, we don't know who our best two runners are," Stewart said. "Each meet, somebody else steps up and takes a new spot."
One of those somebody-s is junior Abby Ripperda, who, after recovering from injury last winter carried momentum from a strong spring into the early weeks of this season. Ripperda followed a second-place finish at the Bison Open with a victory at the Twilight meet on Sept. 6.
Ripperda tacked a time of 16:47.07 in the 5,000-meter run, hacking over two minutes off her time at last year's meet to dethrone Billington of the meet record (during the same race last year).
"It's been inspiring for us to see," junior Laura Nelson said. "When you don't give up no matter the setbacks, God has a plan and it's going to happen. If we can all support each other like that, it's gonna be a really fun season."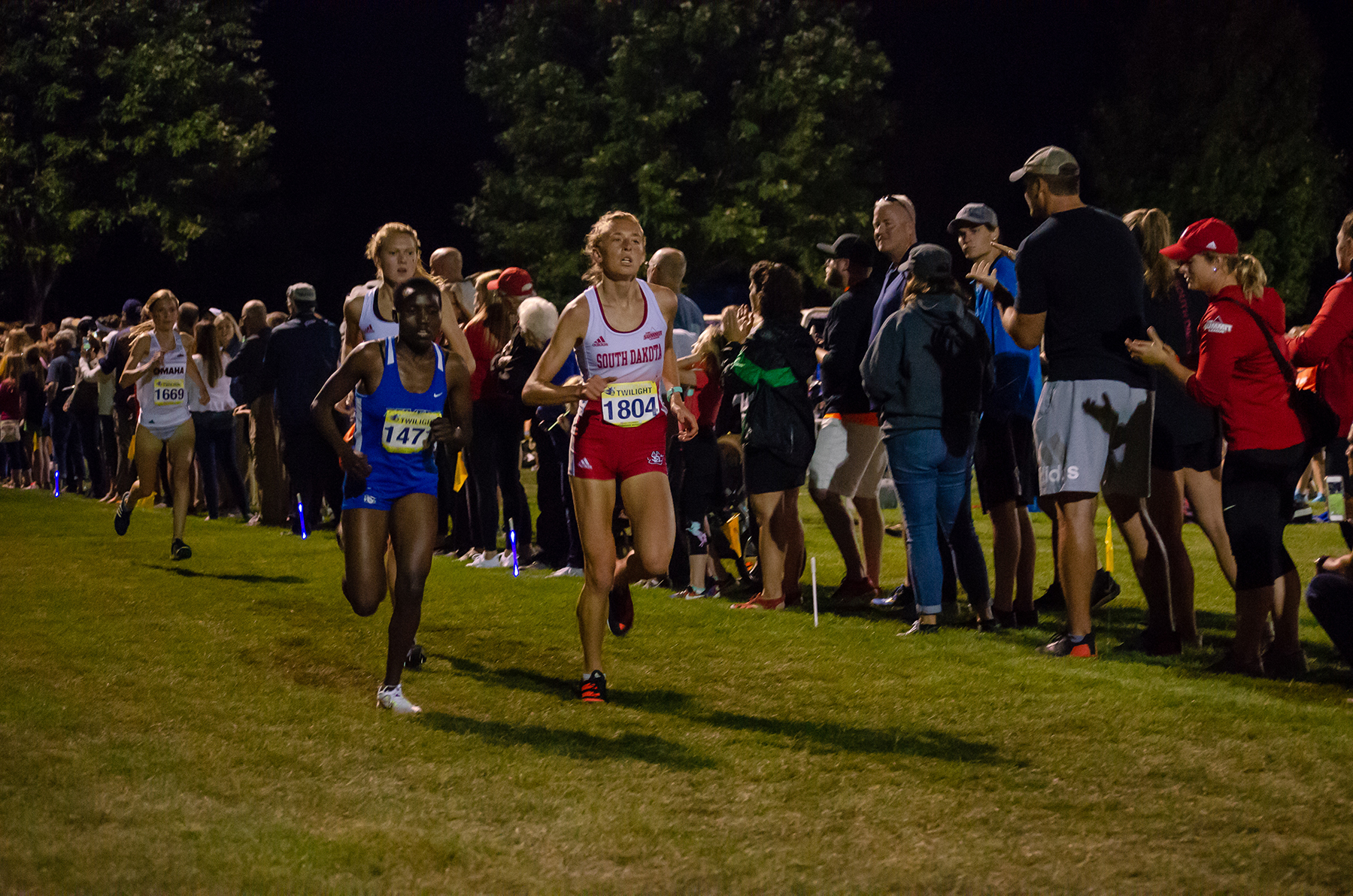 Ripperda embodies the type of culture head coach Dan Fitzsimmons — five-time Summit League Women's Cross Country Coach of the Year — has instilled in arguably the most successful USD athletic program in the last decade. There's no "secret to success" outside of effort, Nelson said.
"Fitz is so good at taking 'pretty good' athletes and making them great athletes," Nelson said. "You come in, and that's just what you do. You can't look at Iowa State or Oklahoma State and think they do something different than us. Everyone has something different, but the main ingredients are what we have here."
In the USTFCCA's Week 1 rankings released on Monday, USD stands tenth in the Midwest Region, four spots above Nebraska and one spot behind Iowa, two Big Ten powerhouses they'll meet at the Woody Greeno meet in Lincoln, Nebraska, on Saturday.
Regardless of the esteemed track record over the last half-decade, a small school in South Dakota is still stamped with the Underdog label when competing with teams belonging to Power-Five conferences. Nelson said Fitzsimmons erases that pressure come meet-day.
"One thing Fitz mentions to us is approaching meets with a chip on our shoulder," she said. "Not worrying about what other people think but being the best we can be. Acknowledging as a team that we belong there."
The mentality trickles into the younger runners as well, sophomore Maddie Lavin, who was one of seven Coyotes to finish in the top 13 at the Twilight meet, said.
"Last year it was so intimidating at first," Lavin said. "But then I was like 'I'm with my team.' We know how hard we work, and they might not see that, but when we run, you will. We work just as hard as any other Big Ten team, if not harder."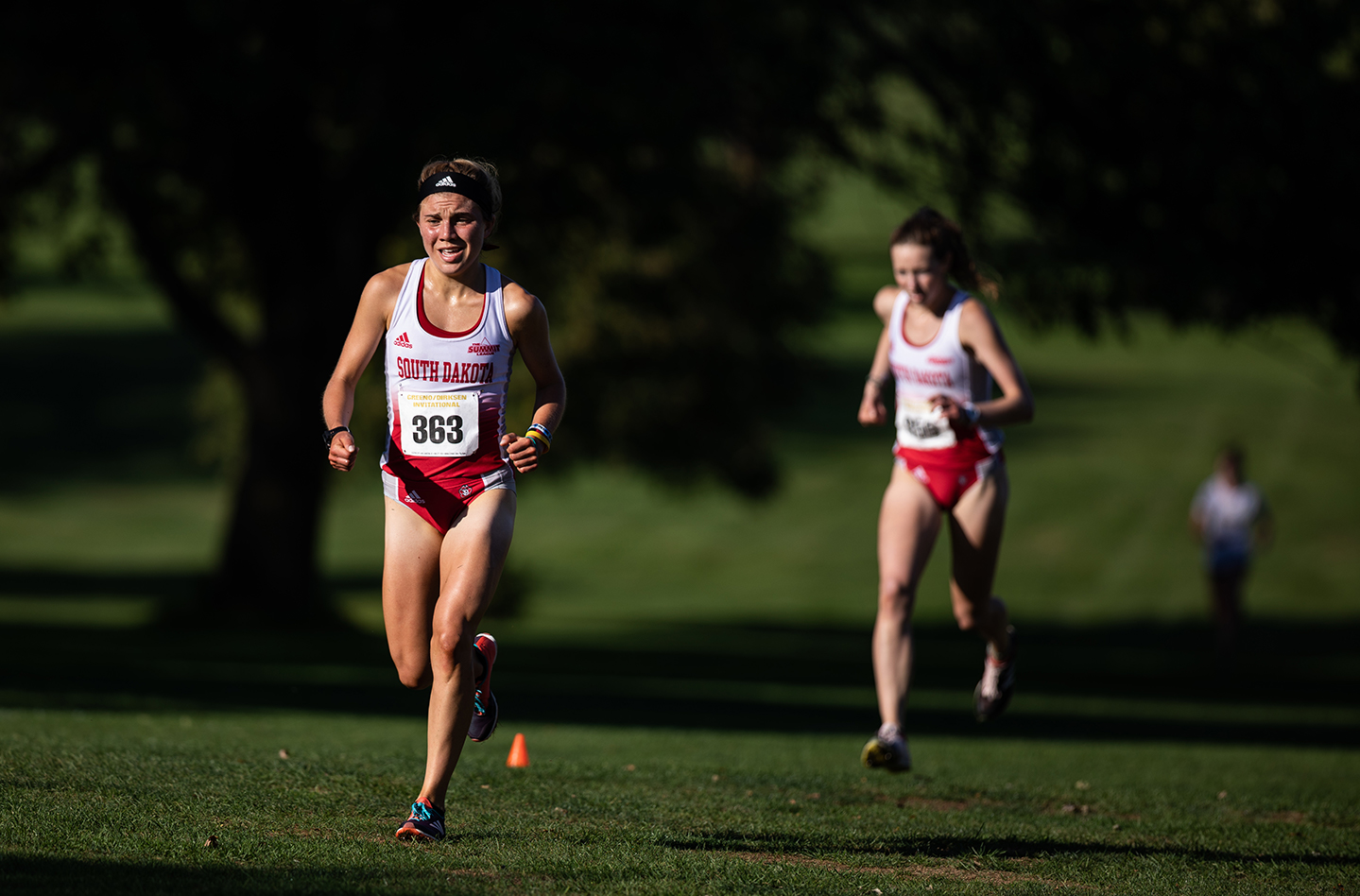 The Coyotes' strength quite literally lies in the pack. When a half-dozen runners in red place in the top 20, it's hard to slip in a meet. According to Stewart, that's the team's main goal as they work out the early season kinks: a bigger, "unstoppable" group higher in the standings.
Lavin used last year's regional tournament, where USD placed sixth, as an example.
"In regionals, you have nothing to lose so going out there is so fun," Lavin said "If I die, I die. I mean I did, but Kianna passed me so I could. It's nice. There's always someone right behind us. Literally."
"We can give our all and if we do end up metaphorically 'dying,' we have three other Yotes right behind us that will pick it up, so we can take those risks," Stewart said.
As for support beyond the roster, the group was blunt: cross country, compared to sports like football, basketball and volleyball, isn't the easiest for the USD fanbase to experience up-close.
USD hasn't hosted a meet in Vermillion since the 2017 Summit League Championship and their season is spent bouncing around meets across the Midwest.

Nonetheless, the "long-distance relationship," as Lavin called it, is intact and the team doesn't feel its successes are overlooked, Nelson said. Anyone at the Twilight meet — which USD has won five consecutive times — could see it.
"Going around campus, people always ask 'when's your next race' or 'how was this or that'. We cherish that," Nelson said. "When we don't have home meets, it's hard for the student base to see, but people are aware. I wouldn't say it's something that's lacking; it's unique in its own way."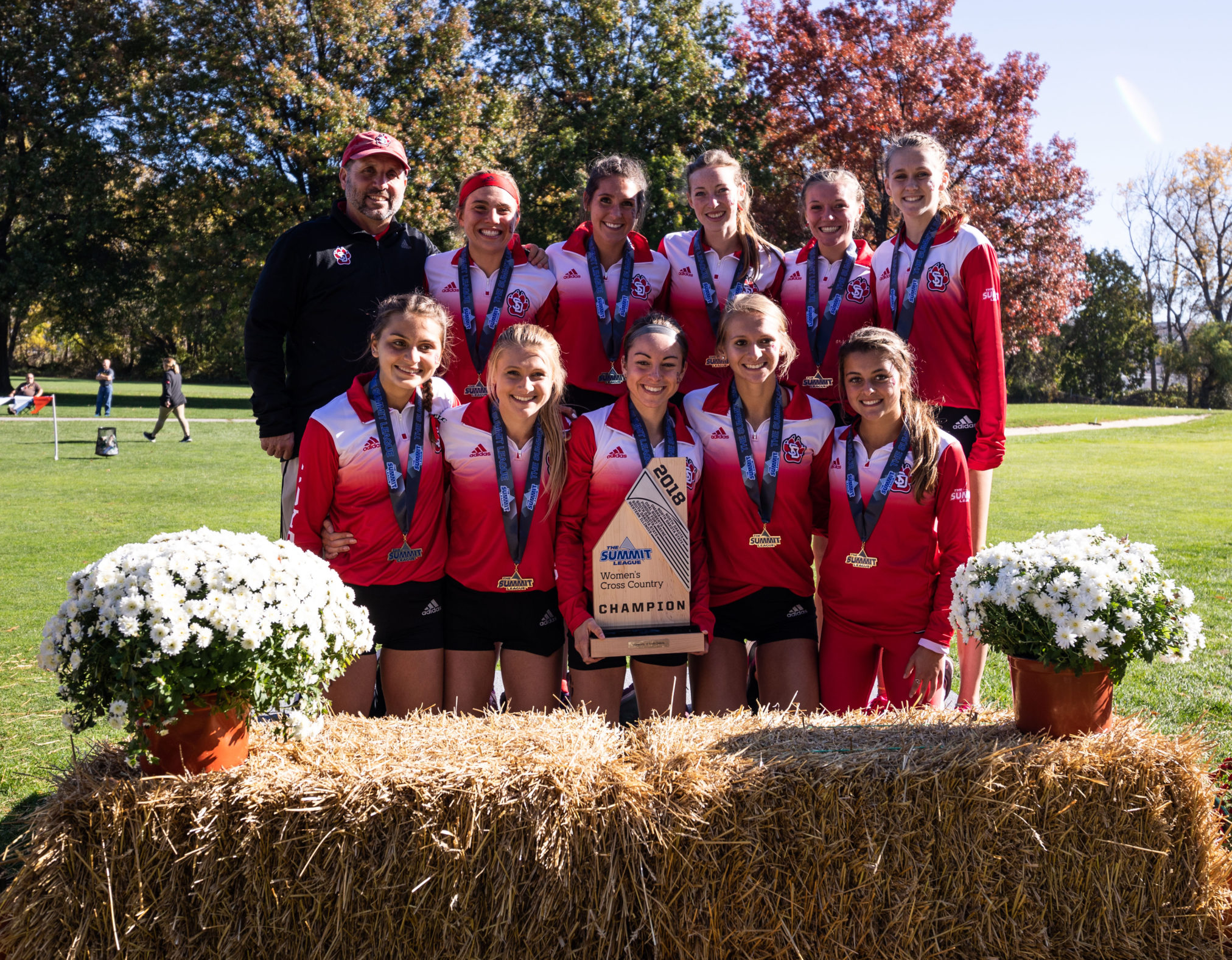 Three meets lie ahead of USD before the Summit League Championships in Fargo, N.D. on Nov. 2. Nelson said a conference championship is important to USD and Vermillion, but it's just "a step along the way." USD has flirted with a top-5 finish in Regionals every year since 2014.
Compared to the smaller, more intense field of 60 runners at the conference meet, conquering a spread of over 200 runners at Regionals is closer to a crapshoot, junior Kelsi Kearney said.
"[During Conference] you can almost score the meet in your head. If you know you want to win, you have to be right here," Kearney said. "In Regionals, you have no idea. You're like 'I'm just gonna pass as many people as I can.'"
Doing so as a pack, both on and off the track, is the way it's been done at the Lillibridge Complex during USD's reign over the Summit League, Stewart said. Consistency and companionship is the Coyote way.
"It's a team. It's a family. I think we have a really close-knit group of girls and there aren't any dividers between us," Stewart said. That's why we run in a group — we want to push each other and we want to see the best out of each other."