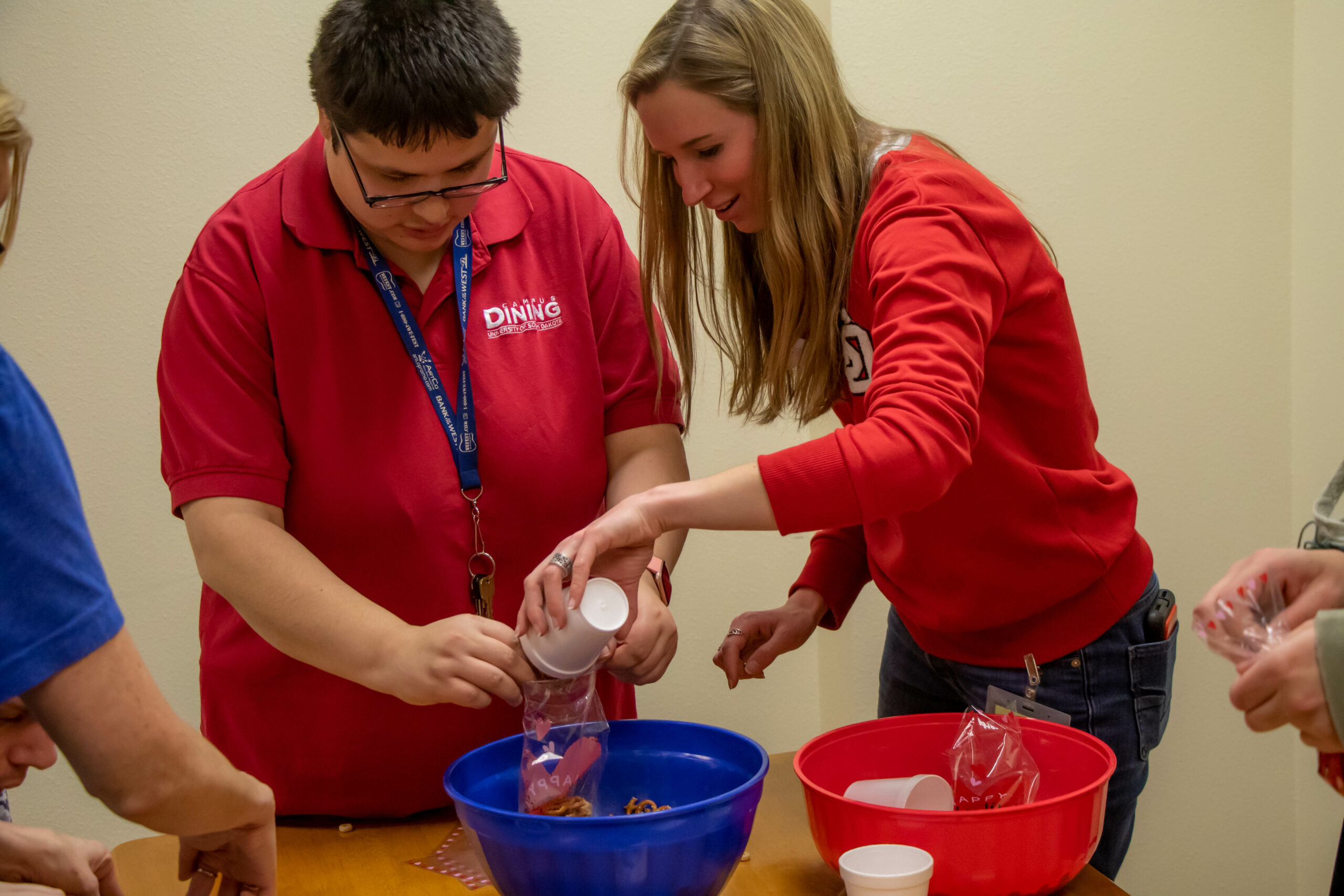 2 mins read
MLK Day of Service volunteers spread Valentine spirit with Sesdac
Community service doesn't always take the form of shoveling snow, picking up trash or other manual labor.
USD students used the Martin Luther King Jr. Day of Service as an opportunity to interact with Vermillion community members. The students spent the afternoon at Sesdac, a support center for people with disabilities.
The volunteers made Valentine's Day cards, trail mix and candy trains with roughly a dozen people supported at Sesdac.
Anna Reiter, first year kinesiology and Spanish double major said she enjoyed spending time with community members.
"It really brings you back down to earth and reminds you how lucky you are to be living the life you are, but also it's amazing to talk to these people," Reiter said. "They're just so happy and they have such an amazing outlook on life."
For Katie Brust, a sophomore biology and art double major, she said the personal interaction made the community service more valuable.
"It's really important to understand people and hear their life stories and see that they're still thriving and just be really conscientious of other community members," Brust said. "I just think that social interaction on any level is really valuable."
Brooke Luhr, first-year medical laboratory sciences major said she appreciated the opportunity to connect with people through community service.
Luhr said she first learned about people with disabilities at a young age from her mom who worked in special education. Now as a college student, Luhr said the experience at Sesdac was humbling because the people supported there have a high energy and hope for life.
"Having human interaction and seeing someone's day get better or see my day get better because I'm interacting with humans is an amazing gift and I wouldn't trade it for anything," Luhr said. "I love being around people and making people happier and when we both get happier from being around each other, it's just a great experience."
They ended the afternoon with a game of UNO together. Although the day was six full hours, Luhr said it was such a good time, it didn't seem that long.
"Even though it was like seemed like a long time when you looked at the schedule … the day flew by because you were having fun and making connections, so it was a blast," Luhr said.