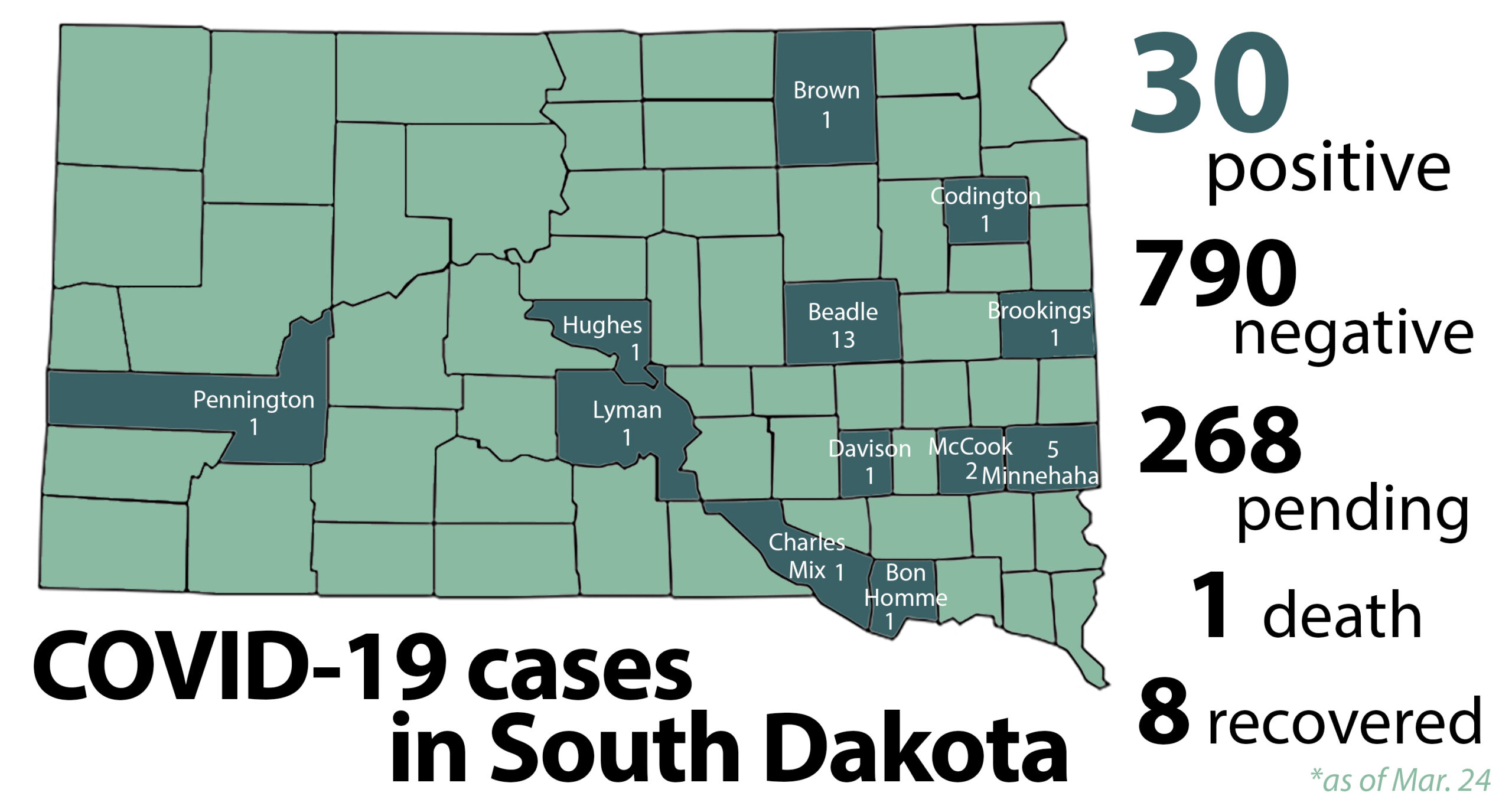 4 mins read
Coronavirus continues to spread in South Dakota
A growing number of coronavirus cases have emerged in South Dakota. The state recorded 14 positive cases of COVID-19 on Friday, but that total rose to 30 by Tuesday according to South Dakota's Department of Health.
South Dakota has seen one death so far from COVID-19. Beadle and Minnehaha counties have the most cases in South Dakota, with 13 and five respectively. Coronavirus cases have increased rapidly in Beadle county, which only had four positive cases on Friday, according to the state's Department of Health.
During her public speech over the matter on Monday, Governor Kristi Noem said she believes a community spread of COVID-19 is happening in Beadle County. This occurs when the origin of a positive COVID-19 case is unknown.
No cases of the coronavirus have been diagnosed in Clay County, home to Vermillion and USD. South Dakota has over 250 pending cases, but the state temporarily halted testing for COVID-19 when they ran out of supplies on March 18.
Regarding COVID-19, Noem said common sense is extremely important.
"I need every single South Dakotan to be diligent, to be responsible and to think about your neighbors," Noem said. "Being a good community member means that if you are sick, please stay home."
Noem also said people should call their doctor or health care provider before entering the clinic if they think they have COVID-19.
"Healthcare worker exposure is a concern and we have to continue to mitigate the risk by being smart," Noem said.
The state is also working on several plans regarding various school districts, Noem said.
"Obviously, we want to limit group sizes," Noem said. "We want to limit interaction and getting people infected, but we also want to make sure that our kids are having an opportunity to stay educated."
Noem said it's encouraging how teachers and administrators have put forth effort to provide educational materials and opportunities for students who are studying at home or elsewhere during this time.
The state will share a long-term plan in the next couple days in regards to school and education, Noem said.
During a press conference on Tuesday, the governor asked K-12 schools to remain closed through May 1. Noem said this guideline is not mandatory for schools to follow.
"This will give us time to make sure that we are flattening and bending the curve of the spread of the infection in the state of South Dakota," Noem said.   
One concern, the governor warned, is South Dakota may have to prioritize the coronavirus testing for the elderly people as well as people who have severe medical conditions. Such precautions could limit opportunities for young and healthy people to get tested for the coronavirus, Noem said.
"While we put a lot of faith in testing to track the spread of the virus so far, there will be a point in time where those who are healthy, that are younger, may not necessarily get the tests because there will be so many folks impacted that we'll need to focus on those that have health conditions that need extra attention," Noem said.
COVID-19 cases will keep rising based on the state's own models, Noem said during her Monday speech, as well as models from other states and even other countries that predict what impact the coronavirus will have in South Dakota.  
Up to 30% of South Dakotans could get sick from the coronavirus based on these models, Noem said.
The governor acknowledged the prediction might be frightening for some South Dakotans, but she offered some optimistic news as well. More than 80% of infections, Noem said, are asymptomatic or cause mild illnesses.
Her models expect positive cases will increase until May, maybe even June. She said she expects positive cases to increase for the next 8 weeks.
In her speech, Noem encouraged the public to practice personal responsible.
"If you will take responsibility for yourself and your actions to stop the spread of COVID-19," Noem said, "that will make all the difference in the world."
For more information on the coronavirus in South Dakota, go to covid.sd.gov.