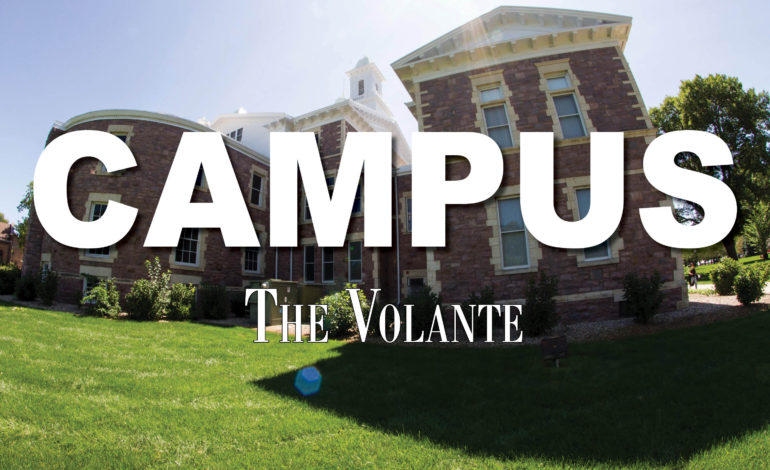 9 mins read
UPDATE: Classes moved online for the remainder of the spring semester, graduation postponed
In a press release sent from the Board of Regents on Tuesday, all South Dakota public institutions will finish the semester online.
The semester will still conclude as scheduled on May 8. This decision, according to the press release, was made as state officials anticipated an increase in COVID-19 cases in South Dakota.
"The public universities' priority is to ensure that instruction continues through the remainder of the spring semester," the release stated. "No tuition or fees will be adjusted unless a student withdraws completely from the university on or before March 28, or the institution is unable to deliver a course online."
In addition to classes moving online, all graduation ceremonies have been postponed until further notice.
In an email to all USD students, USD President Sheila Gestring said the decision to postpone graduation was not made lightly.
"(It) was determined based on the recommendations of public health authorities and with the health and safety of the entire Coyote family and community in mind," Gestring said in her email. "Although we are all extremely disappointed in this disruption to normal campus life, this is an opportunity for Coyotes to serve others in an impactful way."
Gestring also restated in her email the importance of staying home and practicing social distancing.
"To put this simply – we are asking you to stay home. What we do today will affect our friends, neighbors and families tomorrow. This is a temporary response to an extraordinary situation," Gestring said. "With proper action today, we know life will return to normal."
According to the email, students who have a housing contract, meal plan and parking pass will receive a pro-rated credit to their account. Students with unused flex will also receive a refund for the total amount of unused flex.
These refunds will automatically be received by the end of April.
The BOR press release stated students living on campus will have to schedule a time to move out between March 25 and April 8. Gestring said students will receive further instructions via email later today on the move out procedure.
According to her email, Gestring is asking for patience during this complicated time as the university continues to work towards answering every question.
"We ask for your patience as we work through these complex issues to find the best solutions for our students, faculty and staff," Gestring said. "Your educational experience is of the utmost importance to us and we urge you to stay connected and continue your progress toward graduation."
Gestring said she shares students' disappointment in this time, but said she is proud of how the Coyote community has handled this challenging situation.
"I could not be more proud of the selfless way our Coyote community has rallied together to make the best of an unpredictable situation … We already miss each and every one of you. Vermillion is not the same without our students," Gestring said. "Our Coyote community is strong. We are resilient. And we are here for you – always."
UPDATE: Monday 3:10 p.m According to an email sent out to all USD students from President Shelia Gestring, the USD Wellness Center and USD Vucurevich Children's Center will remain closed through Friday, April 3 — as all classes will be held online until Monday, April 6.
However, according to the email, USD's telehealth counseling services will remain available for students. Appointments can be made by calling (605)-658-3580.
According to the email, there have been no confirmed cases of COVID-19 at USD or in Vermillion.
"We are thankful for the diligent work of the larger Vermillion community and the state of South Dakota to reduce the transmission of this novel coronavirus," Gestring said in an email to the student body.
The email echoed the press release in saying further semester updates will be announced by Friday, March 27.
"We know it is frustrating to have uncertainty about the next few months on campus," Gestring said. "We know many of you have questions that are specific to your majors, and we appreciate your patience as we work together to find solutions that ensure our students continue to progress toward graduation as planned."
Gestring also said, according to the email, she urges students to not treat the extended spring break and temporary transition to online learning as a vacation. Unnecessary travel should be avoided she said and students are encouraged to practice social distancing.
"Even small group gatherings can exponentially increase the spread of COVID-19. This is temporary and protects the vulnerable populations in our community – our parents, our grandparents and those with chronic diseases," Gestring said. "Practicing social distancing helps 'flatten the curve' and reduces the strain on our health care systems."
Students and community members can contact the President's Office at [email protected] if they have any questions or concerns regarding the current situation.
"Whether online or on-campus, you are Coyotes. We are here for you, and your future is in good hands…" Gestring said. "Together, as members of the Coyote community, we will persevere through this difficult situation. We appreciate your patience and understanding as we work through the challenges posed by this global pandemic. I am confident in USD's ability to continue serving and protecting its students, faculty and staff, and we look forward to seeing you again soon."
UPDATE: Monday 2:40 p.m. In a press release sent from the Board of Regents on Monday, all public university's classes will be moved online temporarily. According to the email, online classes will begin on Monday, March 23.
In-person classes are scheduled to resume Monday, April 6, but according to the email, this is an evolving situation and will continue to be monitored as the situation evolves.
According to the email, future changes for the rest of the semester's plan will be announced by Friday, March 27.
"As leaders in higher education, we are thankful for our university presidents and their staff, who have worked tirelessly the past several weeks, providing wisdom and knowledge to help navigate these difficult times that still include a level of uncertainty," the email stated. "Please refer to university specific news releases and websites to stay up to date on the status of campus operations."
PREVIOUS UPDATE:
The South Dakota Board of Regents announced Thursday afternoon that all public universities will extend their spring breaks until Friday, March 20.
This decision will affect all six public universities in South Dakota: USD, South Dakota State, Black Hills State University, Northern State University, Dakota State University and School of Mines.
According to the email, an extended spring break will allow faculty and staff to "adjust programs and coursework, adapt instructional method" and prepare for future responses to COVID-19.
"We have no confirmed cases of COVID-19 on any of our campuses, but we are taking reasonable steps to do what we can to protect our students, faculty, staff, and the university communities," Paul B. Beran, the regents' executive director and CEO, said. "The focus for all of us is the well-being of our students and employees."
The Board of Regents' officials, according to the email, are also directing campus administrators to cancel non-essential international travel and limit domestic travel.
According to the email, the BOR is pushing to limit large group events and encouraging the use of distance learning technologies.
"Prevention and personal responsibility all play a large part in this," Beran said. "We encourage everyone to adopt and promote everyday preventive health behaviors."
Beran urged students, faculty, and staff to pay close attention for further updates from system or university officials through email and websites.
According to an email sent to all USD students from President Shelia Gestring, campus dining services will be available starting Sunday, March 15.
Students needing to stay in on-campus housing, they should contact housing via email.
Further information regarding courses for the rest of the semester will be sent out to students by Friday, March 20. According to the email, this schedule change will not affect the remaining semester calendar.
USD has also formed a Coronavirus Task Force that is working with the board of regents.
"Please be assured that USD is refining preparations for a range of contingencies and will communicate with you in a proactive and transparent manner," according to the email. "The best way you can prepare for COVID-19 is to take everyday precautions, like avoiding close contact with people who are sick and washing your hands often."
The Volante will continue to update this story as more information becomes available.