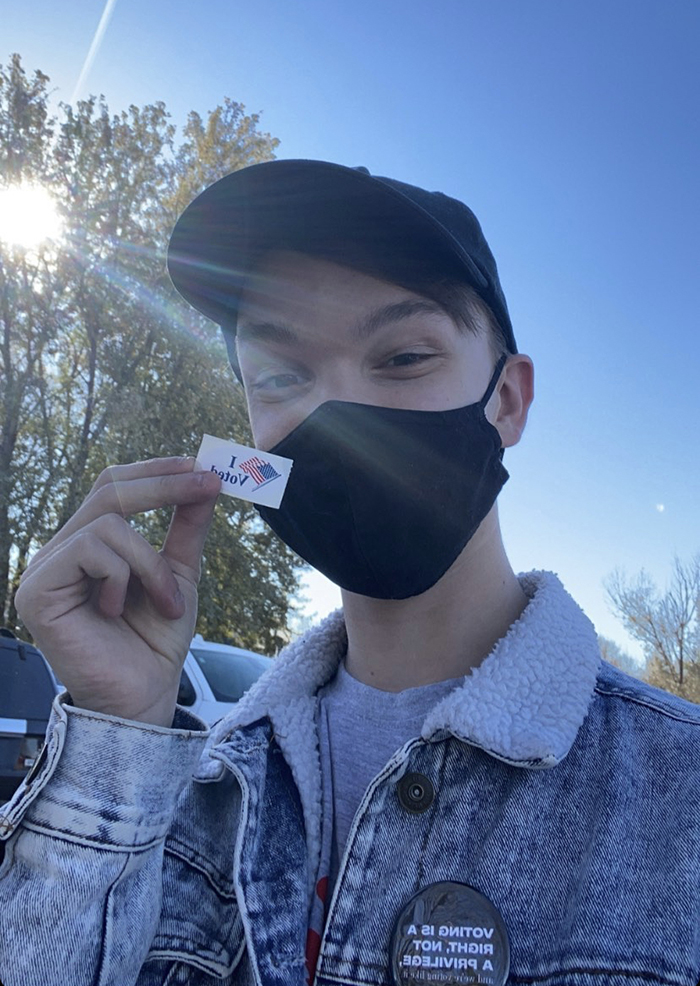 4 mins read
USD student introduces new voting registration initiative
A new voter registration initiative was introduced to the Young Democrats of South Dakota last week by Addison Miller, a sophomore political science student at the University of South Dakota.
Miller calls the initiative "Passive Active Registration" with the goal of increasing the number of newly registered Democrats by 50% in areas deemed possible and necessary to achieve Democratic victories in future South Dakota elections.
The initiative, if passed, is planning for Young Democrats of South Dakota to supply certain businesses around South Dakota with voter registration forms and for those businesses to collect filled out voter registration forms.
Then, a volunteer would come by weekly to pick up these forms at the businesses and mail them in for the people who filled out.
"Most young people have never mailed a letter in their life," Miller said. "That's how we lose a lot of young voters in this state. They just don't know how to register so this can be a way we can help fix that."
The voting registration forms will not be limited to just Democrats. Miller said anyone will be able to come to these businesses to register to vote, no matter the party someone is registered for.
However, Miller said since the initiative is through a Democratic organization targeting younger voters, they will likely choose businesses and locations they believe will help increase voter registration amongst young Democrats the most. If the initiative passes, Miller said they plan on starting out with businesses in Vermillion, Brookings, Sioux Falls and Sioux City.
"We're going to help you register to vote no matter what you believe," Miller said. "This is a non-partisan effort, we're not just going to throw out forms we don't like, but we are a partisan group… So are we hoping this will benefit us? Of course."
Miller said the current plan is to start implementing the initiative by mid-March of 2021, prior to municipal elections around the state.
Heather Krause, President of Young Democrats of South Dakota, said Miller's plan is something they not only look forward to implementing but need to implement.
"Registering young voters is an essential piece of growing the base of our party and encouraging civic engagement at the most basic level – voting in elections," Krause said. "Next year we have a major election, and it is essential to start preparing for that now… Addison has drafted a plan to keep us engaged every month and find unique and innovative ways to register voters year-round."
All of this comes after the biggest get out the vote effort in the history of the United States in 2020 in which many brands and businesses, like Nike, Patagonia, Google and others, played a part in. This resulted in the highest voter turnout in a President Election in over a century.
According to a 2018 study by Global Strategy Group, 80% of Americans said they like it when brands are politically active and will seek to reward companies that do so. Miller said he hopes this might incentivise more businesses to participate in the initiative.
Miller is also planning to help bring online voter registration to South Dakota by testifying at the South Dakota state legislature in this legislative session. South Dakota is currently one of only 10 states that does not have online voter registration.
Miller also started 'Get Out the Yote' at USD this past semester. 'Get Out the Yote' is a student organization at USD that encourages students to register to vote, vote, and help them actually do so.
Krause said Miller's involvement with 'Get Out the Yote' has helped Miller and Young Democrats of South Dakota prepare for future elections.
"Addison's work with 'Get Out the Yote' in 2020 highlights his ability to engage a community and organize efforts to great success," Krause said. "(Miller) has a connection to younger adults and understands how the process works, which is exactly what the Democratic Party needs to stay relevant in 2021."