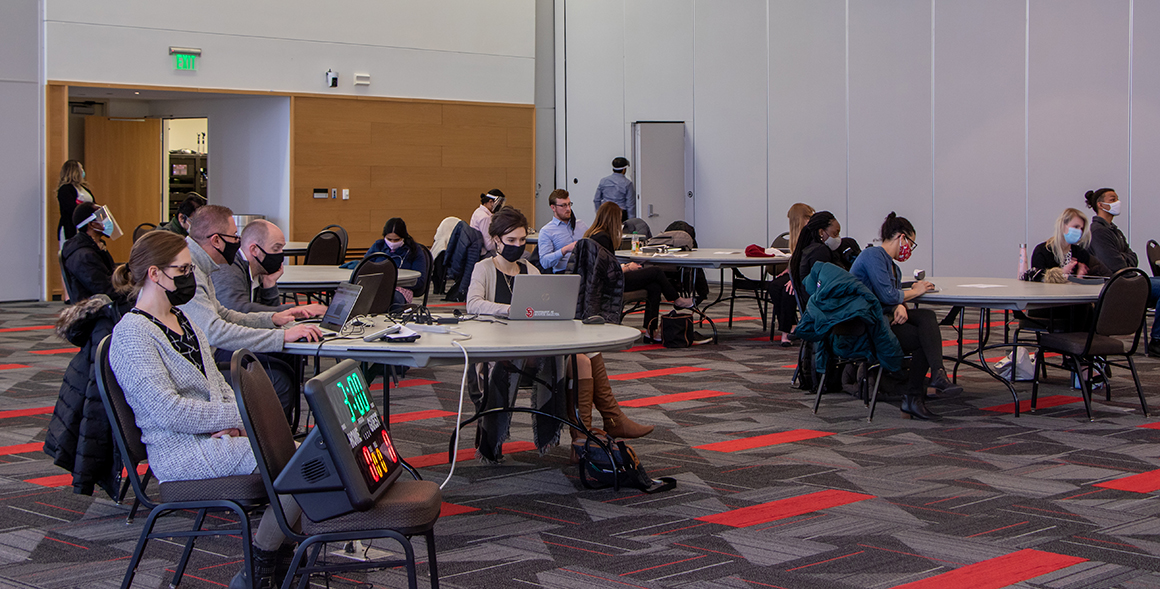 3 mins read
Three Minute Thesis Competition moves forward in person
USD's graduate school is sponsoring the fourth annual Three Minute Thesis competition this month. The preliminary rounds were held Thursday, Feb. 11 and the final rounds will be held Wednesday, Feb. 17 from 3 p.m. to 5 p.m.
The winner of the competition will be awarded $350 and will go on to the Midwestern Association of Graduate Schools 3MT competition. The second and third place winners will be awarded $250 and $150, respectively.
There are six contestants moving on to the final round: Kirby Fuglsby, Christa Huber, Brandon Meyerink, Carrie Minette, Elizabeth Sterling and Nisitha Wijewantha.
The Three Minute Thesis competition is judged by criteria set out by the Three Minute Thesis rules. The competition criteria dictate judges of the competition must be non-specialists. The preliminary round judges were Beth Lambeth, USD's Technology Transfer Officer; Doug Wagner, Director of the Munster University Center and Student Programing and Travis Vlasman, Director of Graduate Admissions.
The final rounds will be judged by Lindsay Hayes, Coordinator for Student and Instructional Assessment; Matthew Siebert, Digital Strategist and Shama Ali, the International Student Advisor.
"That's sort of the challenge of the competition," Brittany Wagner, USD's Director of Graduate Education, said. "So the Three Minute Thesis is essentially a public speaking competition where we want our students to parlay the research that they have been possibly working on for years even, into something that a non-expert audience could understand."
Brittany Wagner said there are usually 20-25 contestants in the preliminary round but this year there were only 13. Brittany Wagner said the low numbers were probably because of the pandemic.
Andrea Fencl is a graduate student at USD and won second place in last year's Three Minute Thesis competition.
"When I went into it, I wasn't going in to win anything. It was more for the experience and getting that understanding," Fencl said. "I think, going into it with the idea of improving your thesis and getting that feedback and having fun and learning, I think that those are good ways to go into it."
Brittany Wagner said she thinks the competition is popular because speaking and communication are desired skills for students in all graduate programs.
"So sometimes you might think somebody from communication might be better than somebody from a natural sciences area. It's not always the case," Brittany Wagner said.
Fencl said she enjoyed hearing everybody's speeches because she was able to learn about other students' research.
"That's another part of being in grad school, you don't know what everybody's research is," Fencl said.
The Three Minute Thesis can also be a valuable networking tool, especially when speakers compete at the regional and higher levels. Brittany Wagner said students who speak at the competition will be invited to speak at other events or receive job offers.
"Some of those speakers will get asked to speak at other events. So it can it can bring you some recognition and depending on your field of study, like that can be that can be huge," Brittany Wagner said. "This is really a way to get your work out there."