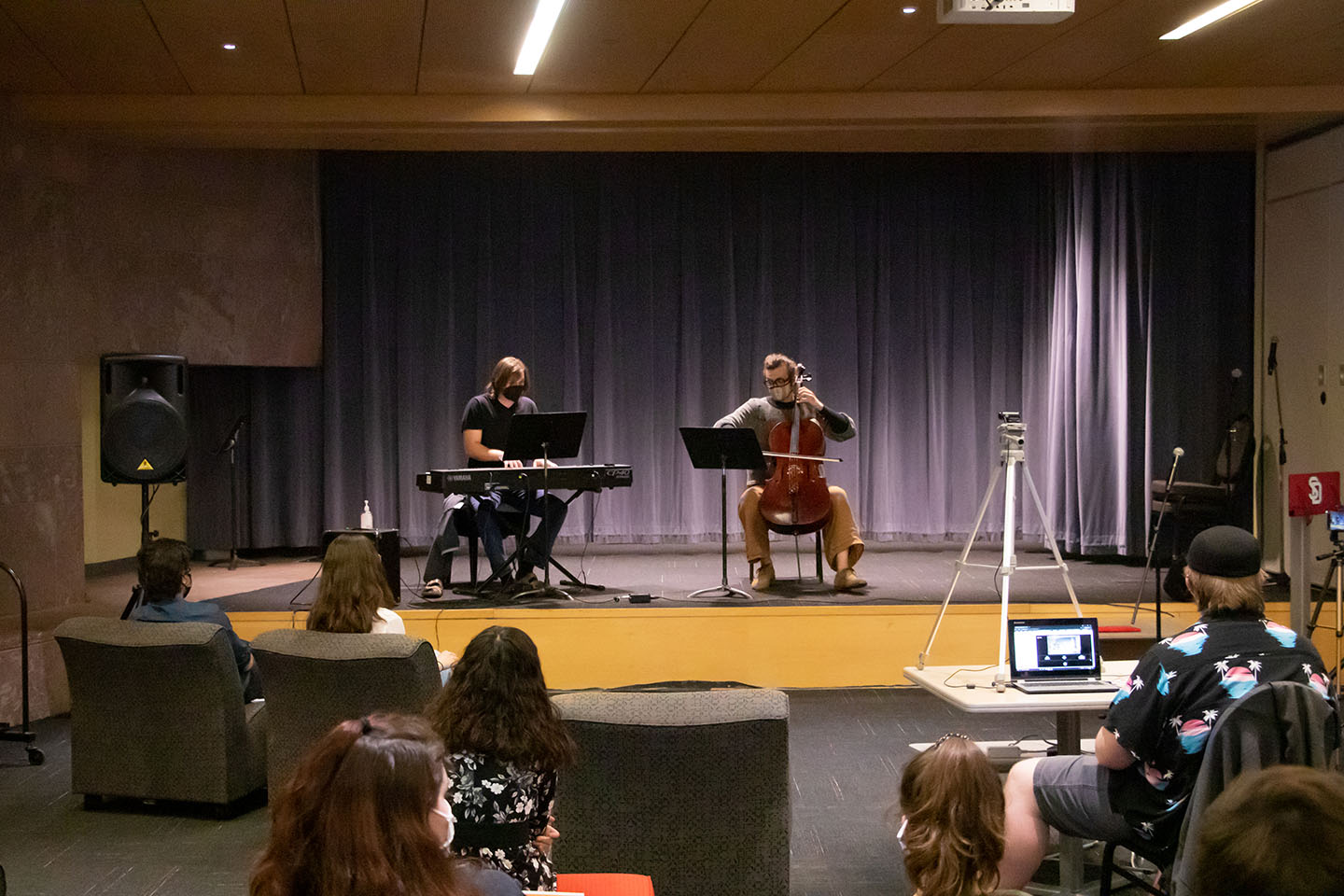 2 mins read
Make Your Voice Heard: Open Mic Night hosted by the Fine Arts department
The Fine Arts department hosted the Make Your Voice Heard: Open Mic Night in the MUC pit March 26. The goal was to promote works of fine arts students, but it wasn't just for fine arts students to enjoy.
Third-year MFA directing candidate in the department of theater, Oliver Mayes, said the event was an opportunity for students in the theater, music and art departments to come together and build camaraderie.
Mayes said the Open Mic Night was to give students a platform for their artistic expression and make their voice heard to say whatever they want.
"It's open to any student but the goal of the event has a focus on fine arts students, so students that are within the College of Fine Arts," Mayes said. "And to build a collaboration among all the departments because we all speak different artistic languages, we're all coming from a different form of artistic expression."
Second year master in music, Yasmin Fainstein, said usually students only have access to playing within institutional events that are not organized by students, but this event is special because it's led by an entire committee of dedicated students and will continue to be led by students.
Fainstein said the future of the event may look different as the committee members change, but it will continue to be student-led.
"We talked about if this event were to continue on with the next generation of committees, to put themes on the night," Fainstein said. "So maybe it's women's night where you talk about women's art, women composers and that sort of thing."
Freshman theater studies major, Kurtis Nelson, said that a majority of the performances have been around instrumental music but there would also be acting performances. He said the event would be good experience for students to get out of their comfort zone and perform for their peers.
"It'll put you in an uncomfortable position, but it'll give you that confidence to perform that piece, whatever that piece may be," Nelson said.
Senior music education major, Emily Muirhead, said that if students only see one performance, she hopes that leads them to attending other Fine Arts events such as choir concerts, theater productions or art gallery events.
Muirhead said she hopes that future Open Mic Nights will have a bigger variation in performances.
"Everything has to start somewhere," Muirhead said. "If this is an event that they continue in the future, it'll grow. They'll learn from the things that we did and I'm sure it would be even more successful in the future."