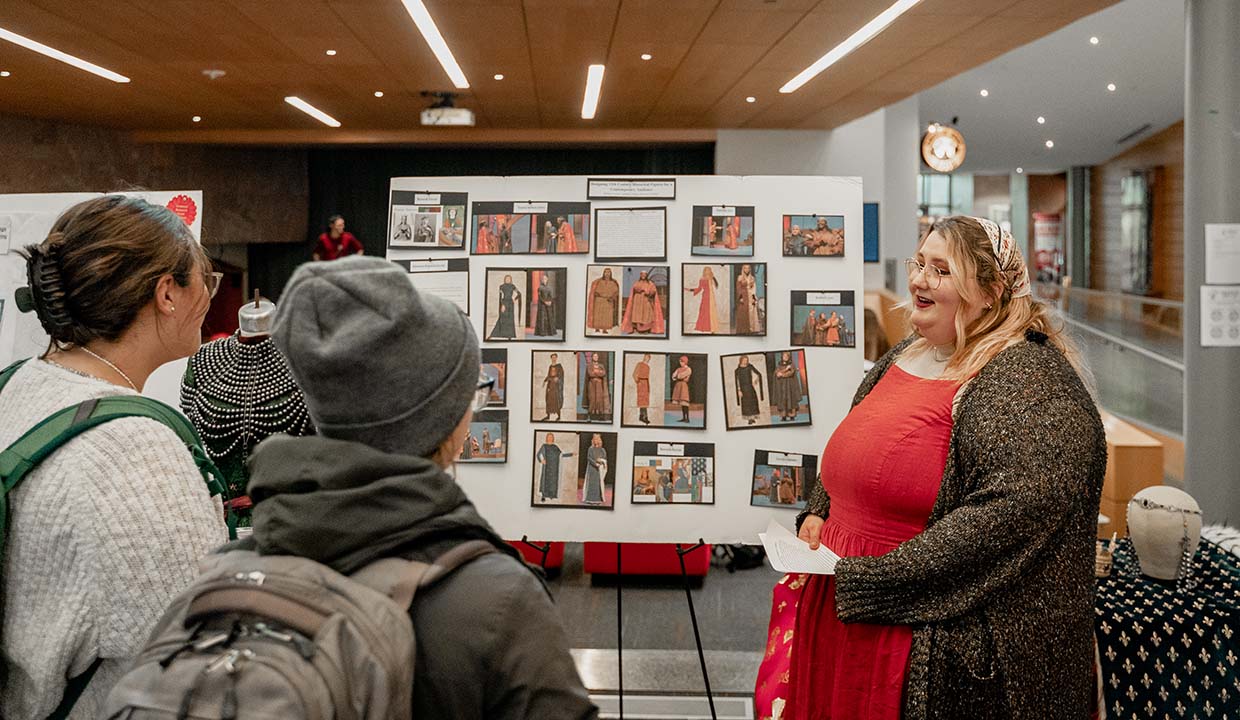 4 mins read
Annual IdeaFest, back in person for 34th year
USD's annual IdeaFest was held from April 6-7. IdeaFest is USD's annual symposium for research, scholarly works, creative scholarship and keynote events.
IdeaFest coordinator Lindsay Hayes said it helps give students a chance to showcase their work.
"The main purpose of IdeaFest is really that sharing of ideas," Hayes said.
IdeaFest shows students and faculty what other students are working on, along with completing their degrees.
"Students have that opportunity to present works that you might not get a chance to do in any other forum outside of the classroom," Hayes said.
Continuing for 34 years, this year's IdeaFest was held on campus after being held virtually for the previous two years.
"Research didn't stop because of the pandemic," Hayes said. "We were able to continue and even because of the pandemic there are so many things we got out of it."
This year, presentations were being streamed for access online as well as being recorded. Students have the opportunity to have their presentations archived in USD's RED system through the library.
Some students are required to present their research at IdeaFest for class, while others just want to share their research.
Hayes said students can present any kind of undergrad research they have undergone and gives students and faculty a chance to learn what is happening on campus.
"We have students presenting their AWOL trips through the Gallagher Center and their experiential learning there, which you don't always have a chance to hear the outcome of those events," Hayes said.
Hayes said this year's IdeaFest hosted over 400 student presenters including research from students in medicine, health sciences, arts and sciences, education and business.
Brittany Lewis, a senior technical theatre major, presented her work about costume design for the USD show "Lion in Winter."
Lewis presented a poster showcasing her research, costume renderings and senior thesis for her BFA Capstone.
"The poster presentations were more academic based, traditional, and scientifically researched," Lewis said. "But mine was really interesting to do because it was tactile research that became costume designs."
Lewis said she decided to join IdeaFest this year because there isn't typically a lot of representation from the fine arts community at events like this.
"I knew it was important to interject ourselves into this conversation and I really wanted the opportunity to show what was so many months of work," Lewis said. "I wanted to be able to show that to not only my peers and colleagues from the fine arts community, but also anyone who walks through got to see up close what we actually do over in the fine arts building."
Lewis said she learned a lot by presenting at IdeaFest.
"I learned more about the process on the show than I knew months ago just by presenting to people and talking about it," Lewis said. "I learned even more about myself as a designer and also as a creative scholar."
Another important aspect of IdeaFest is the ability for students to have a comfortable platform to share their research and passions, Lewis said.
"My favorite part about IdeaFest is that students can share what they've taken so much time to do and what they're passionate about," Lewis said. "It's an opportunity for everyone to share that and that's what I respect most about it."
Lewis said she encourages other students to be aware of what IdeaFest is and maybe even try participating themselves.
"I would encourage students to take advantage of this opportunity while they're here because you never know where it can lead you and what kind of people you will affect," Lewis said.