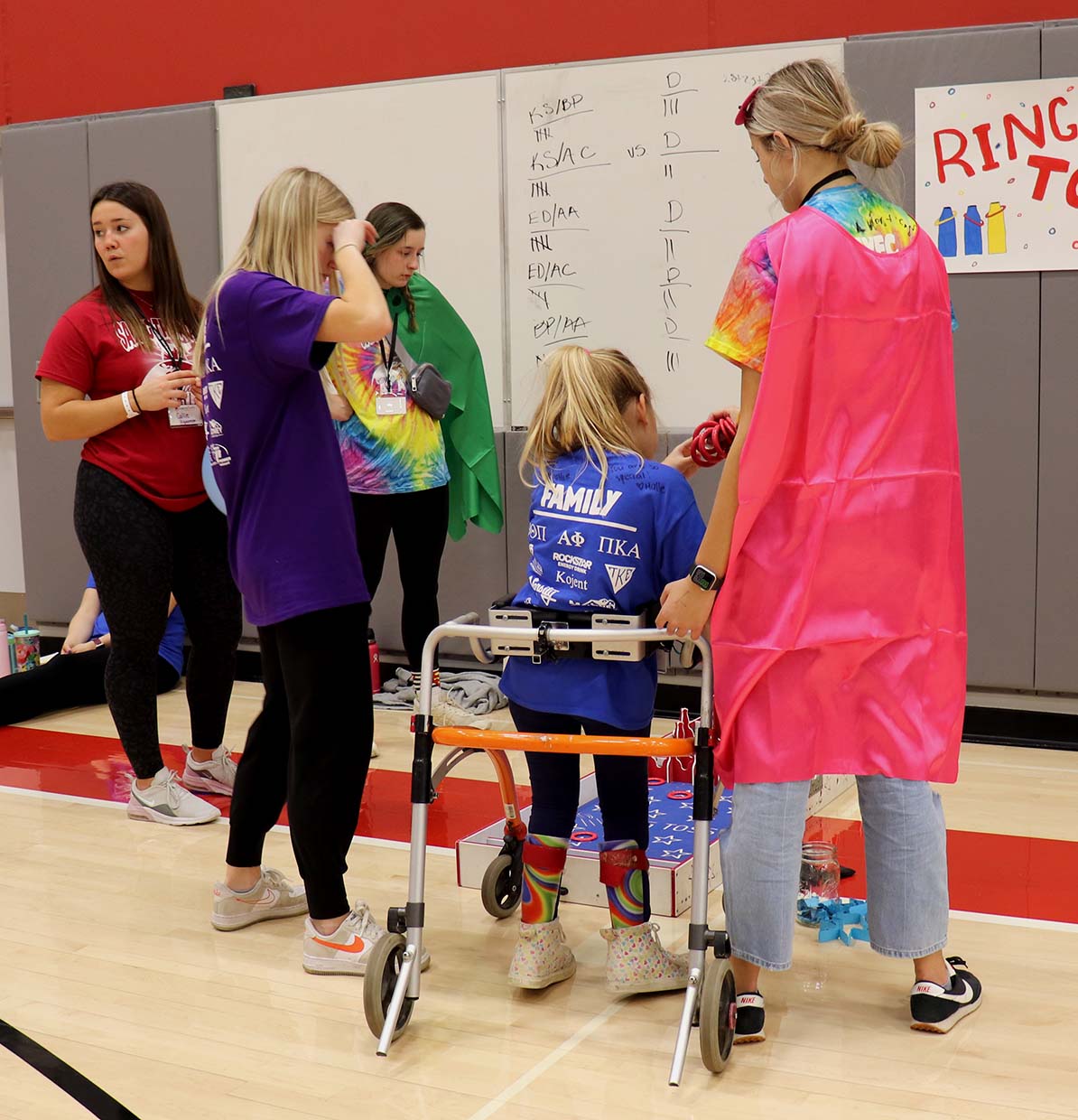 3 mins read
Dakotathon: Helping children one donation at a time
The largest student-led nonprofit organization in South Dakota held its biggest event, the Dance Marathon, in person for the first time since 2019.
Dakotathon is a year-long fundraising event supporting the Children's Miracle Network. This year, the Miracle Children from the Sanford Children's Hospital were welcomed back to the Sanford Coyote Sports Center (SCSC).
Students, volunteers, the children and their families gathered for 25 hours of celebration. Every year Dakotathon ends with the Dance Marathon, which usually lasts 24 hours. However, Kianna Thelen, the executive director, decided to extend it to 25 hours to celebrate the 25th anniversary.
Dancing wasn't the only activity available. Throughout the day the kids showed off their skills during the Kids Got Talent show, played basketball with the women's team and shared their stories.
In the past, Dakotathon has announced its fundraising goal. Last year their goal was $146,000 and they raised over $90,000. Thelen said they didn't announce their goal this year.
"We don't want it to focus on the number. In the end, however much we raise is going to make a difference at the Sanford Castle. I think if we put out a goal and focus on it too much, it just takes away from what we're doing and that's what I've seen from past years," Thelen said.
Even though they didn't have a goal, Dakotathon raised over $100,000 throughout this year.
Students and other organizations on campus helped raise the money. Students who signed up outside a leadership role were known as Miracle Makers. The only obligation this role had was to raise $200 throughout the year.
Every Miracle Maker was put into a group with a Morale Captain, who guided the group throughout the year. Each group was assigned a Miracle Child they stayed with for the day.
Sophomore Carli Florey, a Morale Captain, said her favorite part was meeting the kids.
"You fundraise all year but don't really get to meet everybody or know who you're really doing it for until the big day of. Then you get to hang out with them and it just makes it a lot more special," Florey said.
Thelen said the biggest difference between this year and the past was the people.
"In past years we had a lot of people but they weren't as into talking to the kids or getting the experience. Getting to start over and build up with a lot of people who genuinely care about the cause and want these kids to have a good time is something I'm very proud to see change over the last four years," Thelen said.
The roughly $100,000 that was raised by Dakotathon's efforts will be kept local with the donation going to the Sanford Castle of Care in Sioux Falls. Some Vermillion families who are a part of the program will personally benefit as well.