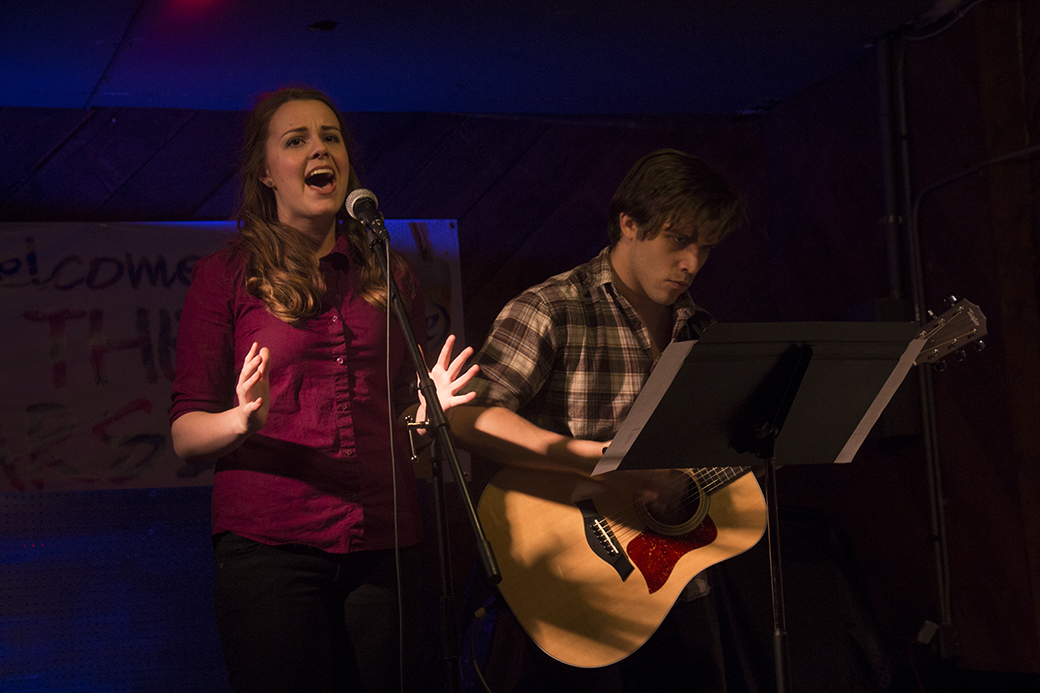 4 mins read
Actors prepare for New York auditions
Theater students have their eyes on the Big Apple.
Come spring break in March, seven of them will travel to New York City as part of the College Showcase Connection, where they will undergo three days of auditions and workshops.
"Our students are getting exposure to workshops at a broad range of professional opportunities in the industry," said Matt Nesmith, professor of theatre.
Students have been attending the New York showcase for the past five years. Nesmith said each year students have received at least one callback from an agent.
The University of South Dakota students will attend workshops ranging from how to find a talent agent, how to audition for commercials, how to audition for prime-time TV and how to audition for Broadway and act in feature films. The students will also have time to meet with any agents they've received callbacks from.
"It really serves as a great bridge for our students from college into the professional market," Nesmith said.
Students audition for the showcase and are picked based on a combination of achievement, merit and how they perform in an interview. In past years, USD has sent as few as three and as many as eight students to the showcase. The department pays for part of the trip, grants are applied for to get additional funding and the students cover the rest of the cost.
Seniors Brianna Bernard and Lukas Ptacek are two of the seven students who will go to New York City.
Bernard said she sees herself living in New York City at some point in her career. She's previously visited the city but never performed there.
To Ptacek, the city is a little more exotic.
"I've never been to New York, and I've never flown on a plane or anything, so doing all that for showcase is going to be awesome," he said. "I've never even been to a coast. I'm just really excited to get to see the city and just a different atmosphere than the Midwest."
During auditions in New York, students get around three minutes to audition in front of 30-40 talent agents.
Nesmith said the opportunity is a chance for those who go to see how they compare to other students.
"Our students always see that they stack up very well," Nesmith said. "They're often far more prepared in terms of a professional portfolio."
The students said they're grateful for the opportunity.
"It's really awesome that we as students have this in the department," Ptacek said. "If we work hard and persevere, at the end of our four years, we have this opportunity."
For now, students are working on their portfolios, creating cover letters, selecting head shots, creating professional websites and learning how to brand themselves for various roles. In February, students will begin to finalize the pieces they will use in their auditions.
Part of the preparations includes the actors learning and recognizing what types of roles they can play. Bernard said she's learned her type is the funny best friend or the angsty teenager, while Ptacek said he's learning he is the younger lover or dreamer.
"Being an actor is like running a small business where you yourself are the business," Bernard said. "So managing and presenting yourself well is important."
Ptacek has taken advantage of the showcase group class to gather what he needs for auditions.
"It's nice to have this opportunity to have a class and have your teacher sit and help you through this process while not being too involved," Ptacek said. "And at the end, I have this awesome experience by going to New York and having this week-long audition."
(Photo: Seniors Christine Pietz and Steven Schaeffer perform a rendition of "Hallelujah" Nov. 5 at The Varsity Pub in downtown Vermillion. Peitz, Schaeffer and five other students will travel to New York City as part of the College Showcase Connection where they will participate in three days of auditions and workshops. Malachi Petersen / The Volante)