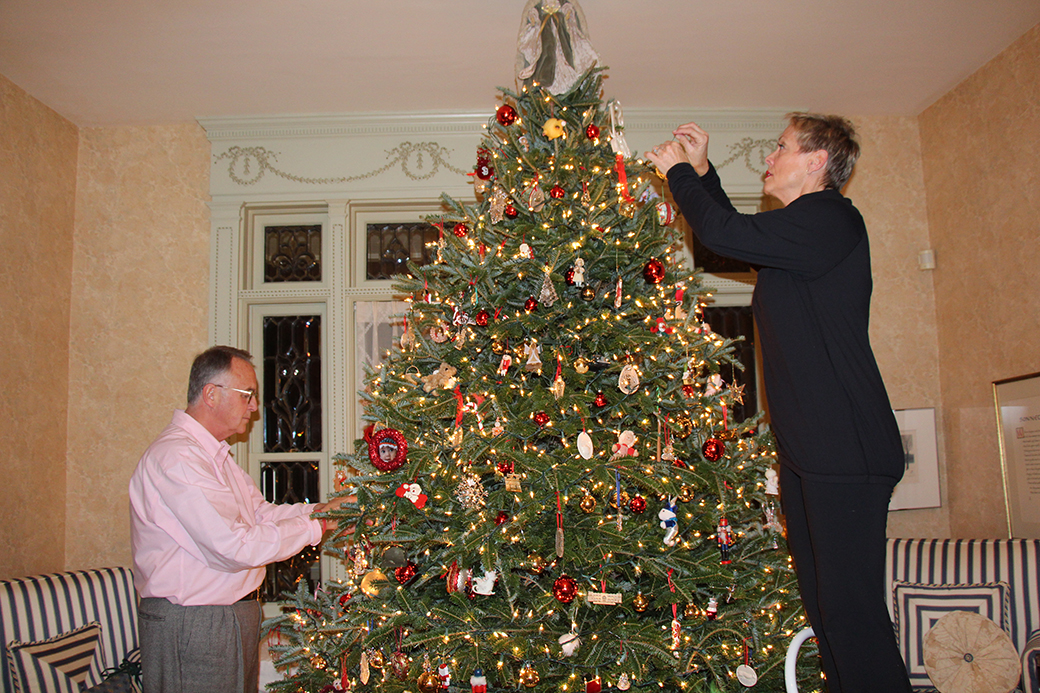 4 mins read
The Abbotts get festive for the holidays
Happy as two dogs can be, Oscar and McGovern — the pets of University of South Dakota President James Abbott and First Lady Colette Abbott — trot through the dining room of their home on Main Street, navigating around the numerous red boxes filled with Christmas decorations that will soon be set around the house.
The Abbotts have several traditions, which include displaying Christmas teddy bears, large Santa dolls dressed in fancy clothes and "The Twelve Days of Christmas"-themed decorations.
Besides decorating throughout the house, on the banister, mantle and piano, the Abbotts also decorate their Christmas tree with crystal ornaments Colette Abbott has been collecting since the 1980s.
The couple said they have been purchasing their Christmas tree from Morse's Market here in Vermillion for several years.
"It's always absolutely gorgeous," Colette Abbott said.
Oscar and McGovern also enjoy the big tree that appears in the house this time of year.
"They eat a little tinsel," James Abbott said. "They don't get that it's not so good for your digestive tract."
Outside, the Abbotts' house is decked with white, twinkling lights and garland. Colette Abbott said there was a slight a problem when USD grounds crew came to hang the lights on their house earlier this month.
"They got stuck on the lift," Colette Abbott said. "The police were here and the firefighters. They had to rescue them."
On Christmas Eve, the Abbotts eat tomato soup and grilled cheese, and when their three daughters were little they were allowed to open one present that night. Decorating cookies is another tradition on the eve of Christmas for the Abbotts.
"It's always something we look forward to," Colette Abbott said.
While they have attempted to make Coyote cookies, James Abbott said it is not the easiest task.
On Christmas Day, the Abbotts enjoy a turkey dinner featuring their traditional Christmas dishes, and after dinner play a game called Left, Right, Center.
The game involves giving and receiving one dollar bills, and ends when only one player is left with a dollar, resulting in him or her winning the whole pot of money.
Colette Abbott said the family also enjoys singing Christmas carols.
"Music is a big deal," she said. "We always have someone singing."
While the Abbotts value their own traditions, they also value giving to others. Around the Christmas season, the Abbotts donate to Feeding South Dakota and choose another food pantry in the area to give to as well.
They also pick a family to give a present to in Yankton, which Colette Abbott does with her craft group every year.
"We do their Christmas for them," she said.
James Abbott said he also knows it can sometimes be hard for students to get into the holiday spirit since they are finishing up the semester and studying for finals.
"It's a really busy time for students," he said. "That part's not as fun as it could be."
However, they said they do get a glimpse of students showing off their holiday spirit.
"Every once in a while you see a Santa hat or just something kind of fun," Colette Abbott said.
Some students like sophomore Brittany Johnson said her sorority, Pi Beta Phi, put up a Christmas tree to get into the holiday spirit.
Johnson is from Omaha, Neb., and said she finds activities to enjoy during the Christmas season once she arrives home.
"We drive around," Johnson said. "There's a lot of good holiday lights. We go ice skating."
Johnson also said her mother enjoys decorating the house this time of year, too.
Other students like sophomore Miranda Ruiter do not get as excited about the holiday season, especially if the decorations are not hung properly.
There is one thing Ruiter does enjoy, though.
"I like the snow," she said.
Against their usual tradition, the Abbotts will leave the South Dakota snow for a warmer climate this Christmas, traveling to Virginia to see their newborn grandson, Max.
While celebrating Christmas in Virginia may not be the usual tradition for the Abbotts, being with their daughters and their families on Christmas is important to both James and Colette Abbott.
"It will be wonderful because we will be together, and that's what it's all about," Colette Abbott said.
(University of South Dakota president James Abbott and First Lady Collette Abbott decorate their Christmas tree Monday evening at their home in Vermillion. Malachi Petersen / The Volante)