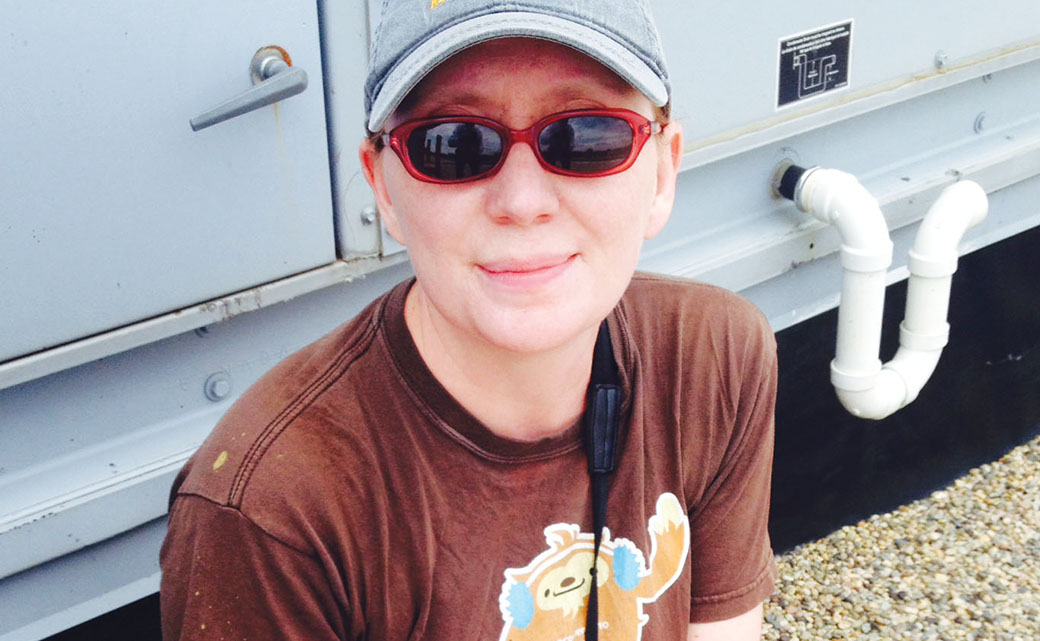 4 mins read
Graduate student examines rarely studied bird species
Biology graduate student Gretchen Newberry didn't choose the easiest subject for her dissertation.
Newberry is studying the Common Nighthawk, a nocturnal bird that has seen a recent decline in numbers and a changing habitat.
The Common Nighthawk traditionally lived in grasslands, but as more grasslands have been converted into farms for field crops, they've moved to nesting on rooftops.
"No one really studies this bird," Newberry said. "It's a time-intensive job in trying to find their nests — it's not easy. There are plenty of birds that would be so much easier to study."
Because the bird is rarely researched, Newberry hopes her research will show the importance of maintaining gravel rooftops and not converting to dark, rubberized rooftops, which are cheaper to maintain, but increase temperatures and don't serve as habitats for bird species.
Newberry moved to the University of South Dakota from Oregon to study the Common Nighthawk after becoming interested in the decline of aerial insectivores. In Oregon, she noticed the lack of Common Nighthawks and wanted the opportunity to study the bird she had developed a passion for.
"They're really charismatic," Newberry said. "They do this thing when they're defending their territory where they dive, and at the very bottom of their dive, they will spread their feathers and air will rush through. It's called a boom call, it sounds like if you've ever had a bee fly really fast past your face."
She gained permission from administration to access and be escorted onto the rooftops from the university to compare the difference between temperature and wind speed on the rooftops versus the ground.
"It's a little dangerous," Newberry said. "It's very hot and very windy up there, and there's gravel so it's hard to walk on."
This past summer, Newberry brought her study to the roofs of the I.D. Weeks Library, Al Neuharth Media Center and Richardson Residence Hall to place sensors and cameras near nests. Over the summer, she tracked temperatures and wind speed on the rooftops, while also checking to see how the chicks were surviving and taking blood samples.
Biology professor David Swanson is the chair of Newberry's dissertation committee, and said Newberry's research also addresses how climate change impacts wildlife populations in general.
"I think what it has is the potential to determine what sorts of habitat requirements are needed, and then we are looking at some potential for how climate change would affect the habitat selection of this species," Swanson said.
Newberry even came to him with the project on her own.
"Gretchen's was something she wanted to do, it wasn't something I had on my agenda," Swanson said. "I'm very interested in it — interested in climate change. Putting the two together was a good fit."
She started the project with a survey in 2013. For three months, Newberry drove a grid around the state and stopped every half mile to listen for the Common Nighthawk. This summer, she continued the survey along with tracking the rooftop nests.
Meghann Jarchow, an assistant biology professor, serves as a committee member for Newberry's dissertation. Jarchow said the rooftops may not be as easy of a solution for the Common Nighthawk's habitat loss in the grassland as may be perceived.
"The roof is maybe not a suitable substitution for what this habitat was," Jarchow said.
As the bird continues to decline in numbers, which preys on insects, it could have a large impact on local ecosystems.
"There are a lot of complex interactions in food webs. It's hard to predict what will happen," Jarchow said.
Although Newberry's research isn't finished, she's already starting to interpret some of her results.
"So far, I found the birds do not want to use any agriculture areas," she said.
Next year Newberry plans to continue studying the birds on rooftops and start looking for nests in grasslands to see if the move to urban rooftops is an ecological trap for the birds.
(Photo: Gretchen Newberry, a biology graduate student at the University of South Dakota, is studying the common Night Hawk. Over the summer she tracked temperatures and wind speed on the rooftops of the Al Neuharth building and the I.D. Weeks Library. Submitted Photo / The Volante).