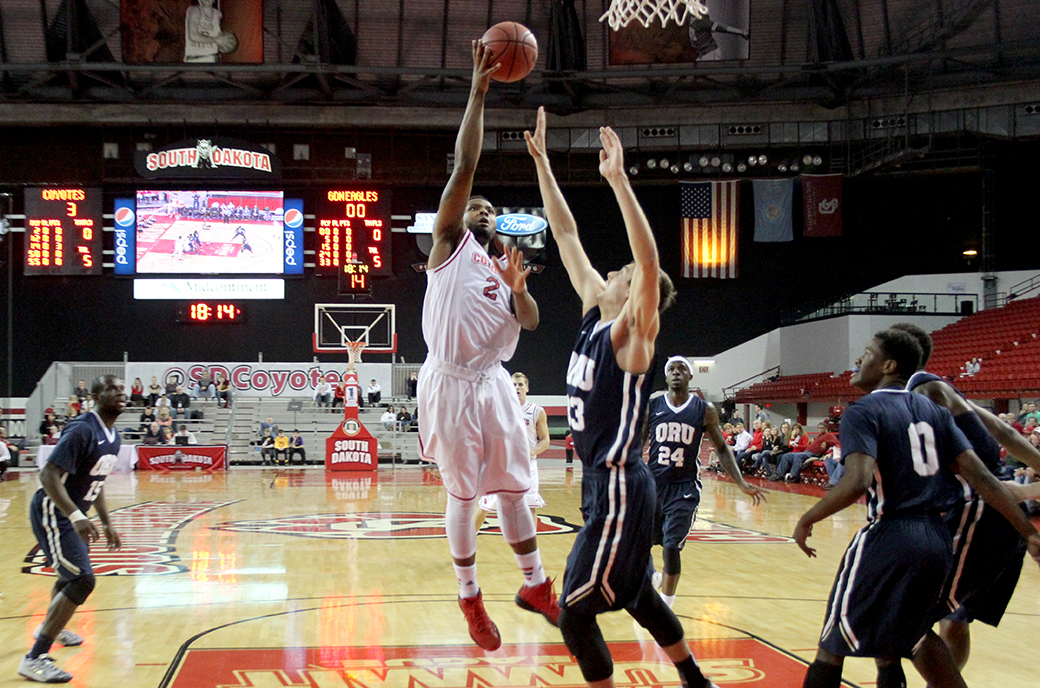 2 mins read
Coyote men stall in second half, fall to Oral Roberts 73-72
A debatable no-foul call on a senior guard Tyler Larson lay-up as time expired decided things in the Coyotes' 73-72 loss to Oral Roberts Saturday in the DakotaDome.
The Coyotes trailed 72-71 with eight seconds remaining after two missed free throws by Oral Roberts' Denell Henderson that would have put the Golden Eagles ahead by three with eight seconds remaining.
Larson came up with the rebound, moved quickly up court where he was met on the left side of the basket and rejected by contact from Henderson.
"After the shot, a hundred things went through my head of things I could do differently, but I just didn't make the play," Larson said.
The void of a blown whistle was quickly followed by the resounding sound of boos and jeers coming from the stands and sidelines as Oral Roberts walked off the court with what seemed like a sure-fire win for the Coyotes at halftime.
There was no shortage of chances for USD to seal the victory. The Coyotes held a sizable 39-29 lead heading into the locker room at half, but were outscored and out hustled in the second half.
Oral Roberts took control of the boards, out-rebounding the Coyotes 20-11 in the second half, including 8-2 on the offensive glass.
"They had a great second half, a really good last 10 minutes," head coach Craig Smith said. "We lost some discipline defensively…we've been atrocious defensively the last four games as a whole. And that's all encompassing, defending the post, guarding the ball and fouling too much."
Saturday's loss was the Coyote's third straight, and moved them to 4-5 in Summit League play.
"Some of the games earlier in the year were tough, but when you're ahead in a game like this, especially when your ahead by 10 at half, or anytime you lose by one — it really stings," senior guard Brandon Bos said in a subdued post-game press conference.
The Coyote men finish their three-game home stand against Western Illinois Feb. 5.
Larson said a win at a home Thursday to snap the team's losing streak is essential in gathering momentum for their three-game road trip that ends in Tulsa, Okla. against Oral Roberts Feb. 14.
"Coming off a three game losing streak, we have to pick it up," Larson said. "This is an important game for us. We've got to come into practice ready to go."
(Photo: Junior guard Tre Burnette goes up for a lay-up during Saturday night's 73-72 loss to Oral Roberts in the DakotaDome. Malachi Petersen / The Volante)