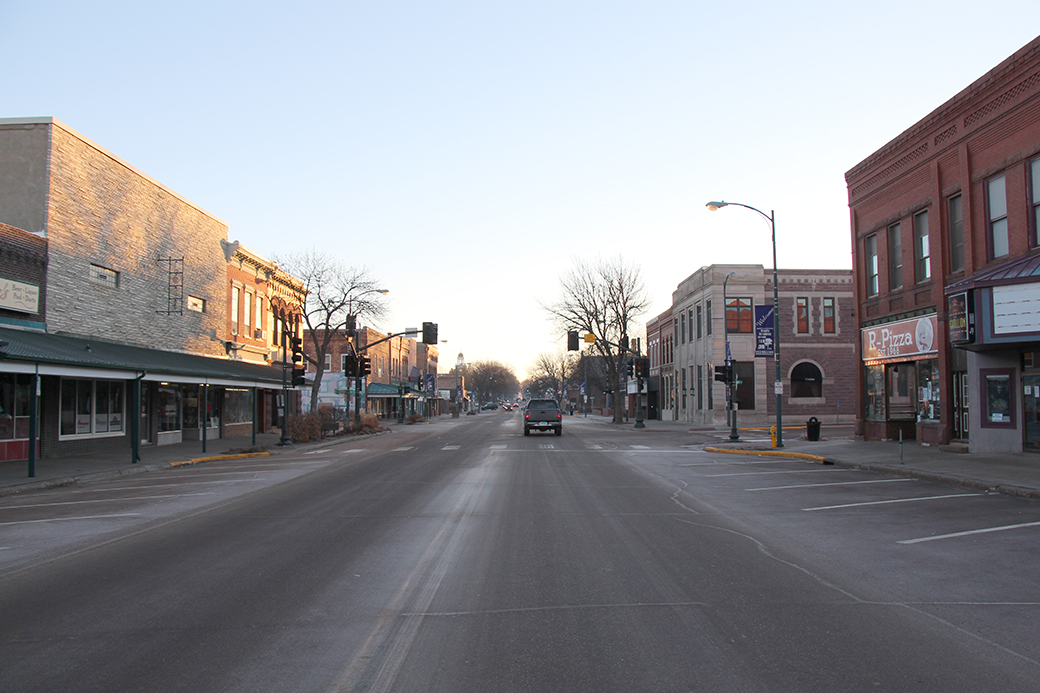 6 mins read
Downtown Vermillion destined for a remodel
The evolution of downtown Vermillion is evident in the number of for sale signs in store windows and emerging city-led changes to curb traffic flow.
As city officials study a problematic intersection on Main Street, more than eight building spaces are on the real-estate market. Downtown is destined for a remodel.
Nate Welch, executive director of the Vermillion Chamber of Commerce, said now is the time for businesses and buildings downtown to be rejuvenated — despite a few already choosing to sell their establishments.
"Downtown is at a great turning point," Welch said. "It does have some businesses that are either re-adjusting by looking to change ownership, looking to invest more into their business and some businesses have closed their doors."
Liquor license up for grabs
Todd Radigan, the owner of Maya Jane's, put his business on the market when he found out he and his wife were expecting their third child.
He does not want the doors of Maya Jane's to close, so he thought either selling the entire business or selling his liquor license would be easy ways to cash-in.
"I listed it about six months ago. I thought it would take about 10 minutes to sell," Radigan said. "I really haven't had too many people getting at me about it."
Maya Jane's' liquor license — allowing for a full bar — has few restrictions, which proves to be more valuable than restaurant liquor licenses, Radigan said.
The city government sells restaurant liquor licenses for $90,000. However, those licenses carry heavy restrictions on businesses, such as  having servers every hour. Not to mention, there is a set amount of liquor licenses the city has to issue.
Radigan said he was advised to list his liquor license for Maya Jane's at $125,000. He expected the owners of the Varsity Pub — which does not have a liquor license — to immediately inquire about a purchase.
"I would never say never," Diane Wirth, owner of the Varsity Pub, said.
Wirth said she knows she may be losing some business from customers leaving the Varsity because of a lack of a liquor license.
Joey Snyder, a junior and finance major, said he likes going to the Varsity because it is more casual than other bars. He is not sure if purchasing a liquor license would change the atmosphere, but said he would expect its business to increase if liquor was sold.
"I know some people prefer to go to other bars because they serve liquor drinks," Snyder said.
Still chance to thrive
In the heart of downtown, Chae's Korean and Chinese Restaurant is not for sale, but owner Jessi Wilharm said she and her husband plan to sell the building.
"There's a lot of buildings downtown that are for sale right now," Wilharm said. "We just thought we'd throw ours in the mix and see what happens."
Just this year, another restaurant across the street from Chae's closed its doors to customers — Raziel's.
Downtown is not at full capacity, but Michelle Maloney, broker and owner for Maloney Real Estate, said its not heading into any kind of recession.
"It ebbs and flows," Maloney said. "I've owned a business in downtown Vermillion since 1998. I've seen it where we've had absolutely no buildings empty, and I've seen it where we've had 11."
Comparing downtown economies to spirals, Welch said downslopes in business are more visible in downtown than in other areas of town.
"But we kind of take those as great opportunities to say, 'What will we be able to put in here?'" Welch said.
Maloney said feedback from the community is crucial for downtown development.
"We're always looking for input on what do you think we need that we don't have in downtown," Maloney said.
Intersection
On top of businesses and buildings potentially changing hands, the City of Vermillion is studying downtown's Center Street intersection.
For a 90-day period, which began Jan. 12, the four-way stoplight will be turned off and two stop signs will direct traffic flow from Center St. and Court St.
"We had several public meetings, and the option that came out of it that the Council say we follow through was this one," José Domínguez, city engineer, said. "We're trying to see if we can remove the signal and what that would do."
The intersection had one of the highest rates of vehicle crashes and longest delays in Vermillion, the longest delays averaging 24 seconds.
In a traffic report assembled for the City of Vermillion, the intersection had eight crashes from 2008 to 2010. Sixty-three percent of those crashes were rear-end collisions, indicating problems with cars trying to turn left, Domínguez said.
"What we're assuming is going to happen is the delays are obviously going to go down," he said. "We might have some delays increasing on the two side streets, but it might be minimal because of volume of traffic is so small."
Unlike a normal four-way intersection, the stoplight is divided between two roads that do not conjoin.
After the three months of studying the intersection, the City will have to make a decision.
Domínguez said there are four options to pursue with the stoplight, which include installing new signals with sensors to reduce delays, removing left turns to and from Center Street, removing left turns for both side streets or closing Center Street.
The City Council will have to consider what taking the stoplight signal out would do years from now, Domínguez said.
"After we take them out, we more than likely will not be able to put them back up in the near future," he said. "The solution is going to be permanent for a long time."