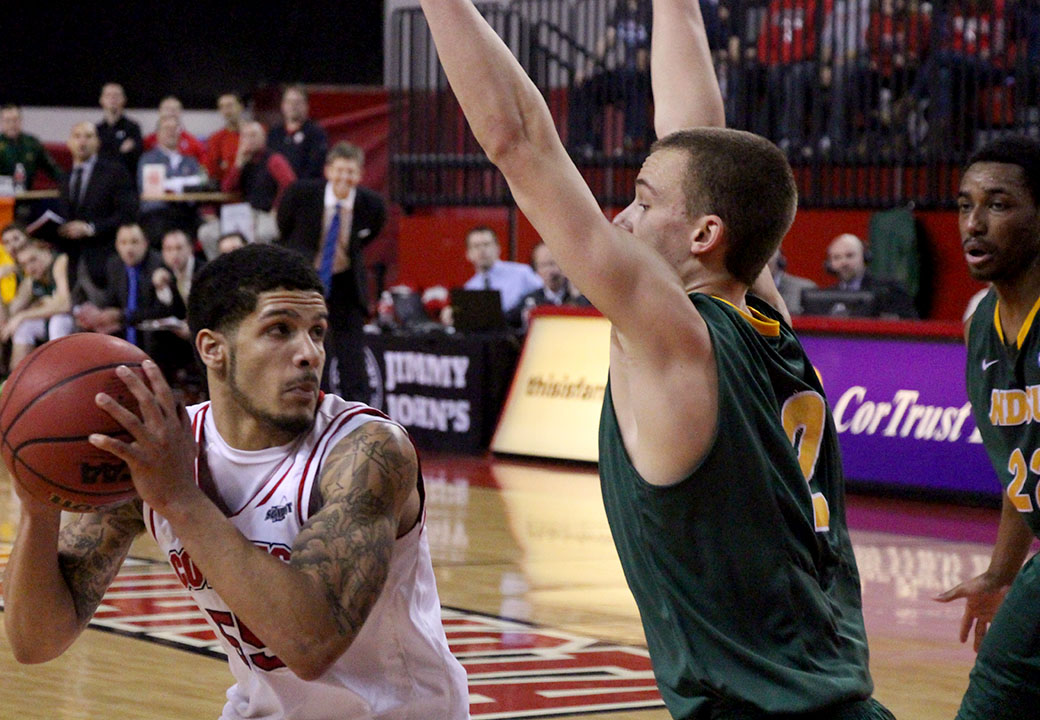 4 mins read
Tyler Larson makes his mark on men's basketball
Senior guard Tyler Larson sent 16,000 rowdy Creighton fans into a hushed hysteria when he nailed two three-pointers — just six of his 25 points in the game — in the final 10 seconds of regulation to send the Dec. 9 basketball game into overtime.
Although the University of South Dakota Coyotes fell short of the upset, it gave Larson two things — confidence and campus fame.
"It carried him confidence-wise from there on out," said USD head coach Craig Smith. "He's just got this confidence in himself to perform at all times."
His late-game heroics did not go unnoticed by fans, either. Even third graders at Jolley Elementary school, where he volunteers to read, recognize him now.
"My third grade daughter came home from school to tell me how she hung out with Tyler at school," said USD assistant coach Gameli Ahelegbe. "It sounds like he is a big hit at her school."
Although the messages were well-recieved, Larson doesn't need any reassurances about his talent.
"Some people I don't even know have messaged me on Twitter or Facebook and just told me 'good game, it was fun to watch you play,' and that they haven't seen a team like this in South Dakota that's playing so hard," he said. "I've always been good in my eyes."
Larson averages 15.1 points per game and eight rebounds per game this year, up from five points per game and 3.1 rebounds per game during the 2013-2014 season.
"I think he really came in with a chip on his shoulder," Smith said. "When we got hired, we told all of our guys, 'everybody's got a clean slate.'"
Larson took advantage of this clean slate, impressing Smith.
"When I get in a game, it's just a whole other mindset," Larson said. "I want to win so bad."
Even outside of games, Larson gives everything he has to succeed.
"Any individual rebounding drill we do, Tyler wins every time," Smith said.
In the team rebounding drills, Larson's team had gone undefeated up until the day before the North Dakota State game Jan. 14.
"You know, I'm talking trash to him like 'Tyler, you lost,'" Smith said. "Before the South Dakota State game (Jan. 17), his team wins by eight, which is a huge number, and he's like 'Coach, my team will never lose again.'"
That comes from his "killer instinct," Ahelegbe said.
"It doesn't matter whether it's playing a family game of charades or seeing who has the better jumpshot, which I remind him all the time that my jumper is better than his, but he just always wants to be the best," Ahelegbe said.
At 6'3″, Larson leads the Summit League in rebounding.
"That's something that I'm very proud about," said Larson, who sits at fourth place in the conference scoring charts. "I know I can score, but I try not to force anything."
Larson also sits fourth in assists in the Summit League standings.
"I like to get my teammates involved," Larson said. "I've always been a versatile player."
Larson does not fear the challenges Smith throws at him, either.
"Tyler's one of those guys that you can challenge him, you can ride him hard and he doesn't ever hang his head and pout," Smith said. "He just responds to the challenge."
Now, the challenge for Larson and the Coyotes is to finish the Summit League regular season strong to set themselves up for a run at winning the conference tournament.
"We've all bought in to the same goal, and that's reaching the Summit League championship," Larson said.
(Photo: Senior guard Tyler Larson defends the ball in the Coyotes' 71-67 win over North Dakota State Jan. 14 at the DakotaDome.  Austin Ashlock / The Volante)