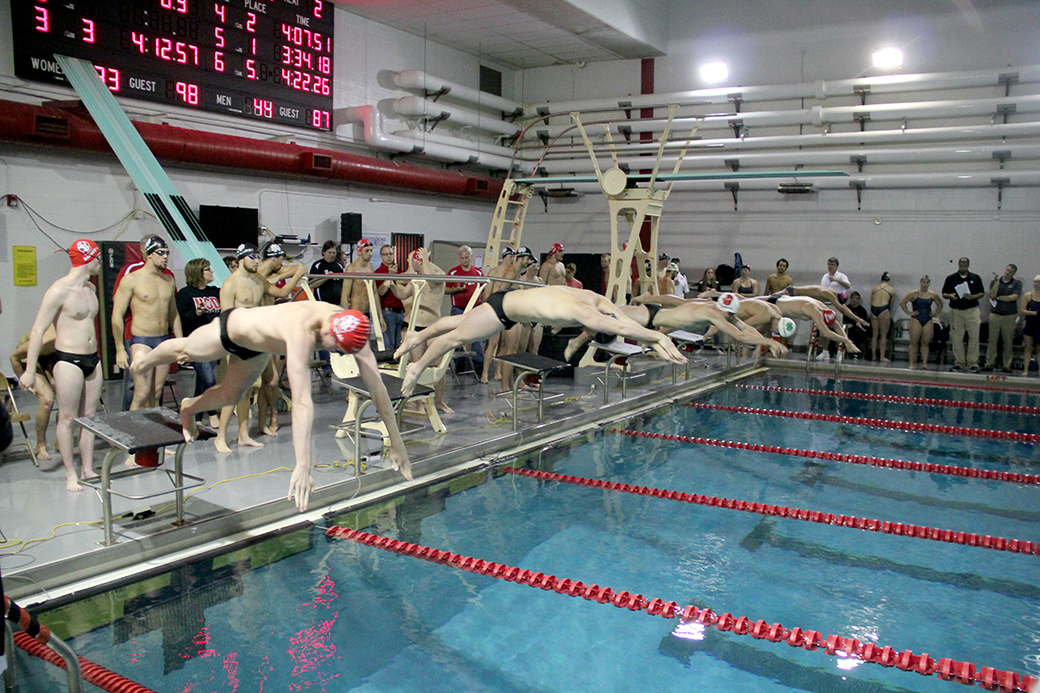 1 min read
USD swim and dive teams sink to UND
The University of South Dakota men's and women's swim and dive teams lost to the University of North Dakota Saturday. The men lost 169-129, while the women lost 170-121.
Although the Coyotes lost the meet, head coach Jason Mahowald feels positive about his team's form as they float toward the conference meet in February.
"We're definitely ahead of where I thought we'd be this weekend," Mahowald said. "I think we looked really good."
For the Coyote men, Lucas Frederick won both the 100-meter and 200-meter freestyle. Junior Chase Testa set a school record with 288 points in the 1-meter dive, winning the event.
Sophomore Jake Knowles was optimistic about his team's performance, especially their win in the final race of the meet, the 400-meter freestyle relay — which they won by mere inches.
"We're swimming out of our minds," Knowles said.
North Dakota was led by Martin Pozniak who won the 50-meter and 100-meter butterfly, as well as the 100m backstroke. Pozniak also contributed in North Dakota's winning the 200-meter medley relay team.
For USD's women, sophomore Sam Schutt won the 100-meter, 400-meter and 800-meter freestyle races. Schutt also helped claim a win in the 400-meter freestyle relay. On the board, sophomore Greysen Hertting won both the 1-meter and 3-meter dive for the Coyotes.
"Our team is awesome," Hertting said.
For UND, Erin Grabanski won the 50-meter backstroke and the 100-meter butterfly, and placed second in the 100-meter freestyle. Grabanski also claimed a UND win in the 200-meter medley relay team.
(Photo: University of South Dakota and University of North Dakota swimmers dive into the pool at the start of the 400-meter freestyle relay. Phillip Millar / The Volante)