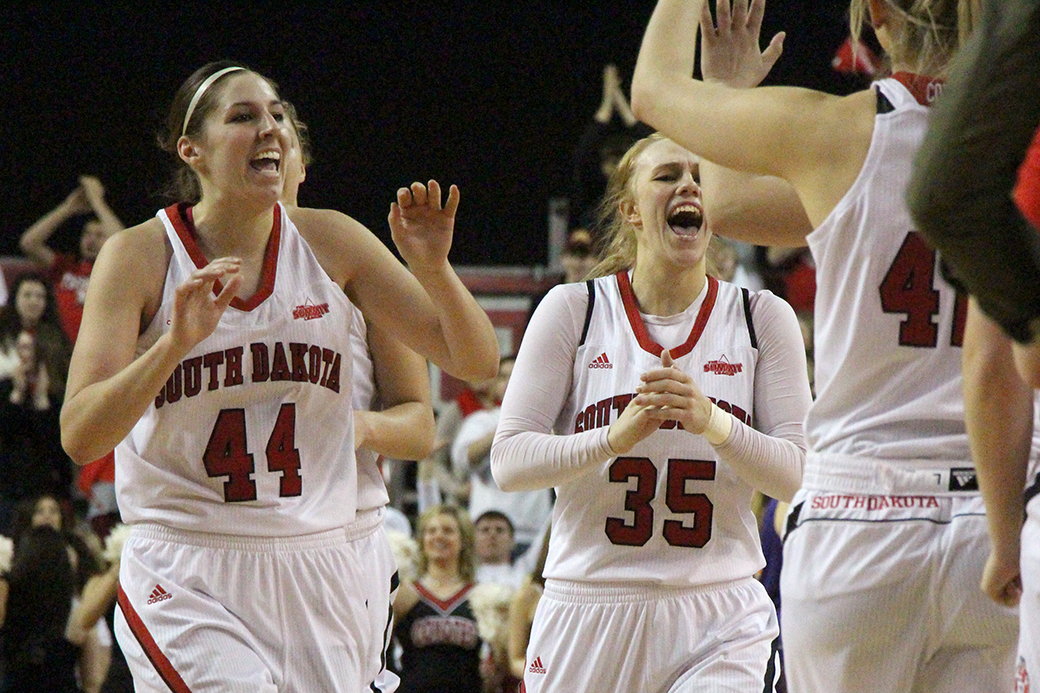 3 mins read
Coyote women grasp 78-75 win against Western Illinois
Seniors on the University of South Dakota's women's basketball team went out in style with a win over Western Illinois Saturday night.
In the final seconds of the game, the Coyotes held on and ended with a win of 78-75.
"We like to make things exciting around here. I'm really proud of our team for finishing things off with an undefeated home season and regular season championship. That is a pretty special thing to accomplish," Head Coach Amy Williams said.
The first half went back and forth with the lead changing seven times. At the end of the first half the Coyotes were up 34-32.
"Every time we have played (Western Illinois) it has been a dog fight," Williams said. "We knew that they were going to make a run. They have a special player with Ashley Luke and a great supporting cast around her. In the first half we didn't get out to the supporting cast like we needed to."
Western Illinois's Ashley Luke led the team with 13 points and seven rebounds. Tori Niemann added 7 points.
USD senior forward Lisa Loeffler had 9 points and three steals and senior guard Raeshel Contreras added 7 points, while senior guard Nicole Seekamp and junior guard Tia Hemiller each had four assists.
In the first four minutes of the second half the Coyotes furthered the lead with an 11-2 run. But Western Illinois' 3-point-game closed the gap.
"When that situation comes up, that's when you come together. Since we are so close, we knew we would have to play out these few defensive possessions, get some stops and get a good shot on the other end," Contreras said.
The Coyotes were able to maintain the lead, though.
"It was a great accomplishment for our team, and it shows we were consistent throughout the season," Seekamp said.
Three of the seniors contributed 53 points, and Seekamp led the team with 20 points.
"She is a special player with 20 points, nine assists and four steals — very unique player. I am privileged to be coaching her and excited to make a run with her down the stretch," Williams said.
Contreras scored 19 and Loeffler added 14 points.
"I am proud that they could come out on senior night and represent themselves in that way and play great," Williams said.
Seekamp said there were two main components her team focussed on throughout the game.
"The biggest thing for us was to box out and rebound. Ashley Luke is such a good player. Even when she misses, she is good at grabbing that rebound and going back up with it. We didn't want to give anyone second chances," Seekamp said.
The Coyotes improve to 23-6 (13-3 Summit League) with the win over Western Illinois, dropping them to 17-12 (9-7). The Summit League Tournament begins March 7 in Sioux Falls.
"(To get this win) means a lot to me for these kids, especially the four seniors," Williams said. "They have poured their heart and soul into our program and done everything that myself or my staff has asked."
(Photo: Senior forward Lisa Loeffler and senior guard Nicole Seekamp celebrate the result of Saturday's women's basketball game. The Coyotes took the 78-75 win over Western Illinois in the DakotaDome. Austin Ashlock / The Volante)