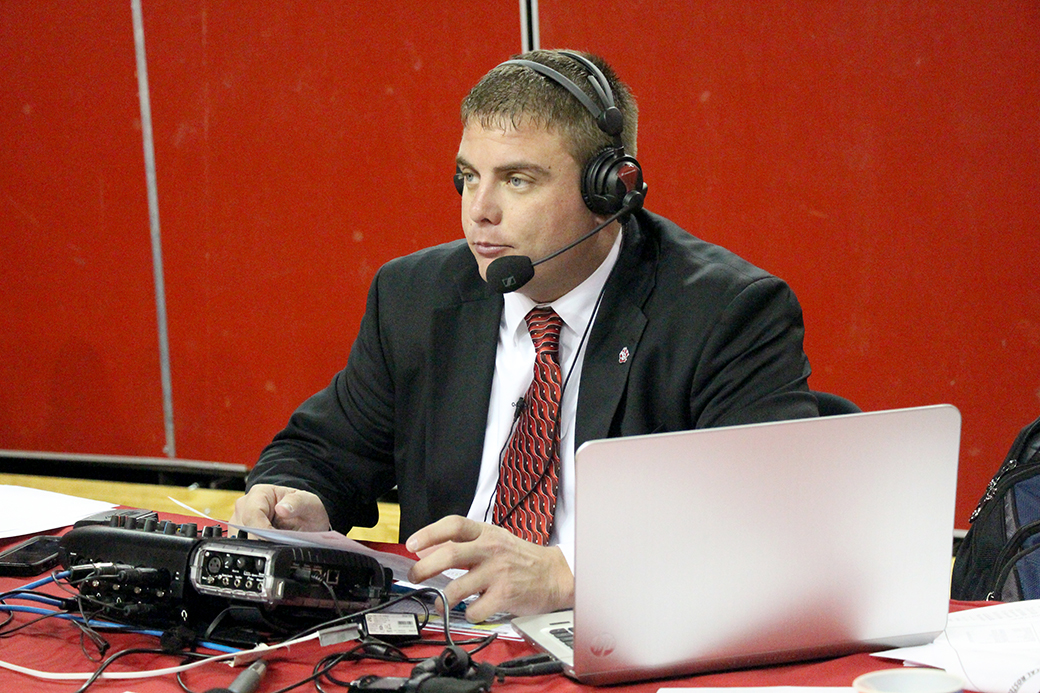 3 mins read
Radio entities give voice to the 'Yotes
Although they may not be seen on the court, the voices of John Thayer and Joe Van Goor narrate the action behind the scenes of the University of South Dakota basketball games for listeners on the radio.
Both Thayer and Van Goor work for Learfield Sports/Coyote Sports Network radio network in Vermillion, which covers the Coyote basketball programs.
"I've been doing this for 31 years in high school and college sports casting, and the best part is getting to know the players, coaches and fans in the community," said Van Goor, who works part-time for 5 Star Communications (KVHT/KVTK).
Van Goor's experience with radio broadcast began when he was in high school athletics. He gained experience as a play-by-play broadcaster and has been covering sports since 1984.
He's covered everything from play-by-play football, basketball, baseball, softball and eventually got to the point of covering college football and baseball.
Van Goor became the voice of men's basketball in the 2012-13 season and has gotten to know the team and players since. USD players see VanGore every time they have a road game, as he travels with the team.
Junior forward Eric Robertson said the players have great respect for Van Goor.
"Joe Van Goor is the best radio personality this side of the Missouri River," Robertson said.
After graduating from Doane University in 2008, Thayer began his career in Holyoke, Colo. Since then, Thayer spent the 2009-10 season covering the National Association of Intercollegiate Athletics. He then worked at KCSR in Chadron, Neb., for about seven months.
He finally took a full-time job in Yankton at KVHT in July 2012. Thayer started covering the women's basketball team in the 2013-2014 season.
Aside from the perks that come with the job, Thayer said there are hardships of covering a team and having a radio show to prepare every week, as he has a show from 9-11 a.m.
"It can make things very challenging when we go on the road," Thayer said.
buy propecia online https://healingtohappy.com/wp-content/languages/new/over/propecia.html no prescription

"I have to log in remotely to update my radio show and other online obligations that I have, and it can be challenging — not a lot of sleep sometimes."
Thayer knows the USD women's basketball players well and even travels with them for road games.
"During these trips I interact with the team quite a bit," he said. "I am there at shoot-around before games, practice, the bus or plane, so I know this team pretty well."
But overall, there are several things Thayer enjoys about being the voice of the USD women's basketball team.
"I have a great job," he said. "The best thing is to get paid to go watch sports. When you get the chance to watch sports and meet a lot of great people along the way it makes this job really exciting."
(Photo: John Thayer voices the University of South Dakota women's basketball team's home game against Omaha Feb. 12 for the Learfield Sports/Coyote Sports Network. Malachi Petersen / The Volante)