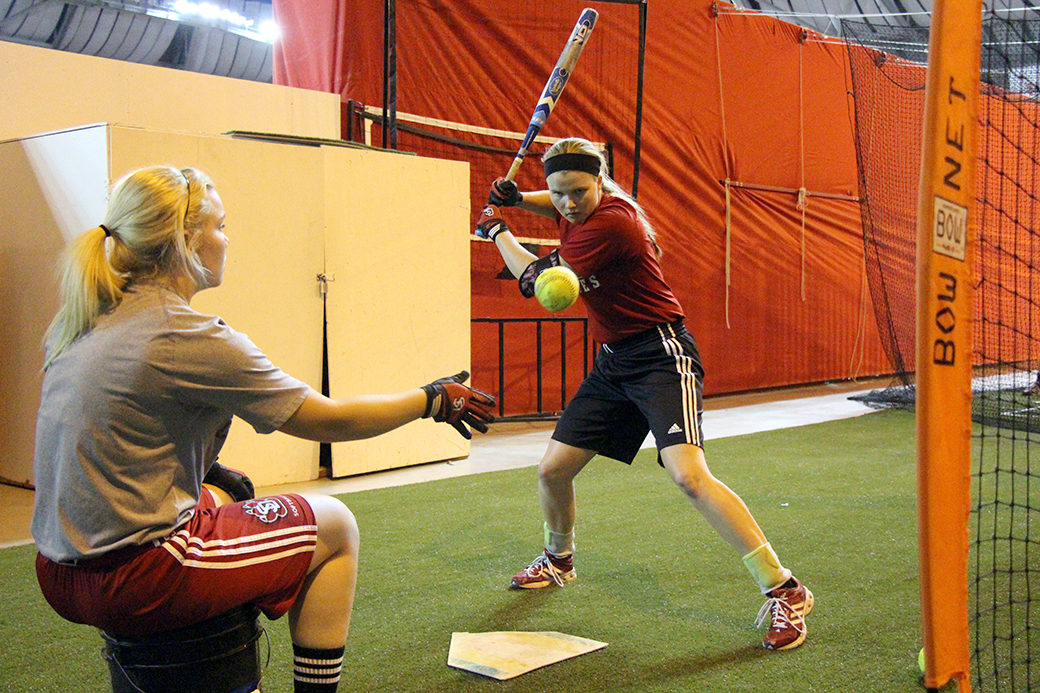 3 mins read
Softball team works for continued improvement
Softball head coach Amy Klyse knows the regular season can only put the team in a better spot for the Summit League conference. That is why the team is currently more focused on the post-season.
The University of South Dakota softball team has already traveled to Tennessee and Texas and currently sits with a record of 3-5-1.
"We played tough competition in the beginning, so our record isn't going to look as good as we are," senior outfielder Morgan Hancock said.
A top goal for the team is to play with urgency and execution.
"One goal was to get the first out of every inning. We are doing that well now so we are working for the second out," Klyse said. "A couple times in Texas we would get the first out then walk next batter — executing all the time, not randomly."
Kylse has already seen improvement from the first to second weekend.
"The first weekend we faced a lot of adversity. In softball it takes longer to get through the adversity because there are fewer opportunities," Klyse said. "Our kids made some strides in execution, playing together as a team and fighting in that second weekend."
Playing tough teams in the pre-season helps prepare the team for the conference season.
"We faced teams that hit the ball far and hard, and then we faced some teams that do a bunch of small ball stuff. They have been good competition and different types of teams," Klyse said.
During their last game in Texas, sophomore pitcher Rachel Cue pitched a one-hit shutout against Corpus Christi.
"Everyone relies on me to get a batter out or get them out of sticky situations," Cue said. "Pitching against these tough batters is really good for me."
The team is still trying to find a solid offensive and defensive lineup, which might continue to change until conference play, Klyse said.
"Whoever is hot will be in the offensive order, and whoever is executing will be in the defensive lineup," Klyse said.
The team is also looking to its four seniors to lead them to its goal of a conference win.
"Our four seniors are doing a great job this year, and we all look up and rely on them," Cue said.
In practice, they have been focusing on making the offense more consistent.
"It is whatever offensive weakness they want to get rid of, so next time we go to Florida they feel more confident in all areas of the game," Klyse said.
The softball team travels to Jacksonville, Fla., Friday to play five games.
(Photo: First-year infielder Emily Winckler, left, pitches to first-year Taylor Steinfeldt at practice in the DakotaDome Feb. 23. Cristina Drey / The Volante)