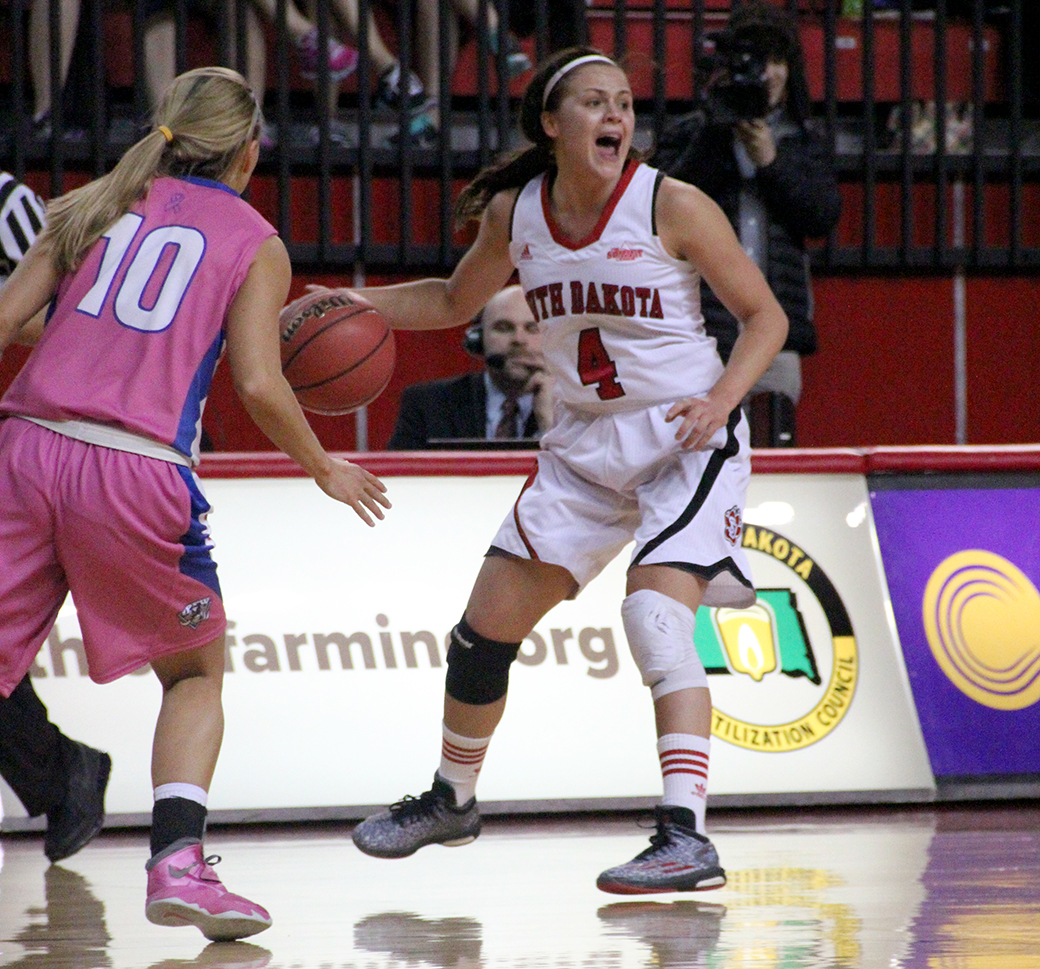 3 mins read
'Yotes push forward without guard Tia Hemiller
During practice, just before the North Dakota State game Feb. 8, junior guard Tia Hemiller jumped up to catch a pass.
She landed, took another step and knew something wasn't right. Hemiller had torn a piece of her meniscus.
Hemiller had her knee scoped last week and is hoping to be back before the season is over.
"I am very thankful it wasn't worse, but I can't wait to be back, and I am going to be more determined than ever," Hemiller said. "Nothing is better than lacing up with my best friends and working together to reach the goals we worked all summer to achieve."
With Hemiller gone, the team has continued to win, including two Summit League games against North Dakota State, 83-79, and Omaha, 83-69.
"Tia brings a lot of energy to the floor, especially in the defensive end," senior center Margaret McCloud said. "Her rebounding is outstanding, so those are a few areas that everybody has been trying to work on with her gone."
Even though Hemiller is gone, she knows the team will play hard.
"Even in adversity, our team knows how to overcome it and work hard to do whatever it takes," Hemiller said. "They go out and play with heart every time they step on the court — that's what I love about them. They are all fighters."
Currently, the University of South Dakota women's basketball team sits on top of the Summit League standings, two games above South Dakota State.
The real test will be playing at SDSU Saturday, Feb. 21.
"We take the SDSU games just like any other game," McCloud said. "It is easy to get caught up in the rivalry, but we just think it is just as important as any other games. We just have to be focused and play with intensity."
The team is preparing for the game by watching film from the previous game. But like any opponent, the players are always working to improve defensively and take away their opponents' strengths.
"We prepare very well for every game, so it's just up to us if we execute and do what we know we are supposed to do," McCloud said. "I think the SDSU and USD games are always fun and people should expect a good competitive game."
The game will still be different with Hemiller gone. In the previous game against SDSU, she had nine points in the last five minutes and had five rebounds.
"The whole team is capable of making the hustle plays and working hard to do whatever it takes to win. They are all stepping up," Hemiller said. "The seniors are stepping up and showing their leadership more than ever down the stretch.
buy remdesivir online https://healthcoachmichelle.com/wp-content/languages/new/online/remdesivir.html no prescription

Since this is their last go around, they are leaving no doubt on the court. I couldn't ask for better teammates."
(Photo: Junior guard Tia Hemiller communicates with her teammates during the Feb. 6 win against Fort Wayne at the DakotaDome. Austin Ashlock / The Volante)