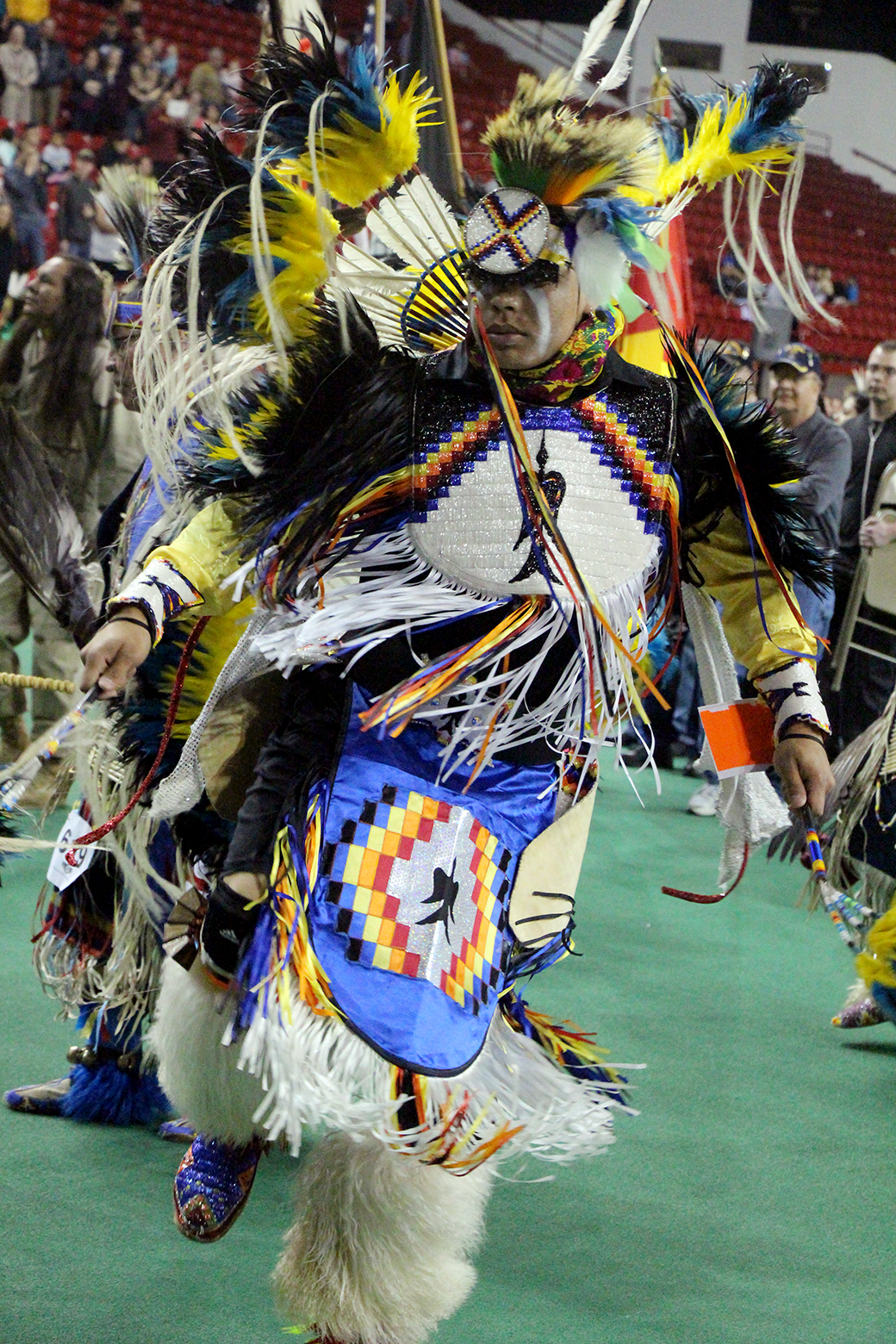 4 mins read
43rd Wacipi brings a 'celebration of life'
Replacing the normal sounds of basketball and football games, the University of South Dakota's Tiospaye Student Council organization will host its annual Wacipi pow-wow this Saturday and Sunday at the DakotaDome.
First-year Colton Sierra said the Wacipi is a way to escape other troubles of the world.
"It's a good feeling, good vibes, and you just feel good with the people you're around," he said.
David Alexander, associate professor of Native Studies, said there is an anticipation building for the event.
"This is the first bigger spring pow-wow in this area," Alexander said. "It's the spring, everyone's anxious to get out and get back at it again."
Preparation for the Wacipi seems to be on target, Tiospaye President Aspen Ducheneaux said.
"We're actually a little bit ahead of what we usually are," Ducheneaux, a junior, said. "Usually we're still kind of short money right now, but we have the funds that we need to put the pow-wow on."
Much of the preparation thus far has had to do with meetings, rather than setting up in the DakotaDome, Ducheneaux said.
"Mostly it's just been meetings — meeting with the Dome staff, University Police Department, business office, catering with Aramark," Ducheneaux said. "A lot of emails, text messages, phone calls, printing."
Tiospaye has been doing a lot of fundraising, as well. Members fundraise by sending out donation letters, hosting taco sales and meeting with USD faculty, Ducheneaux said.
Though most things have run smoothly, Tiospaye has run into some trouble getting people contracted, junior Brittany Youpee said.
"I usually send out vendor applications and contact people that we hire for the pow-wow, and that went a little rough this year," Youpee said. "Some of them want more money than we are allowed to give."
Ducheneaux said getting in touch with them was troubling as well.
"Email addresses are wrong, missed calls, having to call them back," she said.
Tiospaye will be able to begin the set up in the Dome on Friday night, Ducheneaux said. The pow-wow runs from 1 p.m. to 11:30 p.m. on Saturday and 1 p.m. to 6 p.m. on Sunday.
Drum groups are often some of the main attractions at this event. One drum group that has performed in the past is led by former USD professor Wayne Evans. The group is unsure if they will perform this weekend due to Evans' current health problems, Alexander said.
He said the local drum group is still learning and getting better.
"Right now, we're kind of in a rebuilding stage — there's lots of people that are still learning and not that great of singers yet," Alexander said.
Alexander said he enjoys the Wacipi as it is a sober, carefree event.
"I think it's a celebration of life," he said. "Alcohol, drug-free. You just go listen to the music."
Tiospaye member junior Leah Saiz likes the collaboration offered through the event.
"It's just a really nice way for everyone who's involved with the Native organizations to get together and collaborate and work together to make this one of the biggest student-led events in the state," she said.
Ducheneaux sees the pow-wow as the fruits of Tiospaye's yearlong labor.
"To me, it shows all of our hard work throughout the year," Ducheneaux said. "It's very rewarding. It's a lot of hard work, but I like seeing so many people showing up for it."
(Photo: A dancer performs as part of last year's Wacipi at USD. Wacipi translates from Lakota to "they dance." File Photo / The Volante)