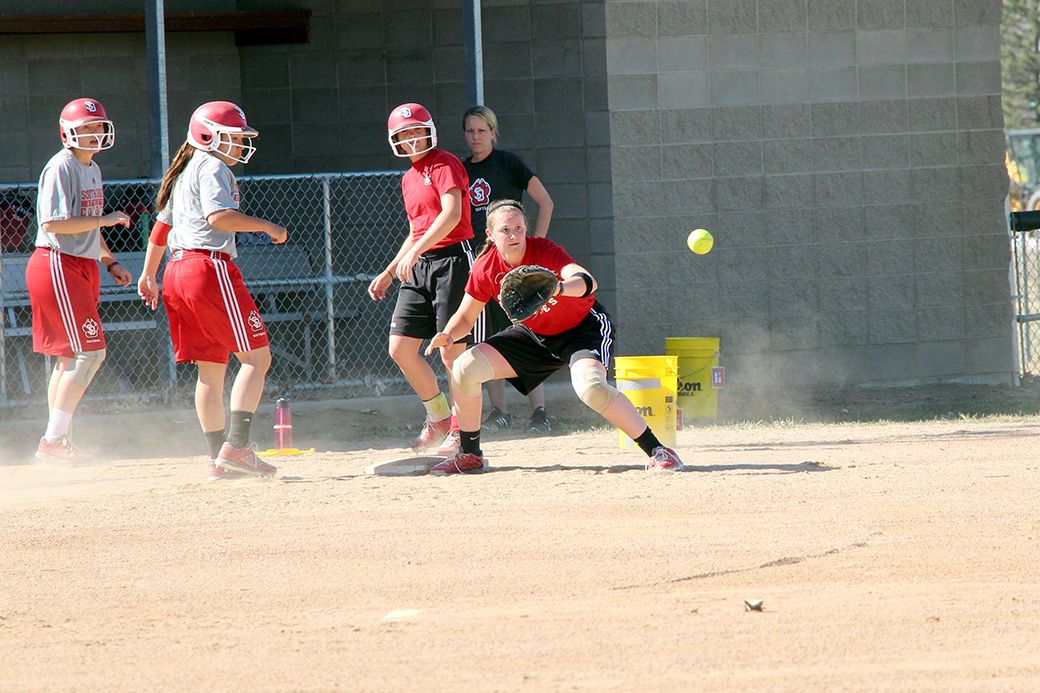 3 mins read
Shortstop Matley Jones leads by example
After transferring to the University of South Dakota from Augustana College in Sioux Falls, senior shortstop Matley Jones has emerged as a leader for her team.
"There were some awkward situations at Augie," Jones said. "I didn't think I was being treated as well as I should be. My sister used to be the coach here, and I liked it, so I transferred. I've always wanted to play DI, but I got a better scholarship from Augie, so that's why I went there at first. My opportunities are better here."
Jones, a health sciences and nursing major, is tied for a 14-game hitting streak. She is also ranked first or second in almost all of the offensive categories.
"She was a great hitter at Augie her freshman year, so that shows that it is not necessarily learning everything," head coach Amy Klyse said. "It comes from her grit as a competitor. She wants to do well, and she thrives in pressure situations."
Jones, who has been playing softball since she was only five years old, has her own set of goals to improve her game.
"My goal offensively is to get runners in. I don't care what my batting average is, but I really want to have the most RBIs as I can get," Jones said. "Defensively (it) is to communicate with everyone and make sure everyone is on the same page. I am the only senior infielder, so it is my job to communicate with the infielders and not make any errors."
Kylse said Jones leads both verbally and by example.
"She is definitely a vocal leader. This year she has been more than ever — you can see her leading by example in everything she does. She has always been like that," Klyse said.
Not only does she have to communicate with the infielders, but she hast to be versatile as an infielder herself.
"She has played first, second, third base and now she is at shortstop. Her willing to take on any role is exactly what our team needs and makes her successful," senior outfielder Morgan Hancock said. "She knows every position so she can tell other players what they need to do."
Along with leading, Jones also works hard and puts in the time it takes to be successful, Klyse said.
"Her work ethic is great. She is grouped with the rest of our seniors and they have created a new work ethic for our team," Klyse said. "On any given day she is coming in early or staying later to hit off of me or take reps or whatever she needs to do to make sure she is ready for our games."
Jones said she works hard because she strives to be the best she can be and wants to live up to her sister's expectations.
"She brings a lot of energy to practice and sometimes it's annoying, but she is always there. It's never a dull practice when she is there because she is loud and fun to be around," Hancock said.
(Photo: University of South Dakota shortstop Matley Jones gets into position to catch an incoming ball during softball practice March 31. Cristina Drey / The Volante)