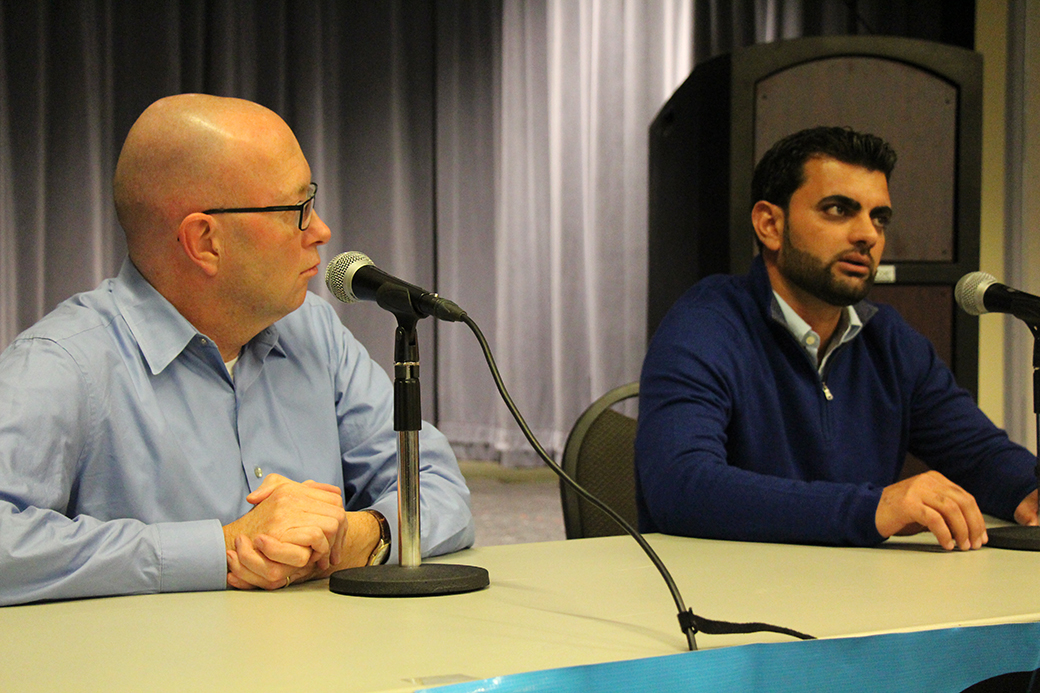 3 mins read
USD holds discussion of ISIS effect on Yazidi people
The attempted modern day genocide of a minority group was discussed in the Muenster University Center on Tuesday evening.
Timothy Schorn, a USD political science professor, and Abid Shamden presented a lecture entitled "Genocide and Sex Slavery: Yazidi Life and Death under ISIS."
Both men are members of the Lincoln, Neb., Yazidi community, the largest of its kind in the U.S., according to an article by the New York Times.
The Yazidi are a Kurdish-speaking ethnoreligious group originally from Northern Iraq who practice a syncretic or blended religion which combines teachings from Islam, Christianity and Zoroastrianism. Since the rise of ISIS, the group has been sought out for extermination and enslavement due to their religious beliefs.
Schorn began the presentation, explaining what ISIS is – a theocratic, imperialistic, genocidal and opportunistic terrorist group.
"You are either with them or against them," Schorn said, explaining the group's genocidal nature. "If you don't (believe what they do) you have turned your back on God. And if you have turned your back on God, then you're dead."
Schorn said ISIS' reign of terror is far from over.
"ISIS is a group that has definite goals and are doing for more then al-Qaida or the Taliban did to achieve these goals," he said. "They are far from done."
Schorn then turned the conversation over to Shamden, who talked about ISIS' attacks on the Yazidi people.
"When ISIS came to Mosul, Iraq, they gave Christians three options, pay a head tax, convert to Islam or leave," Shamden said. "Christians did not trust the options so they decided to leave. ISIS did not kill or capture any of the Christians. However, they did not give those options to the Yazidis. To ISIS, the Yazidis were not a part of the Book. Their version of the Quran allowed them to enslave or kill these people."
Shamden said ISIS has killed thousands of Yazidi people. Shamden said at least 7,000 people have been captured, most of them women. Men are usually killed and young boys are taken and trained to be ISIS fighters. Women and girls as young as seven and eight years old are sold as sex slaves, Shamden said.
"We have testimonies of some of the girls that escaped ISIS of the horrific treatment they received," he said.
Shamden said the total population of Yazidi population is about 400,050 people. Of those, 5,000 women have been captured by ISIS and about 2,000 have escaped, he added.
"ISIS' goal is to establish an Islamic state with a Sunni belief and those who don't convert or aren't their religion are slaves and don't have the same rights as Muslims," Shamden said.
Shamden, who is a part of the Global Yazidi Organization, said steps are being taken to help these people. The organization has raised money to help get supplies and food to those displaced by ISIS. They have also teamed up with other organizations to set up trauma clinics and provide housing for girls who have escaped.
After Shamden was finished speaking, the floor was open for questions.
First-year Rose Mclaughlian, who attended the discussion, said she learned a lot from the discussion.
"I think the fact that you can find people in the strangest places was the biggest takeaway," McLaughlan said. "It's amazing to think that the largest Yazidi community is in Lincoln, Neb. You really can't judge a book by its cover."