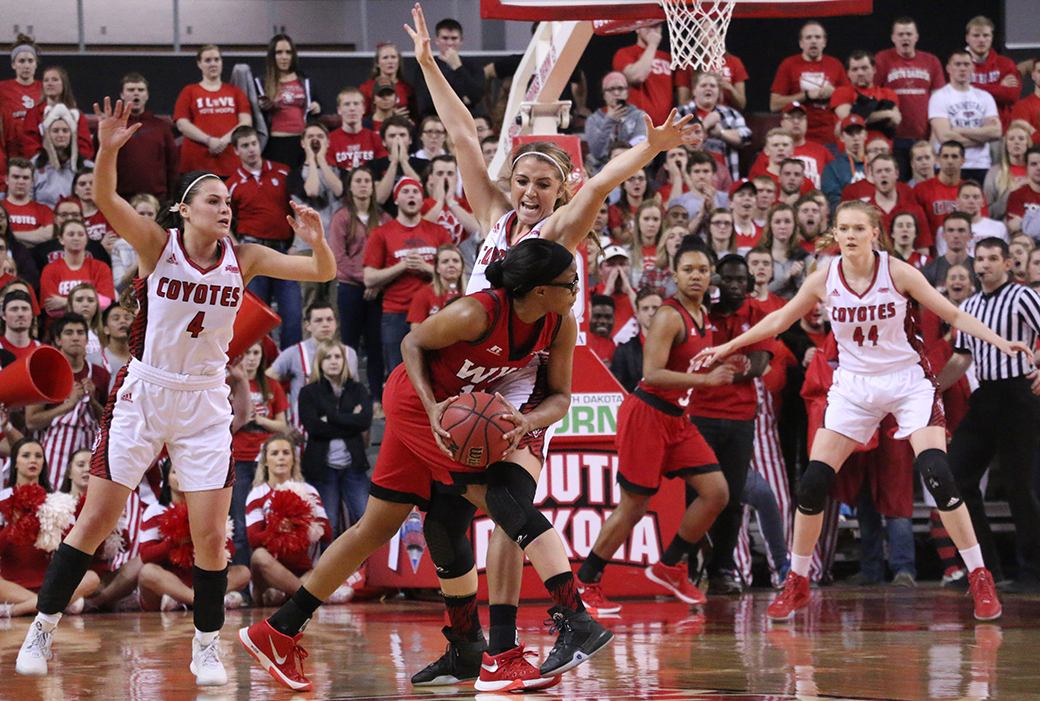 2 mins read
Coyote women on to WNIT Final Four
In front of a huge crowd of 2,749, USD women's basketball took down Western Kentucky 68-54 to advance to the WNIT Final Four.
The Coyotes were fueled in part by great outside shooting. Coming off of a UNI matchup that saw them make just one three, the Coyotes came up big shooting 46 percent from outside the arc and nailing 12 threes. This included a half court swish from junior Jasmine Trimboli at the end of the first quarter.
After USD led 19-11 in the first quarter, Western Kentucky stormed back in the second quarter outscoring USD 18-12. The 31-29 Coyote lead at halftime was slim, but the second half came up all USD.
The Coyotes outscored WKU 37-25 in the second half and out rebounded the Hilltoppers 24 to 13. Western Kentucky did not convert a single three in the second half, while USD made seven.
USD also shared the ball at a much higher rate. The Coyotes had 17 assists on 24 made shots, while WKU had five assists on 23 made shots.
WKU Conference USA Player of the Year and junior Kendall Noble took the reigns, scoring 21 points and grabbing eight rebounds. Sophomore Tashia Brown was also big for the Hilltoppers. Brown scored 12 and grabbed seven boards.
The Coyotes were led by their own player of the year senior Nicole Seekamp. She scored 18 points, dished nine assists and notched five boards. Trimboli and senior Kelly Stewart followed in scoring, each with 11 points. Stewart added nine rebounds while Trimboli pulled down four boards and notched three assists.
With the win the Coyotes are now in the WNIT's Final Four. They will play the winner of tomorrow night's UTEP and Oregon matchup. If UTEP wins the game will be hosted in El Paso, but an Oregon win could mean a fifth final game in the DakotaDome.