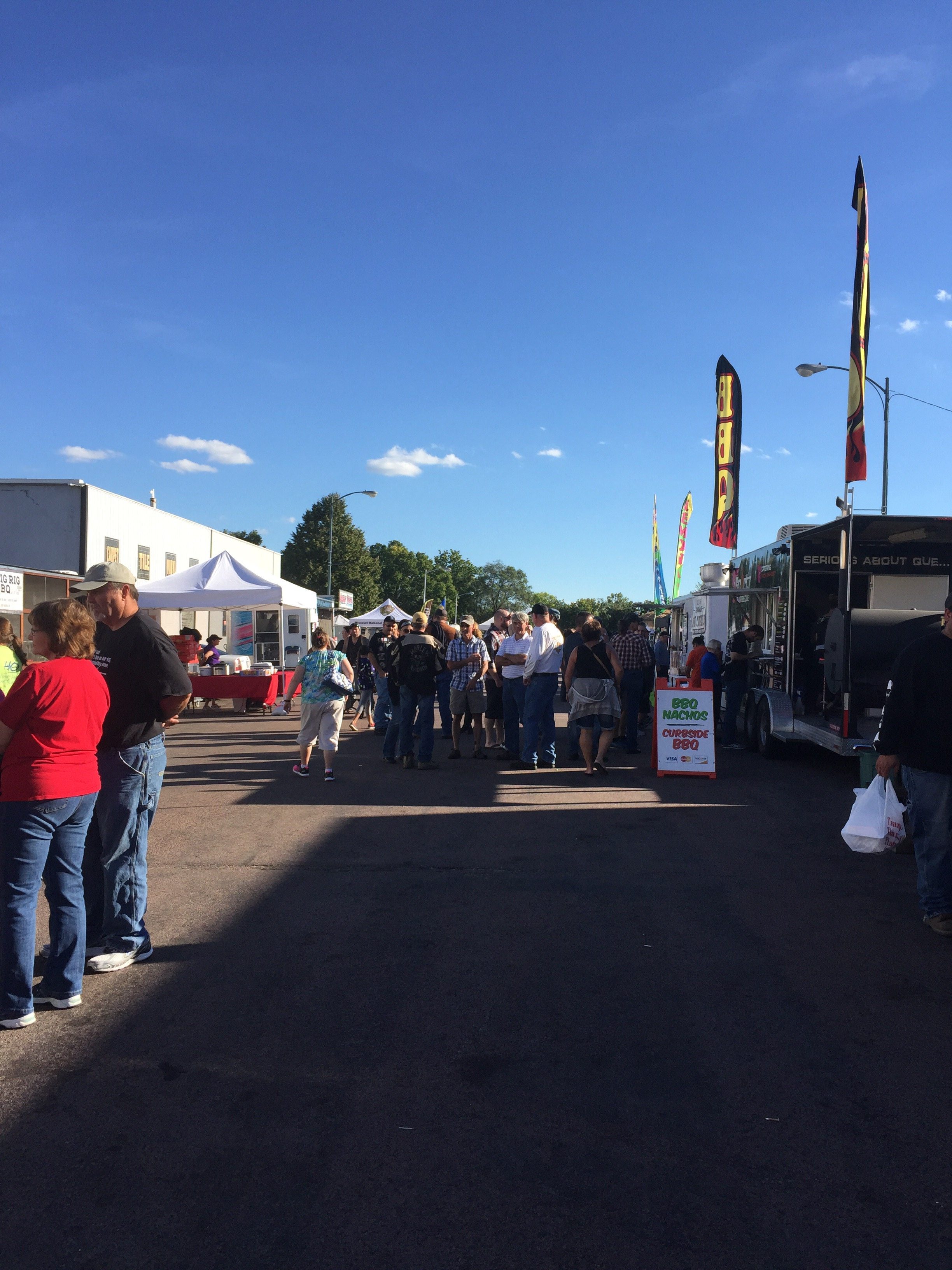 3 mins read
Annual Ribs, Rods & Rock 'n Roll festival takes over downtown Vermillion
Good food, loud music and antique cars ruled supreme in downtown Vermillion this weekend.
The 12th annual Ribs, Rods & Rock 'n Roll festival was held Sept. 9 and 10. The event included antique cars, bands, a barbecue competition and inflatable attractions for children.
Rich Job, the president of Ribs, Rods & Rock n' Roll, said the event is aimed to attract goers of all ages, including college students.
"We have had a tremendous event going on so far, we've had the great support of volunteers," Job said. "We have tried to get the college community down here and we're hoping to see (students) after the Coyote Game."
Many music groups, including The Clay Creek Deaf Cowboy Band, Jade Monkey, EJ Sprocket, The Dispensers and Mrs. Begley and the Boys, performed at the event.

According to Job, committee member Randy Hammer knows many bands and was able to hire the music groups.
"We try to change it up a little bit each year and we try to get the bands that we realize that the people will stick around for old time music that (everyone) knows," he said.
Besides the musical performances, the famous barbecue competition was also occurring. Awards ranged from Grand Champion, Reserve Grand Champion, People's Choice-Wing War and People's Choice- Pulled Pork. Last year, Eggspert won Grand Champion and Spitfire won Reserve Grand Champion. This year, Quetopia won Grand Champion and Smoke on the Prairie BBQ won Reserve Grand Champion.
Owner of Rowdy Hog Smokin' BBQ, Mark Lambert, said he got involved in the contest in 2009.
"When I created my first (mild) sauce, I brought it down in 2009 and won the People's Choice Championship," Lambert said. "We started betting in 2010 and we have been coming back ever since."
Lambert said he enjoys coming back to the competition and wants the attendees to know something about his one food item.
"I would definitely tell them to try the ribs," he said. "We do ours dry-rubbed so (event-goers) can enjoy any of the seven different sauces rather than a lot of the barbecue operations that put barbecue sauces on (the ribs) and whatever they choose is what you get."
Jack Fuller, a member of Boy Scout Troop 66, said he enjoyed Ribs, Rods & Rock n' Roll, though he would like to see changes to the event in the future.
"The food, the music and the people that I met so far have been a lot of fun let's just say," he said. "(I would improve) late night (music noise) so I don't hear it down 400 blocks."
Ideas are being floated around for next year from members in the community, Job said.
"One idea was a beauty pageant and the winner of the beauty pageant would be on our posters the following year," he said. "We have people bringing us ideas every year and we try to take what we think we can work with the best and add another feature to the event every year and make it better."
Job said plans for next year are already in the works.
"We try to add a little something every year, this year we added a Pub Crawl which we'll try to expand on and do better with as we go," Job said. "We want to continue to grow the car show, the vendors and we want to continue to get good bands."