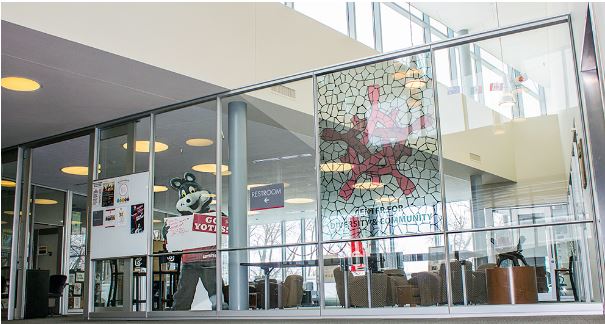 3 mins read
Editorial: USD continues to appreciate diversity
When choosing words to describe the state of South Dakota, "diverse" usually isn't a common response. USD, however, has made admirable strides toward building an inclusive community.
These efforts reach those of different ethnicities, sexual orientations and religions. Exposure to differences isn't always easy, but it makes us more conscious, tolerant and aware people.
With all of the progress thus far, our campus should continue to open its doors to every single student and appreciate their unique qualities as valuable contributions to our education.
The Center for Diversity and Community has been a resounding force in encouraging a wide range of voices to speak out. The CDC supports communities that have historically been marginalized. These communities include disability, gender identity and expression, sexual orientation, age, religion and race.
Activities and events like the Día de Los Muertos celebration, Tiospaye Indian Taco sale and Diwali celebration all recognize the many varied pieces of our mosaic, individual pieces of the puzzle coming together to make a beautiful picture.
Our campus still has a large white majority, but Fall 2015 statistics show about 14 percent of the student population is an ethnic minority. This number doesn't include any other minorities beyond race. Statistics do not reflect the depth behind every person, their individual stories and beliefs. That's where we come in, to welcome new people and celebrate their differences.
The world is becoming increasingly globalized every day. For many students, college might be the first opportunity to meet those of different beliefs and livelihoods. The American Council of Education stresses the importance of this experience to promote intellectual and personal growth.
Successful performance in today's diverse workforce requires sensitivity to human differences and the ability to relate to people from different cultural backgrounds. America's workforce is more diverse than at any time in the nation's history, and the percentage of America's working-age population comprised of members of minority groups is expected to increase from 34 percent to 55 percent by 2050. No classroom lecture or assignment truly compares to firsthand cultural enrichment.
Immigration and diversity in our country is no passing topic. The presidential campaign has not been shy about either candidates' views on varied backgrounds. Even subtle instances of ignorance or discrimination can affect minority students' health.
The JED Foundation found in one survey that minority students are more likely to feel excluded and less academically and emotionally prepared for college. Rather than overlook our differences, we need to face them directly. Diversity challenges stereotyped preconceptions and encourages critical thinking. If we take the time to listen, we'll hear a multitude of perspectives. All we need is an open mind. Not only will we learn about others, we'll realize our own identities, as well.
A USD Coyote is not an identity defined by a certain race, gender or religion. Although we may have many differences, we share one common trait: we decided to attend this college to receive an education. A college campus is an opportune place to step outside of what we might have grown up believing and exploring new ideas. While reaching and acknowledging every single student is no easy feat, the end result is worth the effort.