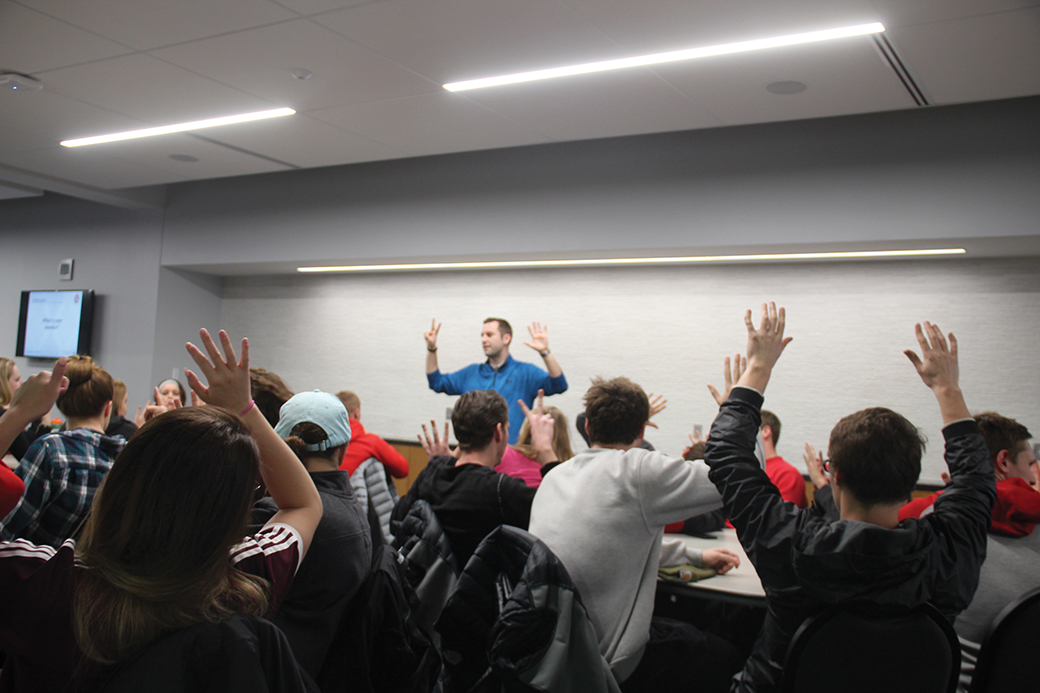 4 mins read
Consultant brings team culture shift on swimming and diving team
Increased communication, team morale and chemistry are just a few of the results experienced by USD's swimming and diving team this year, largely due to its new partnership with a team culture consultant.
Starting this fall, head swimming and diving coach Jason Mahowald hired HUMANeX Ventures to better the team as well as individual athletes. HUMANeX Ventures identifies strengths and designs strategies to "maximize the performance of a student-athlete," according to its website.
With that end goal in mind, each team member completed personality tests to determine their "Select 7," or their top seven strengths regarding athletics.
They also did a team assessment to get a better idea of what drives the team as a whole and to evaluate team culture.
Mahowald said he decided to give HUMANeX a try after hearing about it at a coaches conference last summer. Since then, he said he's seen growth in several areas.
"I definitely think it's made a positive impact on both the team and individual and the coaching staff as well," he said.
Senior Jake Knowles said he can tell that the team is much closer than in years past.
"Everyone is a little bit more invested in each other than just themselves this year I would say," he said.
Knowles said the positive attitude of Andy Grant, the analyst and training & product development specialist who worked with the USD team, had a lot to do with his excitement for the program.
"I thought that he was really genuine," he said. "He seemed really enthusiastic about what he was doing and how he's going to help us."
Senior Taylor Kirtley said she had a similar outlook when the team was first introduced
to HUMANeX.
"I thought it would really help the team, and it has," she said. "(Andy is) very excited about everything and that made me excited for it."
The program's focus on positivity rather than negativity also strongly resonated with Kirtley, she said.
"You just look at things differently," she said. "Instead of looking at what you need to fix, you more look at what you're
doing well."
Both Knowles and Kirtley said they would've benefited from the program during their first season at USD.
"It would've been an easier transition probably,"
Knowles said.
Though not much of what they learned from the tests was surprising, Mahowald said the results promoted more self-awareness among swimming and diving athletes. HUMANeX also served as a reminder to continually revisit big picture conversations, he added.
"When they do meet with us we talk about goals, communication, all those things that are important in a team," he said.
The Select 7 results have helped Mahowald get more out of individual athletes and the team as a whole, and has changed how he communicates
and motivates.
"Our team is really driven by achievement this year," he said. "So they like to know they're getting faster, that they're getting better, they're not necessarily driven by, 'You have to beat them and win today.' That doesn't exactly cue
in with them."
In addition to better communication, Knowles said the team morale is higher at meets.
"I would say as a whole everyone's swimming amazing," he said. "I feel like everyone is doing a really good job and I feel like a lot has to do with our team chemistry this year."
Kirtley said Grant also encouraged team members to recognize each other for their accomplishments.
"It makes us more aware of things," she said.
Mahowald said he plans to continue working with HUMANeX in future years.
"I am very happy with the progress that the team has made all season," he said. "I think team culture is a process that never really ends, but the more time that you spend on it, the better it will get."