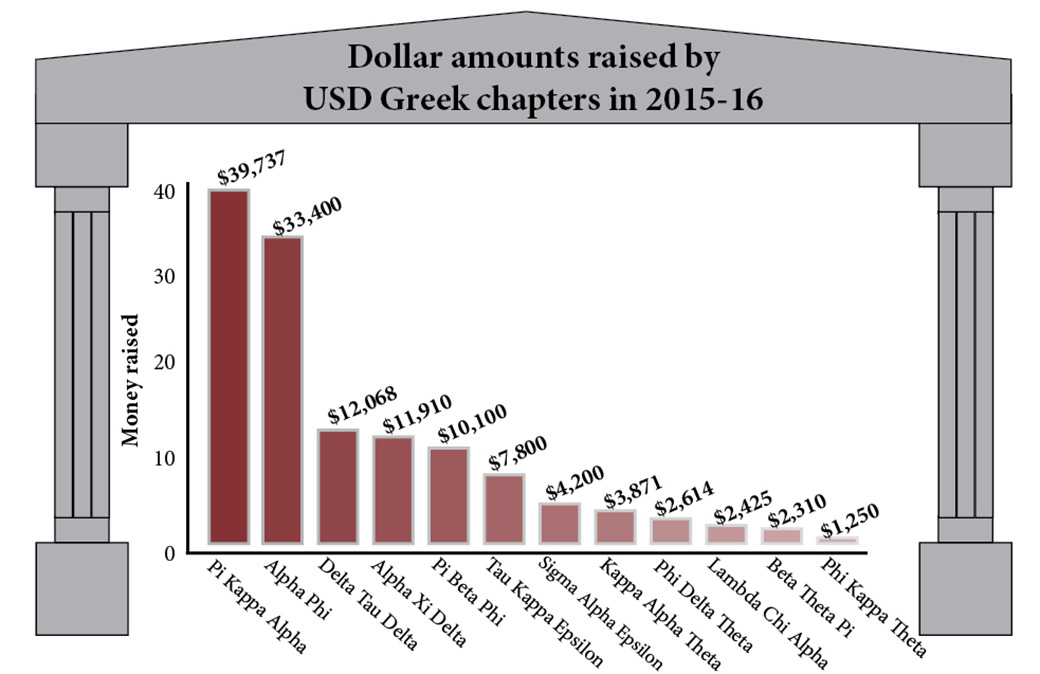 5 mins read
Greeks raised a combined $130,000 for charity in 2015-16
While most Greek chapters may be stereotyped as encouraging a raucous party lifestyle, an often overlooked aspect of fraternities and sororities is their intensive fundraising efforts.
All 12 USD Greek houses are active in the community, raising money for the respective charities they support. In the 2015-16 school year, fraternities and sororities raised more than $130,000, and put in almost 40,000 hours of community service, according to Laura Roof, director of USD sorority and fraternity life.
Pi Kappa Alpha led all fraternities, and raised almost $40,000, while Alpha Phi topped all sororities, raising more than $33,000. All amounts were self-reported.
Roof said charity involvement is one of the four pillars for all houses.
"It's one (thier) of values, giving back to the community," she said. "In general across the board, with all sororities and fraternities, that is something we hold very strongly in that value set is giving back to others."
The other three pillars are leadership, brotherhood/sisterhood and academics.
Charity is something that fraternities and sororities are not usually known for, Roof said.
"People don't hear about the great things fraternities and sororities do," Roof said. "They only hear about the parties and trouble they get into. But the Greek life is all about finding lifelong friends and being active in school and the community."
While USD doesn't require fraternities and sororities to support charities, Roof said many Greek houses themselves require a certain number of hours to be donated.
"Some individual organizations will put parameters on their membership to encourage them to do some sort of philanthropy or community service," she said. "Typically it's not a quota set on dollar amounts, because we understand it can be hard asking other people for money. The general low-ball is five hours, the highest I've heard is 15 in a semester."
First-year Macy Halverson, a marketing major and director of philanthropy of Alpha Phi, helps organize fundraising events for the sorority. Halverson said the requirements for Alpha Phi fundraising have changed since last school year.
"We used to require seven hours donated," she said. "Now, we require members to attend three events. Members can choose which events they want to go to, instead of requiring them to go to certain ones. The hours have definitely gone up because of the change."
Recruits often take into account which charity is supported by a fraternity or sorority when they're choosing which house to join, Halverson said.
"Personally, my grandpa died of a heart attack so it made sense to join Alpha Phi, because they raise money for the American Heart Association," she said. "Recruits will choose a cause that is meaningful to them and help it."
Roof said USD houses are very successful when it comes to raising money for charity, and often rank highly within each national Greek chapter.
"We have a lot of fraternities and sororities on campus that are recognized nationally within the top 10, top five or even the top chapter within their affiliation," she said.
Jackson Schuver, the interfraternity council president and member of Delta Tau Delta, said fraternities are value- and philanthropic-based organizations that strive to be involved in the community.
"In alliance with most fraternities' values is along the lines of giving back to the community and being a good citizen and good person all-around," Schuver said. "Philanthropy falls into the values that most organizations identify with."'
Sawyer Stevens, president of PIKE, said it's important to be involved with charities to all members.
"We take the time to do as much as we can, to schedule as many events as possible," Stevens said. "Typically, we have one big event per month. Outside of that, we have smaller events each month and weekly opportunities to raise money. We try to have our members go to other houses' events to support their causes."
Stevens said PIKE's biggest fundraising event is Thursday Night Live, which takes place every fall in Aalfs Auditorium.
The members of PIKE donated more than 13,000 hours, nearly doubling the next-highest house. Stevens said due to the amount of members they have, they can spend more time to raise money.
"One of the nice things is having a large chapter of dedicated people," he said. "To be a member in good standing, members have to spend at least 10 hours at charity events. Now, that's the bare minimum, many go far beyond that. A lot of time goes into planning events, such as Thursday Night Live."
Roof said a lot of people aren't aware of the lengths fraternities and sororities go to raise money for charity.
"We don't toot our horn enough when it comes to charity," she said. "When you look at the statistics and the numbers, they are outstanding considering the size of our community. I think there are other communities in the nation that are bigger than us that are on par with us or even below. They don't say 'Hey, look at the awesome things we do' enough."