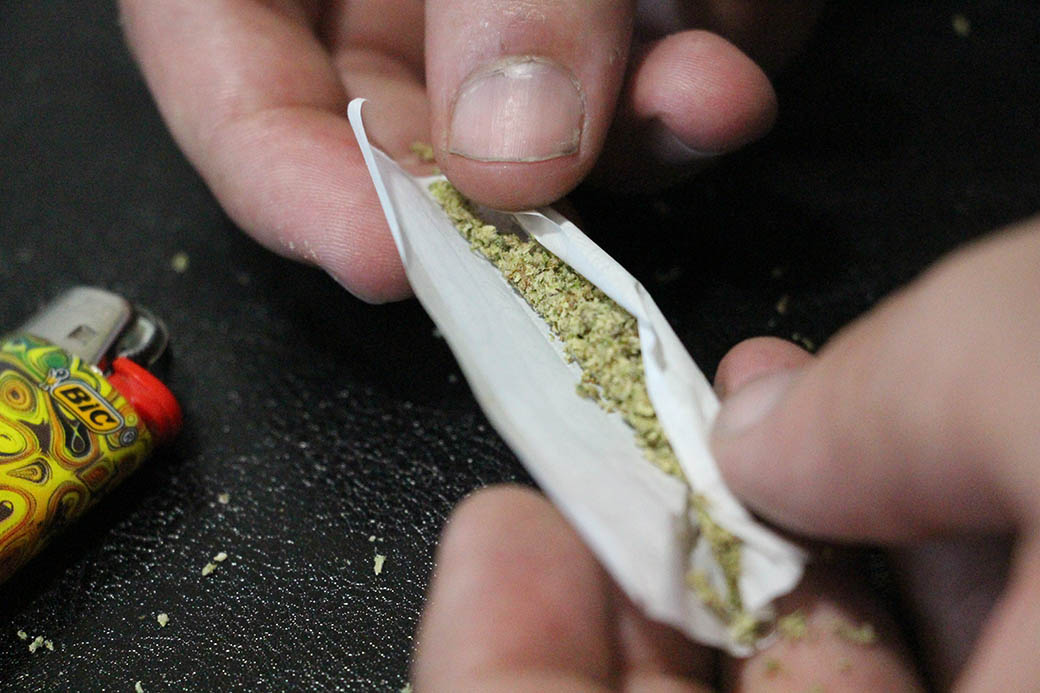 6 mins read
Marijuana policy advocates gather signatures for 2018 ballot initiatives
Legal marijuana use may be a possibility for South Dakotans in the near future if two ballot initiatives aiming at both recreational and medical access are passed.
Melissa Mentele, vice chair of the Hansen County Democrats and a leader for New Approach South Dakota, is working towards compassionate cannabis education, she said.
"We focus on compassionate ballot initiatives and compassionate legislation, so when the legislative session is in effect, we go up to Pierre and we lobby for smart cannabis reform," she said.
In order for both bills to make it onto the statewide 2018 ballot, they both need to have 13,871 signatures in favor.
Governor Dennis Daugaard has said he will not support either of the initiatives.
Attorney General Marty Jackley has said that he favors medicinal marijuana, pending DEA and FDA approval.
Medical and recreational access
As of now, the only access to cannabis in the state is Cannabidiol, or CBD. CBD is a substance that comes from the cannabis plant and, proponents say, can help children with epilepsy and catastrophic seizure disorder.
Daugaard recently signed off on a measure that changes the definition of marijuana not to include CBD in state law.
CBD is different from medical marijuana. Mentele said there are many health benefits for patients that need to access medical marijuana.
"This is an absolute game changer for cancer patients, children with catastrophic seizure disorders, people with Parkinson's disease," she said. "Cannabis helps all of those better than any pharmaceutical medicine can."
In other states that have legalized it, medical marijuana requires a recommendation from a physician or healthcare provider, as would be the case here, Mentele said.
"If it's passed, the recreational side will be sold in dispensaries, the medicinal side will require a recommendation by your physician," Mentele said. "You will receive a medical card that will, in turn, allow you to go to a dispensary and buy at a lower rate. Once you have a medical card, it's a lot cheaper for patients."
Rep. Ray Ring (D-Clay and Turner Counties), said he supported the CBD measure and would consider supporting full medical access.
"My support for medical marijuana would probably depend on what the bill looked like, but I'd certainly be willing to consider that," Ring said. "Passing the medical won't have that much of an effect except some benefits for a fairly new group of people."
Ring said he can't support recreational marijuana at this point.
"Passing it at the recreational level would obviously result in more use, assuming the federal government doesn't come down hard on that," Ring said. "It's going to cause more problems for the state in terms of law enforcement, driving under the influence, probably more abuse of drugs. I don't know the latest research on whether that's a gateway to other things, some people think it is, that's something that we need to be concerned about." 
Julia Hellwege, a political science assistant professor, said medical marijuana has a better chance of passing due to certain poll demographics.
"Older populations are more likely to support the medical marijuana," Hellwege said. "If we're going to take that into the election scenario, especially given that the 2018 election is going to be a midterm election where we see lower voter turnout, we know that young people are less likely to vote, older people are more likely to vote. If we're going to see any support for either of these bills, it's going to be more than likely the medicinal marijuana rather than the recreational."
An issue of federalism
Hellwege said the issue could move to President Trump's administration, as the rules of the federal government take precedence over state decisions.
"It could go up to the Supreme Court because it is a matter of a state's right to legislate on issue areas which are not expressed in the Constitution, and marijuana is certainly one of those areas, just like education and transportation and healthcare and so on," Hellwege said. "There's a question here of whether states are allowed to make their own laws sometimes or whether the federal government."
Hellwege said the Commerce Clause, which gives Congress the authority to regulate interstate commerce, could come into effect.
"This is the main clause in the Constitution which has been used to defer power to the federal government on issues similar to marijuana," Hellwege said. "If it were to go up to that level, I would suspect that the Commerce Clause would play a very large role in that as it has in many other court cases. That said, what the court would actually rule and so on remains to be seen."
Hellwege said the few states that have reached full recreational legalization are an "experiment" for the rest of the nation.
"The way that state legislatures see themselves is that they are sort of labs, experimental labs for the rest of the nation, so as states try these things and can report back on what their outcomes are, other states will see that and depending on what those results are we might see this kind of snowball effect," Hellwege said.
Ring said proponents of legalized marijuana should be aware of the president's stance.
"President Trump has said things about more strict enforcement," Ring said. "Do I think that's going to happen? There are a lot of things Trump has said that hasn't happened, and whether he would actually come through on that one, I still have my doubts. That's another thing I think we need to be concerned about before we legalize anything, particularly recreational."
CORRECTION: In an earlier version of this story, Julia Hellwege was given the title of "a political science associate professor," but her proper title is "a political science assistant professor." The Volante regrets the error.
CORRECTION: In an earlier version of this story, The Volante reported that Governor Dennis Daugaard said he would veto the initiatives, but the source actually said that he will not support the initiatives. The Volante regrets the error.