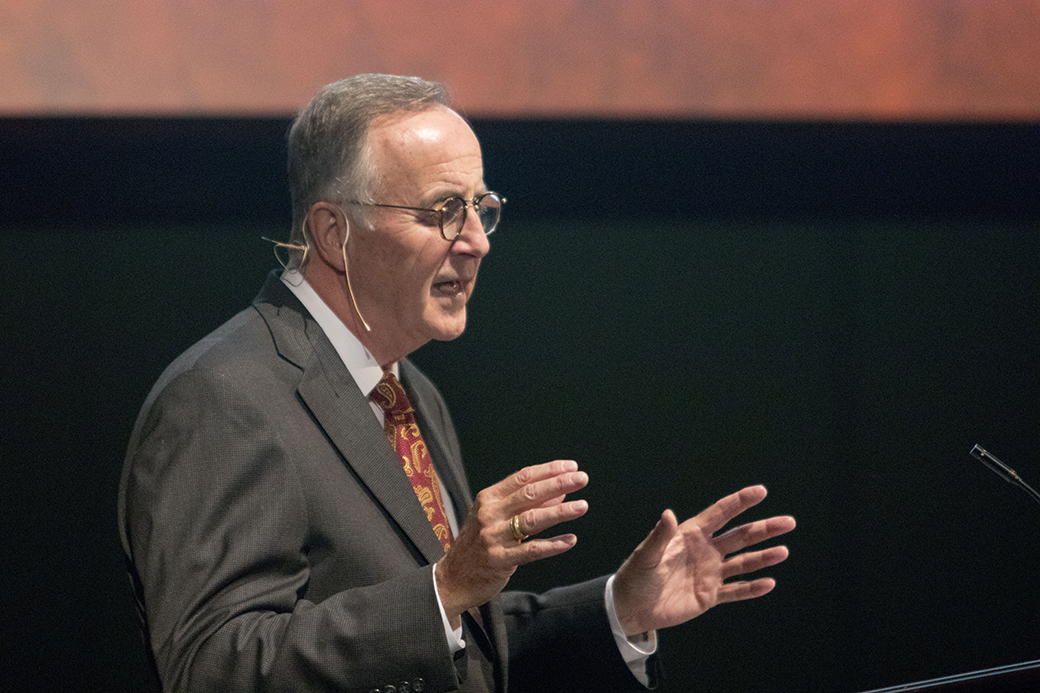 4 mins read
The end of an era: President Abbott to retire next summer
USD President James Abbott announced his retirement when he gave his 21st State of the University Address last week in Aalfs Auditorium.
"This concludes my 21st State of the University Address, and it will also be my last," he said during the address. "I am truly grateful for the opportunity to have served my alma mater for 21 years. I'm also very grateful from the support right from the beginning of the students, faculty and staff, the Vermillion community, our alums and supporters from far and near… I really do feel as if I've been blessed to have spent 21 years in my alma mater."
Abbott has been the president of the university since 1997 and will retire in June of 2018. He's USD's 17th and longest-serving president.
Junior Jared Rolland said he's sad to see Abbott retire, but said he's done a lot in his time.
"It hurts to see (Abbott) go, but he has done a lot for the community and the university," he said. "He has definitely taken USD to another level."
Tena Haraldson, USD's director of communications and vice president of marketing, enrollment & university relations, said she thinks Abbott has set the bar high at USD.
"He has set a high standard for all of us going forward," she said. "He made it possible for us to grow and inspired future people at USD to keep improving and setting their goals higher and higher."
Abbott said he wanted to make the announcement early enough so the South Dakota Board of Regents could conduct a thorough and likely nationwide search for a replacement.
"Jim Abbott has great leadership skills, (he's) a man of integrity and has an investment in USD, as he is an alum," said Gloria Hensley, a former USD faculty member, on Facebook. "He is the very best of the best, he made USD even better."
Board of Regents executive director and CEO Mike Rusch was unavailable for an interview before publishing.
According to a USD press release, during the past 20 years, "Abbott has led a vigorous building campaign to repair and refurbish historical structures on campus." The following buildings were added during his term: Lee Medical Building (2008), Muenster University Center (2008), Beacom School of Business (2010), Coyote Village Residence Hall (2010), the Wellness Center (2011) and the Sanford Coyote Sports Center and Track-Soccer Complex (2016).
He said he had thought about retirement a few months ago, but ultimately made the decision after an operation.
"I decided after I had my emergency gallbladder operation that I should probably get out of there," he said with a laugh.
While many things have changed during his time on campus, Abbott said there was one question he always answered the same way.
"You have all heard me say it a million times," he said. "My favorite part will always be graduation day. There is no one unhappy on graduation day."
In his 20 years here, USD has issued 35,148 degrees.
Haraldson said she thinks anyone can see Abbott's imprint all over the campus.
"I think anytime you have a top executive in the same job for 20 years, his imprint, choices and priorities are really shown in USD's campus," she said. "He is personally reflected in the beauty of the campus because he has always had high expectations for quality and you see that everywhere you look at USD."
First-year Victoria Hernandez said she hopes Abbott is able to look back at USD with pride once he retires.
"I just hope when he sees what the university does in the future that he is proud of that," she said. "And then I hope he thinks he left a good mark on the campus."
Abbott said he's looking forward to traveling and seeing his grandchildren in retirement, but will miss interacting with students.
"I will miss the students the most," he said. "They are the life of the university. They make it fun."
Correction: A previous version of this article stated that President Abbott is USD's longest-serving president, not the second longest-serving president. The Volante regrets the error.