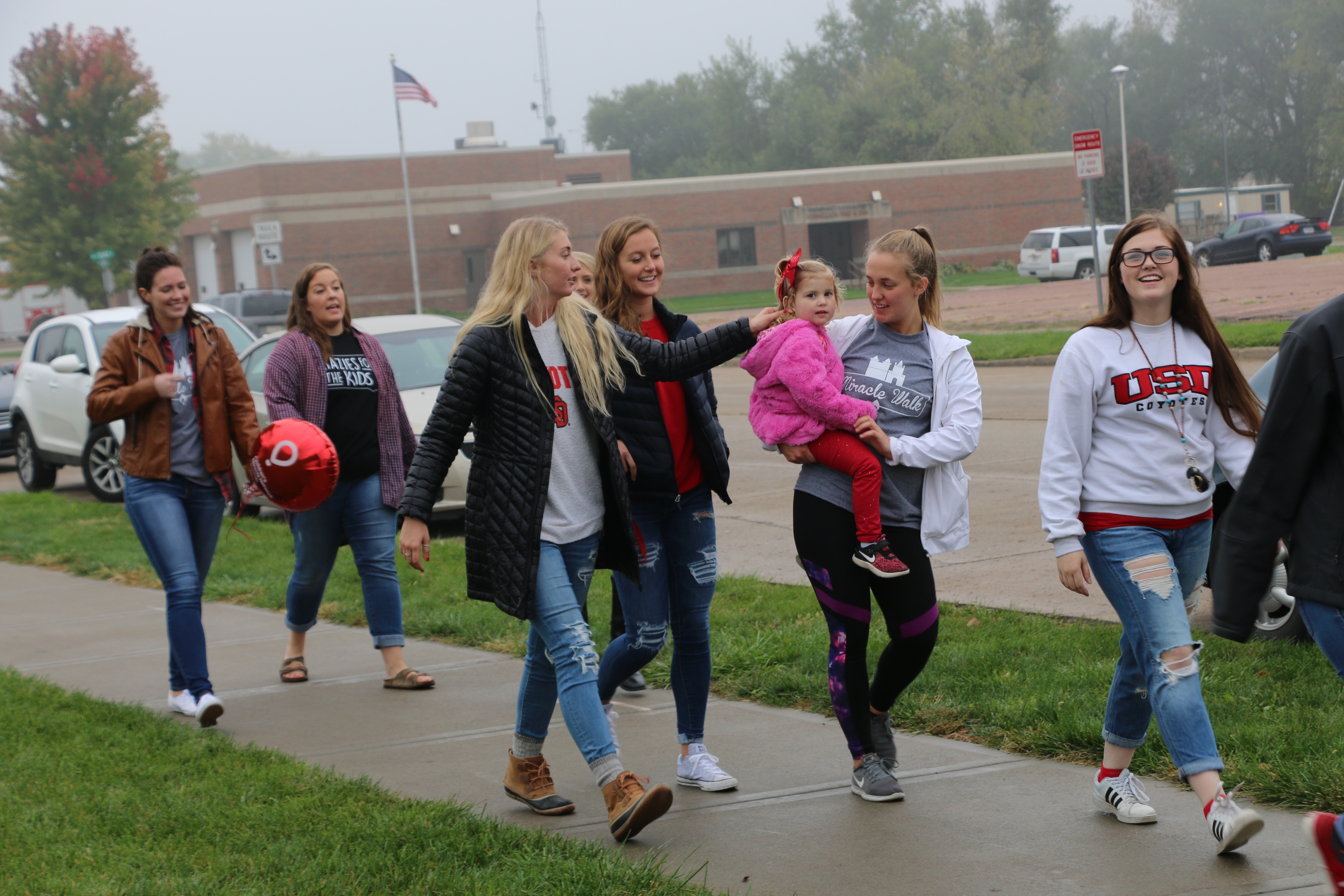 3 mins read
Vermillion Miracle Walk a successful event
More than 30 people gathered at Sanford Vermillion before the USD football game to participate in the Vermillion Miracle Walk Saturday afternoon.
"The Miracle Walk is in celebration of all the Miracle kids who have been fighting various diseases like cancer," said Whitney Barnes, a senior and the family co-chair of USD Dakotathon. "It's kind of a day where they get to come hang out with us and we get to walk from here to the Dome. It's a really good celebration in honor of them."
The event coincides with the annual USD Dakotathon, the 24-hour dance marathon held in April. The Walk is a way for the Dakotathon participants to get to know and spend the day with the area children of the Children's Miracle Network.
The free event began at Sanford Vermillion. The participants and volunteers, along with a few CMN children, walked to the DakotaDome tailgate. The children were also recognized at the game before kickoff.
"We're here to raise money for Sanford Children's in Sioux Falls, so it's really nice that 100 percent of donations are gonna be going back locally to Sioux Falls," she said. "It's a good event so people can meet the kids and get excited for our 24-hour event in April."
Barnes said the children made the event much more enjoyable.
"It's kind of a bonus to get to meet all the kids because they're super cute," she said. "I'm really excited to see the kids. I haven't seen them since April for Dakotathon's 24-hour event.
Sophomore Cecilia Kelly, who's also a morale captain for Dakotathon, said the Miracle Walk serves a good cause.
"I think it's really important to show your support for the organizations that you're involved in, especially this one," Kelly said. "It's a really good organization, and we need to show our support for the children who need help."
First-year Livia Hiland attended the Vermillion Miracle Walk, and said the children make it worthwhile.
"I really like children — I want to go into pediatrics with my dentistry — so I thought this would be a nice way to get to know some of them," Hiland said. "I just wanted to come hang out with the kids."
Kelly said it's exciting to get to know the children before Dakotathon.
"It's a day for them to have a fun day with some of the future dancers that they'll be spending the day with and just having a normal day," she said. "I'm excited to see the kids. They're the main attraction, the main event. On the day of (Dakotathon) it's super awesome to see the kids, and I'm really excited to hang out with them today and just get to spend some time with some aweomse kids who have seen way too much in their young age."
Barnes said she wanted to participate in the event to give back "in a big way."
"I just saw that Dakotathon was doing something that not a lot of organizations were doing on campus," Barnes said. "We're really trying to build a good foundation for the next generation, and I thought that was something so unique."