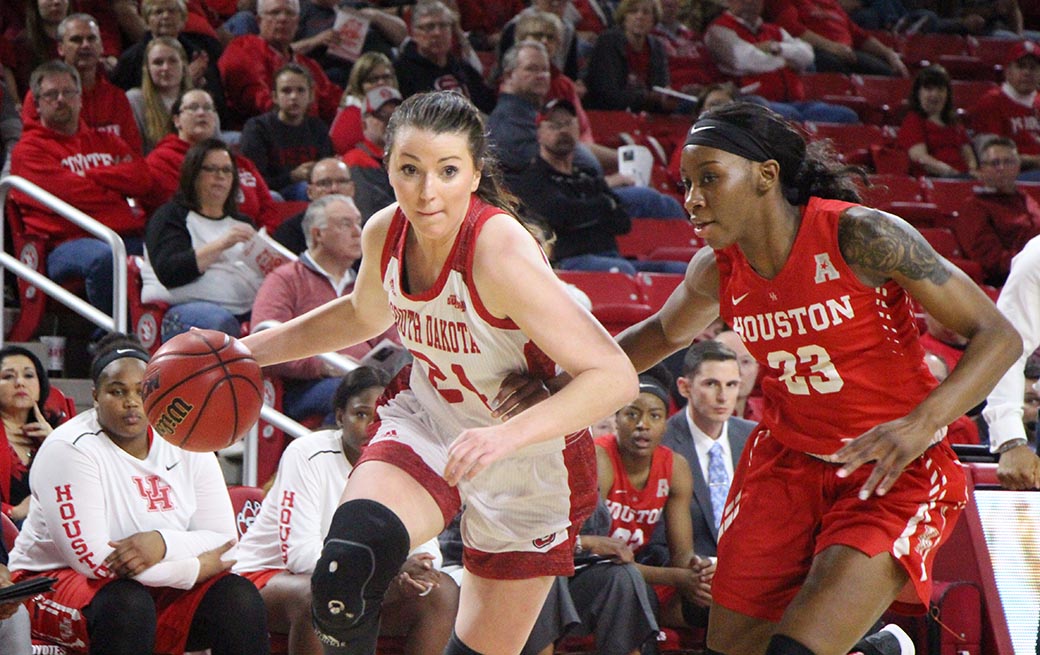 3 mins read
Coyote women win first round of WNIT
The Coyote women were successful in the first game in the Women's National Invitation Tournament, beating the Houston Cougars 65-58 Thursday night in the Sanford Coyote Sports Center.
Following a heartbreaking loss against South Dakota State University Jackrabbits at the Summit League Tournament Final in Sioux Falls, the Coyote women had an automatic bid to the WNIT for the fourth time.
The Coyotes put up a tough defense that was evenly matched by the Cougars. The Coyotes held on, not allowing the Cougars to lead at any point in the game.
Three three-pointers by senior Kate Liveringhouse and junior Jaycee Bradley led the team during the first three minutes of the first quarter. The first half saw a continued strong offense by the Coyote women that had USD up by 12 at the end of the first quarter.  The second quarter saw better offense for the Cougars, with the Coyotes only putting up nine points versus Houston's 14. Halftime score was 31-24, USD.
In the second half, the Coyotes brought back momentum that had USD up by nine at the buzzer. The Coyote offense struggled during the second half, only shooting 25 percent in the third quarter up against an aggressive Cougar defense. The Cougars kept up their strong defense, but the Coyotes ultimately had the upper hand following several Houston fouls toward the final minute of the game.
Lead scorer for USD was Bradley with 12. Bradley also had six rebounds and two assists. Sophomore Ciara Duffy put up 11 points and eight rebounds. Junior Allison Arens and sophomore Madison McKeever each put up 10 points, with Arens adding nine rebounds.
Duffy said at a press conference the team knew Houston would put up a fight.
"Going in, we knew this was a super physical team, they're really athletic," Duffy said. "We knew that was going to be a battle."
Arens said the team focused on their zone defense coming into this game.
"I think we'd all agree we didn't execute like we wanted to, so that will be an improvement for us on our next game," she said.
Duffy said the team heavily relies on defense.
"Especially in the first half, we got a lot of good, open shots and they just weren't falling for whatever reason," she said. "It is good to be able to know that we can get stops on the defensive end when shots aren't falling and let that defensive end carry on to our offense."
Head coach Dawn Plitzuweit said she "gives Houston a lot of credit" for how they played.
"It was a great, great basketball game," she said. "They're a very talented, athletic and coached team."
The next round of WNIT play continues Sunday at 1 p.m. in the SCSC. The Coyotes take on Colorado State following their win against Western Illinois on Thursday.